Kenexa Prove It (2023 Guide)
Updated November 20, 2023
If you're applying for a job that will require using computer software, chances are you will be asked to conduct a Kenexa Prove It test as part of the application process.
These tests are commonly used by companies to assess computer skills – in particular, your ability to use Microsoft programs. With preparation, taking the tests will be less stressful and you will improve your chances of success.
What Is the Kenexa Assessment?
Kenexa assessments are used by organizations as part of their recruitment process to assess skills, talent and retention.
Some of the industries who regularly use these psychometric assessments include the financial, healthcare, clerical, industrial, technical and software sectors.
These companies may use a Kenexa assessment as an initial test before interviewing employees for the role, or they could use it once they have a shortlist and want further information.
Kenexa was the company that first created this type of assessment. The company was acquired by IBM in 2012, who have since developed and expanded the offering. It is now one of the world's most popular assessment companies.
Kenexa currently offers more than 1,500 assessments to employers who want to measure skills in a number of areas:
Aptitude tests: These assess verbal and numerical reasoning, as well as cognitive abilities. There are also Computer Adaptive Tests (CAT) which get harder as they progress through the assessment.

Personality and behavioral tests: Where the employer can determine if the applicants are suited to a role, career, and ethos of the company

Prove It: These are for specific roles and assess competency, skill set and personality assessments.
What are the IBM Kenexa Prove It Tests?
The Prove It Tests measure skill (as opposed to measuring personality, cognitive or behavioral assessments). Companies use these tests mainly for employees who will be using computer software.
The different Prove It tests are all separate tests, but businesses can purchase and use them as a bundle, if a role requires a range of skills to be assessed.
Kenexa Prove It Microsoft Tests
A very large number of offices and work environments use Microsoft software, most commonly Excel and Word.
Kenexa offers tests for both of these. The Excel and Word Prove It tests are separate assessments but have many similarities.
They are both completely interactive, which means taking the test is like using the actual program, complete with all its functionalities.
Each test has three sections:
Basic level (for the everyday general user)
Advanced level (for those needing to create complex documents)
A third one combining both levels
Prove It Microsoft Excel Test
The Kennexa Prove It Microsoft Excel Test will show an example Excel sheet. Tasks will pop up at the bottom for the applicant to complete. Each one must be done before moving on to the next one.
The basic test will give 30 prompts; the advanced will ask for 25 tasks to be completed. The test is untimed.
Even though the test simulates the Excel software, you can't use shortcuts – for example, 'CTRL C' to copy text.
Below is an example of some tasks that may appear in both the basic and advanced Excel Prove It tests.
| Name | Task | Deadline | Completed |
| --- | --- | --- | --- |
| Sophie West | Download all information | 25th June | No |
| Katie Bush | Call all customers to inform of new service | 13th June | Yes |
| Stephanie Bradford | Email all staff with details of the new service | TBC | No |
Basic Level tasks:
Bold the text in the top row
Right align the test in the right column
Add another row
Advanced Level tasks:
Fill in the last column with red for tasks not completed and green for completed tasks
Merge the last two columns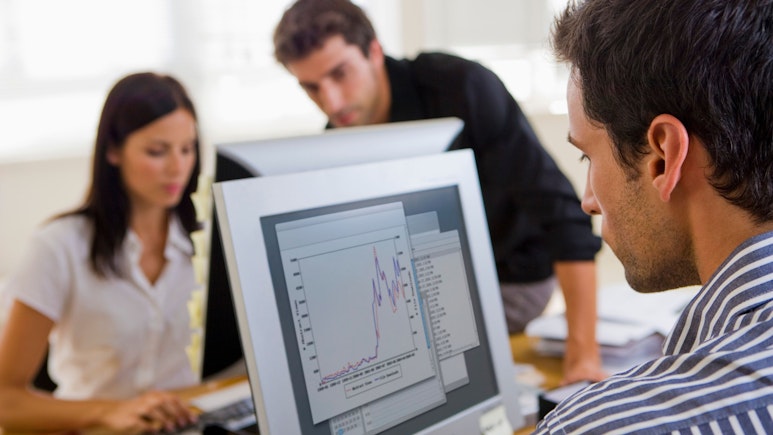 Kenexa Prove It Test Preparation
Prove It Microsoft Word Test
The Kennexa Prove it Microsoft Word test is mainly taken during or immediately after the job interview. It is self-administered and the candidate will be emailed the test.
The basic test includes 30 questions; the advanced test has 25 questions. The third combined assessment (which is used less often) consists of 55 prompts.
As with the Excel assessment, there will be prompts at the bottom, and each one will need to be completed before being able to move on to the next.
No shortcuts or program hints are available.
An example question is shown below:
Register:
Isabella Simpson, 4
Quinn Beavis, 5
William Waller, 4.5
Maxwell James, 6
Sophia Jackson, 5
Austin Moss, 5
Toby Bush, 4
Basic question:
Create a table with two columns and eight rows
Copy and paste the names in the list into the first column and the ages into the second that correlate with each child
Name the document 'School Trip Register'
Advanced question:
Add a header and footer to the document
Create a shortcut 'alt y' to highlight the names of all the children who are 5 years old
Kenexa Prove It Typing Test
This tests an individual's typing speed and accuracy. It is assessed on the candidate's words per minute (WPM) and is usually between three and five minutes long.
The test is also self-administered, and an email will be sent to the candidate.
It will include a passage of approximately 300 words that the candidate will need to retype as quickly and concisely as possible.
As well as measuring the word per minute, it will also look at any adjusted words and typos.
Kenexa Prove It Data Entry Tests
These assessments measure the candidate's speed and accuracy in entering data. There are two tests available: a numerical assessment (10-key) and a numerical and letter test.
The tests will be measured by keystroke by hour, as well as accuracy of the data input.
Both tests have five records that need completing, with eight fields in each record. The 10-key assessment is an interactive spreadsheet, and the numerical and letter test is an interactive database.
On the 10-key test, the numbers in the right-hand side of the keyboard are best to use. The 'Enter' and 'Shift' keys are generally used to navigate through the assessment.
Different employers will have varied requirements on the minimum score needed to pass.
The tests are self-administered and are sent to the applicant with an email.
Kenexa Prove It Accounting Tests
There are three different types of tests for companies to use to assess an employee's skills in accountancy:
Accounts Payable (processing invoices and checks)
Accounts Receivable (billing, cash flow, applying payments)
Accounts Bookkeeping (recording business transactions)
There are approximately 40 multiple-choice questions that are based around the specific role and the tests are not timed.
The candidate may be asked the following questions:
1. Accounts Payable
Two sub-contractors have given their costs for the previous month. They have given their costs PH and then added on over time, but they have not given the final costs.
Please process two invoices for each sub-contractors, including hourly costs and final costs, including VAT.
2. Accounts Receivable
| Customer | Monthly invoice | Paid |
| --- | --- | --- |
| Mr and Mrs Wright | $400 | No |
| Dan Bush | $380 | No |
| Mr Wright | $1,400 | Yes |
| Gloria Evans | $450 | No |
| Mr Walker | $780 | Yes |
Use the database to add a new monthly invoice to the customer highlighted in red.
Process a chase letter to those customer who have not paid yet
3. Bookkeeping
The company is making a loss every month. Below is a list of its outgoings every month:
Marketing $1,000
Manufacturing costs of each product (10 products) $400
Staff $8,000
Transportation $3,000
Phone lines $100
Office space $1,000
Sub-contractors $15,000

Suggest two ways in which the business may be able to save or merge some of the outgoings each month.
How to Prepare for the Kenexa Prove It Test in November 2023
When applying for a job, you should be informed of any Prove It tests you will need to take and their processes.
If it's not mentioned, and the job description states you need to have skills in one of the above areas, then it's worth asking.
There are many ways you can prepare for the test:
Step 1. Practice and Download the Programs
If you'll be tested on Word or Excel, for example, make sure you have an opportunity to practice using the programs.
If possible, download the programs, or ask to practice on someone else's computer. Learn all the functions you'll need to know, including how to complete tasks without using shortcuts.
Step 2. Learn Tips for Typing and Data Entry
Having good posture and learning muscle control are two tips that can help with the typing and data entry tests. Also, try to practice without looking at the keyboard. Research and practice any tips that will help you to achieve the best results.
Step 3. Download Practice Guides
Sites such as jobtestprep provide comprehensive guides on each of the Prove It tests, with tips as well as example questions and explained answers. It is worth investing in guides like these.
Step 4. Complete Practice Papers
Search online for practice papers and aim to do as many as possible to learn all the different question formats.
Step 5. Research the Company You're Interviewing With
Knowing the company's standards and requirements may give an insight into the type of tasks that will be given in the assessments.
Step 6. Take Your Time
Apart from the typing tests, the assessments are not timed. Ensure you read all questions properly and take your time completing the tasks.
Final Thoughts
Many companies use the IBM Kenexa Prove It tests in their recruitment process. So if you're interviewing for a job where a computer is used to complete daily tasks, then it's likely that you'll need to take these assessments.
There are plenty of tips and information online that can help you to prepare. You can also complete Kenexa Prove It practice papers to learn how to prevent common mistakes and ensure your success.
Preparation is the key, combined with reading the questions properly (a common stumbling block for many who take the tests), and taking your time.