The Firefighter Written Exam
What Is the Firefighter Written Exam?
If you wish to become a firefighter, you have to pass the firefighter written exam, also known as the fcfc written test, before being invited for an interview or a physical examination.
The firefighter written exam comprises 100 to 150 questions that assess a broad range of cognitive abilities required in firefighting.
The fire department written test is either taken before applying for a firefighter role (so test results can be submitted along with a written letter of application) or after applying for a role online when invited to a test.
To be interviewed for a firefighting role, you must pass part one and part two of the firefighter written test.
Preparation is essential. Firefighting is a dream job for many. There will be hundreds of entrants for firefighter positions, as the remuneration and benefits of the role are high.
What Skills Does the Written Exam Assess?
Firefighter written exams vary state-to-state and are written by the local fire departments who set them.
Most will assess general cognitive functions:
Reading comprehension
Verbal comprehension
Mathematical reasoning
Mechanical reasoning
Memory
Logic and problem solving
Spatial orientation
Firefighter paramedic written exams may include job-specific terminology questions on first aid and medical knowledge.
Apart from this, the firefighter written exam evaluates skills which are essential to all workplaces, such as:
Personality
Reading
Writing
Verbal communication
Mathematics
The most important of these skills is spatial orientation, as being able to find your way through a building using maps or to the location of a fire while under extreme stress is essential in an emergency.
The firefighter test mechanical reasoning questions evaluate science knowledge.
Firefighters need to understand how different fires start and behave and how to put them out using the right chemicals safely.
Mechanical reasoning questions may also cover combustion and ask about diagrams of machinery used in the job.
The firefighter written test will evaluate how well a candidate can withstand stress in emergencies and how well they take decisions alone and within teams while faced with immediate dilemmas and cognitive ability.
What to Expect When Taking the Firefighter Written Exam
It is called the firefighter written exam because it is delivered on paper.
Each question is multiple-choice or has a true/false answer.
In general, the tests take two or two and a half hours.
There are no penalties for incorrect answers, and each question has an equal weighting.
Most of the tests do not allow for tools other than a pen or pencil in the examination room.
However, candidates are allowed scrap paper and to make marks on the question book.
The questions can include:
Verbal reasoning
Reading comprehension
Mathematical reasoning
Spatial orientation
Scientific or mechanical reasoning
The firefighter written tests also assess personality traits and situational judgment requirements specific to firefighting.
Each department obscures the test material for legal reasons: a fire department cannot disclose information about specific incidents in its local area by translating them into the test material.
Consequently, the majority of the questions on the firefighter written tests are not job-specific.
The test is designed to evaluate basic competencies required in any working environment.
This makes it possible to practice and prepare for the firefighter written test using general test prep material and preparation material created by firefighters and other fire safety professionals.
Will the Firefighter Exam Vary Between States?
There is no standard firefighter written exam. Every state department sets its tests and has a different process for application.
Different fire departments face different challenges: some will mostly tackle forest fires, others house fires or roadside accidents.
Each department intentionally writes its tests to assess the knowledge needed for working in its particular environment.
The process of application also varies between states.
Some states offer tests quarterly, where others will offer the exam once every two years.
Should you fail the test, you usually have to wait two years before applying again.
Therefore, if you are considering a career as a firefighter, research the application process for your preferred state department early and prepare for the firefighter written test in advance.
What Are the Sections of the Firefighter Written Test?
There are two sections in the firefighter written test.
Part one comprises 100 to 150 questions with multiple-choice or true and false answers on cognitive skills.

Part two is a personality test.
You must pass part one to be invited to take part two of the FCFC written exam.
Although each fire department creates a unique version of the FCFC written exam, the test will include some or all of the following sections:
Verbal Comprehension
These tests evaluate grammar, spelling and punctuation.
Test questions are on general topics and will normally have a sentence with a missing word to fill in with a choice of three to five answers.
Reading Comprehension
These tests evaluate a candidate's ability to extract information from a paragraph or table of written information.
After each passage of reading, there is a series of true or false or multiple-choice questions about the facts in each one.
Mathematical Reasoning
The mathematical reasoning questions of the firefighter written exams test skills like arithmetic, geometry and speed calculations.
Although the questions are not all on firefighting topics, mathematical proficiency is important in fire safety roles.
Being able to make good estimations of distance, calculate pressure and estimate time for journeys in emergency responses is key to the role.
Some tests will present graphs or tables of information. Others are mathematical questions presented in sentence form.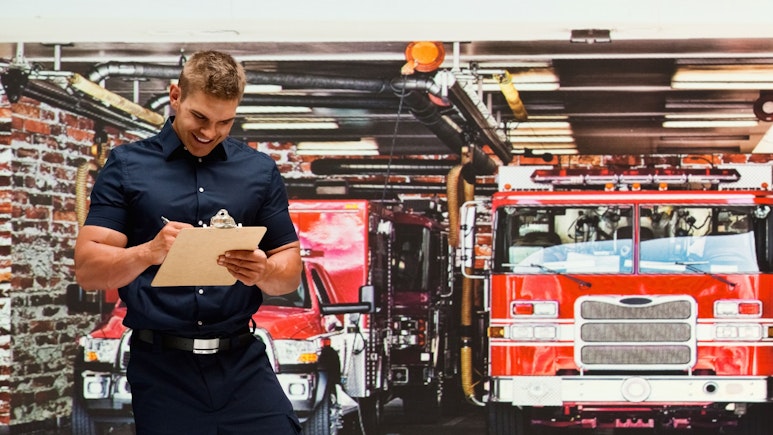 How To Pass the Firefighter Written Exam
Mechanical Reasoning
The mechanical reasoning questions of the firefighter written exams test candidates' science knowledge. These questions cover topics from chemical processes to concepts in physics.
Questions on forces, pressure, sound waves and temperature are common. They might also include questions about diagrams of firefighting or other mechanical equipment.
Mechanical reasoning questions are not calculation questions. They are factual recall questions on scientific topics.
Although they are not firefighting specific, these are important questions for prospective fire safety professionals to answer.
For example, a firefighter should know the difference between an electrical or oil fire and why one cannot be fought with water.
Observation and Memorization
The observation and memorization questions of the fire safety exam present an image or diagram to memorize then answer questions about.
Some of these images will be pictures or photographs.
Other images may be of 3D shapes, followed by questions about their properties.
Logic and Problem-Solving
These questions are general problem-solving questions with right or wrong answers, usually selected from a multiple choice of five.
Candidates are presented with a sequence of images or shapes and asked to select which option from the following images fits next in the order.
Spatial Orientation
Being able to orient yourself with speed in a space is an essential skill fire safety professionals need as they will often be entering buildings with limited visibility.
Spatial orientation questions evaluate a candidate's ability to locate themselves within a building or environment accurately.
These questions begin with a map or diagram and ask a candidate to identify the fastest routes between points A and B on the diagram.
These questions might also present 3D shapes and ask candidates to match the shape from a different angle.
Situational Judgment
Situational judgment questions have no right or wrong answers.
The candidate reads a paragraph describing a work-based situation. They then select the answer which best fits how they would respond.
These types of questions appear in many psychometric tests. However, in firefighting, the way individuals act while working alone is as important as how they act in a team.
These questions will address workplace and social dilemmas to evaluate how a candidate might act in groups, when working alone and when working under pressure in an emergency response.
How to Prepare For the Firefighter Written Test
Although preparing for a test that can be so varied might seem daunting, it is essential that you prepare for the firefighter written exam.
There are numerous resources available created specifically to support preparing for this test, including free resources.
Some of the paid online resources give access to study communities of others preparing for the firefighter written exam. Others come with an app.
There are also books and flashcards available to support the firefighter written exam.
Therefore, research resources that are available and choose some which support the way you like to study.
Some fire departments will provide candidates with a study guide.
Other departments advise applicants to review the job bulletin for clues about what will be in the test.
It is possible to ask the department you have applied to for study resources in advance.
Here are some of our best tips for preparation:
Because the test questions are equally weighted, ensure you focus on all of the sections equally. Do not dwell on questions you find challenging.

There is no penalty for incorrect answers, so it is fine to guess if you are stuck on a question.

If you skip a question, make sure to make a note on the side of the tick-box answer sheet, and mark the next question in the right place.

The test is general and not job-specific; therefore, use general online practice tests for each type of question to practice for the firefighter written exam. This way, you can address your learning needs. For example, if you already know math is a weakness, practice general math questions.

The firefighter written assessment is not fire safety specific; however, the mechanical questions will assess your scientific knowledge relevant to fire. These questions are recall questions; therefore, revisit and revise high school chemistry and physics to familiarise yourself with terminology.

Even though the mathematical reasoning questions are not likely to be tougher than high-school math level, take time to recap key mathematical concepts if it has been a long time since you practiced arithmetic.

There is no need to worry about complex calculations in the science questions. However make sure you prepare for basic calculations and formulae.

When you are practicing for the test, practice against the clock. As there are no online mock exams for the FCFC written test, you should use the same general online practice tests and take them multiple times, each time improving the speed with which you complete them.
As with any exam, you should arrive on the day well rested and physically prepared.
The firefighter test looks to assess several skills, which can make it difficult to prepare for. Some of the best tips include:
Practice each section equally
You can use free practice tests online to help brush up on skills
Practice against the clock so that you are used to answering questions within a time limit
Make sure that you get enough rest ahead of the assessments so that you can feel fully alert and answer to the best of your ability
There is intensive training physically to ensure that individuals can do their jobs as firefighters properly. You will also need to pass a standardized assessment that is designed to assess cognitive skills.
Typically, you will not need to have an in-depth knowledge of math to answer the questions asked within the exam. Most people will find that high-school-level knowledge is sufficient.
There are several different options to choose from. Most of the popular training books include:
Norman Hall's Firefighter Exam Preparation Book
Barron's Firefighter Candidate Exams
Civil Service Exams Study Guide
The firefighter written exam can seem overwhelming when you look at the exam as a whole, but when you break each section down it is a lot more manageable. Many people have learned the information that is required in the assessment during their time in high school.
The firefighter written exam is made up of two sections.
The first section is a cognitive abilities test that assesses a variety of core abilities such as math skills and verbal comprehension.
The second section is a personality test that considers skills such as spatial orientation, logic, memory and situational judgment.
To pass the written exam, you must score at least 70%. It is important to remember that you will need to pass the first section before you will be allowed to take the second portion of the assessment.
Final Thoughts
It might seem daunting to prepare for a firefighter safety written test, as so much of the test content is withheld and can change between departments.
However, because it is not a firefighting test specifically, there are even more practice resources available that can help you prepare.
You can create your practice tests by combining general online practice tests with the apps and study guides created specifically for the fire safety written test.
Using standard online verbal, logical and mathematical reasoning tests will improve your chances of passing the firefighting written test and help you understand the differences between these types of questions.
In addition to these general preparation tests, there are many resources available for test practice, and many of these have been created by firemen and women who have passed the test themselves.
The firefighter safety test is unusual in this regard.
Having a community of people to support you through studying is rare in job tests; however, a few fire safety prep test online subscriptions give you access to one.
Use a combination of paid test prep resources, free online testing and general test preparation, and allow yourself to become familar with the potential questions that might arise, and you will give yourself the best chance to pass the firefighter written exam.