The Firefighter Practice Test 2023: How To Become A Firefighter
A List of Firefighter Tests Available for Practicing in 2023
Are you looking to join the fire service?
If so, to become a firefighter, you will have to undertake a thorough application process.
After all, it is a high-energy position that requires a lot of attention to detail.
Within the interview process, you might be asked to complete a psychometric test so the hiring manager can see whether you are appropriate for the role.
This saves time for the hiring organization to ensure they can filter out applicants that might not work.
If you have not taken a psychometric test before, this article will cover National Firefighter Ability tests and the firefighter physical test.
What Is the NFA Test/Firefighter Test?
The National Firefighter Ability test, otherwise known as the 'NFA', is designed for potential firefighters to take before them being offered a position within the fire service.
The Firefighter test involves three separate tests, including:
Numerical reasoning
Situational and judgment
A literacy test
You will need to complete and pass these three tests to become a firefighter in the US.
How To Pass The Firefighter Exam?
The firefighter test is designed to assess whether you possess the appropriate behavior, attitude and strength the job requires.
To be a fireman or woman, you must be quick when it comes to making rapid, well-thought-out judgments. The outcome of these decisions in real-time can be the difference between life and death.
You might wonder why a candidate cannot be trained in decision-making after their hire. It is because some skills you cannot be taught.
Therefore, you will see these types of questions within the situational judgment part of the test.
Many of the questions will be based on situations you are likely to encounter on the front-line.
If you cannot answer them quickly and effectively, then this might not be the career for you.
You will also be asked about daily tasks, teamwork and how to deal with individuals, as well as physical situations.
What Are the Sections of the NFA Test/Firefighter Test?
Altogether, there are six sections of the NFA test:
Questionnaire
Numbers
Understanding
Information
Physical test
Situational awareness test
Each part is marked differently and will have a specific number of Firefighter Test questions.
The format of the questions might differ.
You might also have a different amount of time to complete each section of the Firefighter Test.
Read on for the details:
Firefighter Test Questions - The National Firefighter Questionnaire (NFQ)
Time to take the test: Approximately 40 minutes
Number of questions: Around 127
The NFQ (National Firefighter Questionnaire) is a test used to obtain fair and objective information of a potential candidate's skills, personal attributes and other qualities.
Before you take the exam, you will be provided with a full set of instructions and information on how you can prepare for the test. You will also be given example-style questions similar to those that you will answer on the day.
For example:
1. 'I am only satisfied when things go right'.
a) agree
b) disagree
2. 'I try to ensure I have completed tasks correctly'.
a) agree
b) disagree
Do think about these questions and the repercussion of the answers and link them to the key skills that firefighters must have.
In terms of scoring, different questions will require different marks, and your answers to the questions will be based on PQA's (personal qualities and attributes).
Firefighter Test - A Working With Numbers Test
Time to take the test: Approximately 45 minutes
This is a numerical test where you will be asked numerous math questions you will have to master in the allotted time.
For this test, you will need to be able to calculate basic mathematical equations.
For example, it is important as a firefighter to gauge how long you will need to hose a fire or how long it will take to get to a call-out.
There will be several scenarios during this exam that will show information on numbers in graphs and gauges.
You will be given multiple-choice answers.
Even though it is a math test, you will not be allowed to bring a calculator on the day. However, you will be given paper to write your workings out.
Partake in practice questions before you start to give yourself an understanding of the type of Firefighters Test questions asked.
Example Question
1. According to the graph, what is the total area of the training room you have to clean at the station?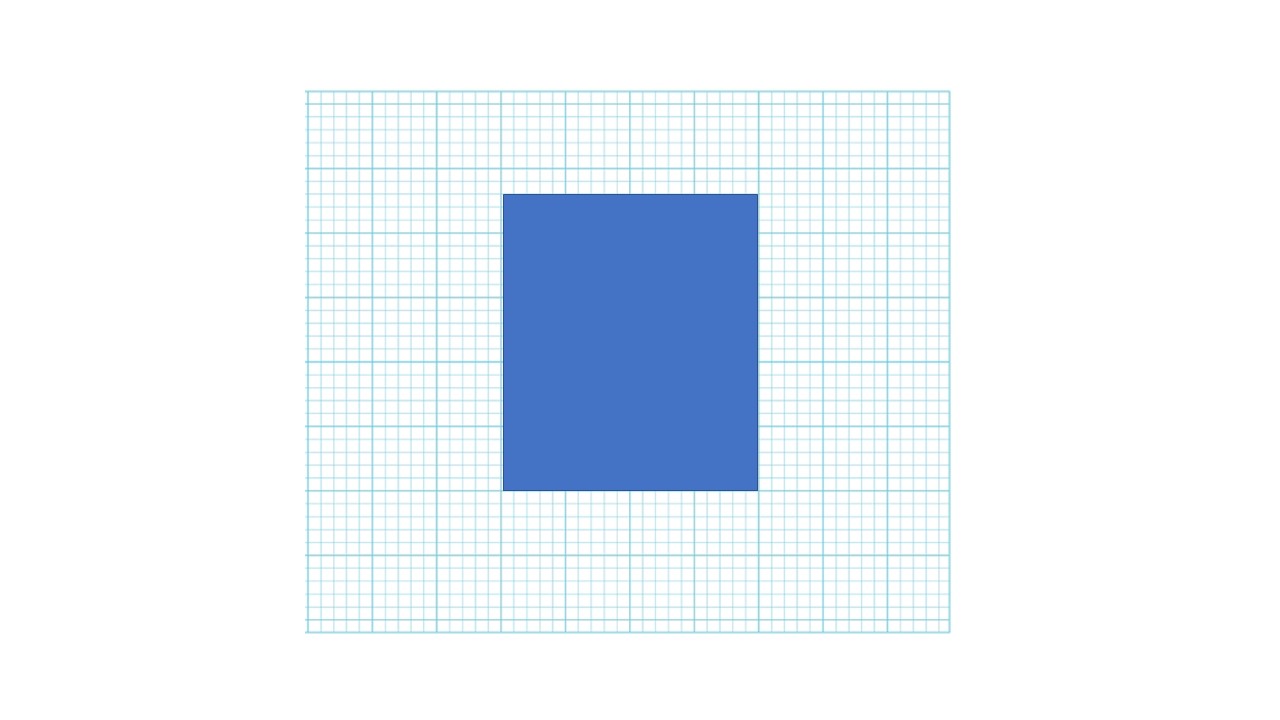 a) 17 m2
b) 18.4 m2
c) 20 m2
If you need to prepare for a number of different employment tests and want to outsmart the competition, choose a Premium Membership from JobTestPrep.

You will get access to three PrepPacks of your choice, from a database that covers all the major test providers and employers and tailored profession packs.
Example Question
2. One bucket of cleaning solution cleans 1 m2 and you have enough cleaning solution to fill 20 buckets. If you cleaned the training room floor, how many buckets of cleaning product would be leftover?
a) 2.6
b) 3.5
c) 1.6
d) 2.4
You will be scored per question you have answered correctly and will be provided with a final number, which you will receive at the end of the test.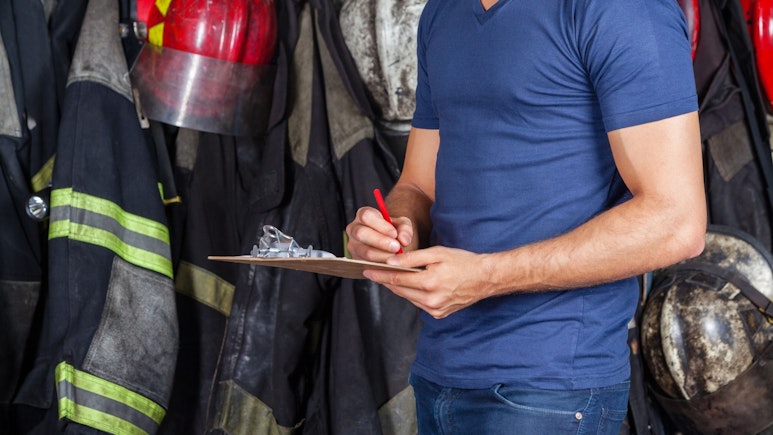 Firefighter Practice Test
Firefighter Test - An Understanding Information Test
Time to take the test: Approximately 35 minutes
Number of questions: 25 questions
This timed exam will assess your comprehension and how you interpret written information to ensure it is understood correctly.
As a firefighter, you will find yourself in several scenarios whereby you will have to read imperative information, so you must understand it correctly.
Within this part of the examination process, you will be presented with several scenarios. Each one might vary and could be shown in an array of different formats.
For example, you could receive a question in the form of a newsletter or a safety information leaflet.
For the answer, you will be provided with several multiple-choice questions.
Example Question
1. You are provided with a fire safety leaflet. According to the leaflet: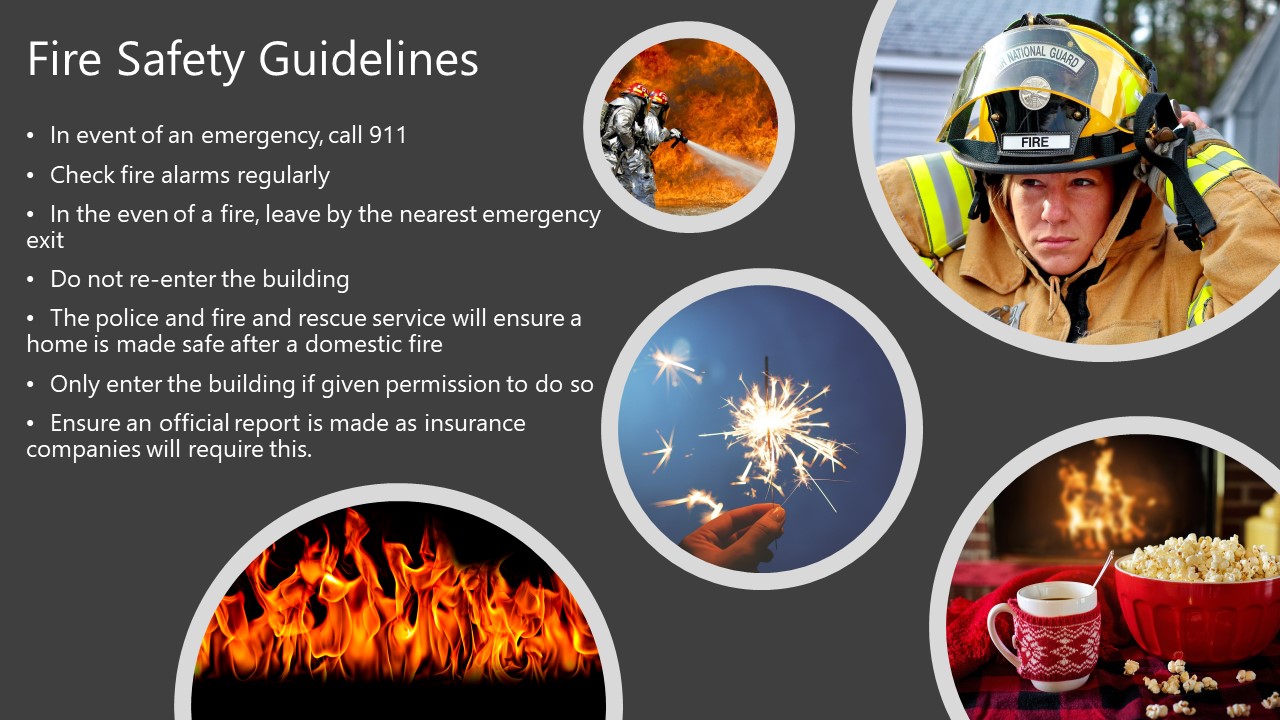 a) Fire damage at home can affect security
b) Insurance companies will need to see a correct report of the fire
c) Local councils will carry out work to ensure the home is secured once the fire is put out
d) You should always consult specialist cleaners
Example Question
2. According to the leaflet, which of the below statements is true?
a) The police might be able to recommend companies that can replace fire-damaged doors
b) You should always clean fire-damaged doors with washing-up liquid
c) The local council will provide a specialist cleaning firm after a domestic fire
d) The police will work with the fire and rescue service to ensure a home is made completely safe after a domestic fire
For scoring, you will be marked per question and will receive a mark based on the result.
Firefighter Test - A Situational Awareness Test
Time to take the test: Approx. 35 mins
Number of questions: 30 different scenarios
The situational awareness test will examine a candidate's ability to ensure the safety of others and how you use the information to solve problems.
Each scenario will provide you with four alternative answers, whereby you will have to choose how you answer each question.
Although the questions, and the answers, might be difficult, you must answer all the questions.
Example Question
1. You are walking along the road, and you notice smoke coming from a house. What do you do first?
a) Knock on the door to see what is going on and if you can help
b) Contact the fire department just in case
c) Keep on walking
d) Shout "fire" while banging hard on the front door to alert the family and neighbors
Example Question
2. You are at a fire within a large factory, and your supervisor has asked you to hose one particular area of the fire; however, you notice that the fire is increasing elsewhere. What do you do?
a) Carry on hosing the area you have been told by your supervisor
b) Ignore your supervisor and hose the area which is increasing
c) Stop what you are doing and find your supervisor to advise him of the situation
d) Keep hosing the area you have been told, but keep an eye on the area you are unsure of
Regarding scoring, the situational part of the test does not have an exact pass or fail score.
However, your answers will be compared to the fire department's baseline.
These are their requirements in terms of attitudes, skills, behaviors and strengths.
Scores will be based on your answers, and you will not be scored negatively for 'incorrect' answers.
If you want to increase your chances, we recommend you complete as many questions as possible in the time you have been given.
Firefighter Test - A Physical Ability Test
To embark on the journey to become a firefighter, you must be in good physical health before you undertake the job because it is a very physical job.
Therefore, there is a physical section of the testing process, this is known as PAT (Physical Ability Test).
The PAT consists of several tasks designed to test the physical abilities required to be an effective firefighter.
Each task you will receive will represent real-world situations to give you an idea of the type of moments you will encounter on the job.
The tasks do not require training and will be based on an individual's physical ability.
The selection process for firefighters is extremely competitive; therefore, do your research before you take the examination for preparation.
What Are the Components of the Physical Ability Test?
For the PAT you will partake in eight work-related situations that are timed.
They are the following:
Charged hose line drag simulation
Charged hose line reel simulation
Ladder heel (raise)
Forcible entry simulation
Equipment carry simulation
Stair climb with equipment
Dummy drag
Ceiling breach and pull (overhaul) simulation
All eight parts of the Physical Ability Test will be timed in a series.
The test has a cut-off score and failure to complete the course, and if you do not complete the course in the allotted time you will be disqualified.
As it is a physical exam, you will be required to wear appropriate footwear. You will be provided with safety wear on the day of the test.
How to Prepare for the Firefighter Exam in 2023
If you are looking for assistance on how to best prepare for the test for firefighters, there is a lot of content available to guide you, including practice questions and information booklets.
Passing this test is a big part of the application process, and sadly, if you do not pass you will not go to the next stage.
As there are different Firefighter exams, each has different requirements to pass. Here are some ways in which you can prepare for the test:
Step 1. Sitting Past Papers and Practice Exams
You might be able to find past firefighter exams. This might assist you in gaining a better grasp of what to expect on the exam and practicing the Firefighter Test questions. You will also find many practice tests online you can complete. We would recommend ensuring your practice for all parts of the test.
Step 2. Focus
You must pay attention to all sections of the test, even the parts you find difficult. If the test is incomplete, you might not pass. Think of the sections you are unsure of before the exam and study these parts a little bit harder.
Step 3. Learn
Examine the forms of all the questions so you know how to respond and what to expect. Some of the questions will be multiple-choice, and even if you have a choice, they can be difficult to answer. Consider all of your options and consider your given circumstances.
Step 4. Time Yourself
These tests will be timed, and you will be allocated an allotted amount of time per exam. When you are taking practice exams, time yourself to ensure you can answer the questions against the clock.
Step 5. Check Your Physical Abilities
As mentioned above, you will be required to take a Physical Ability Test. This will demonstrate your ability regarding speed, weight, and more. Before you apply or take the test, think about your physical health and whether or not you can complete the examination. You can always increase your physical health before applying if you have time beforehand.
You must ensure that you are thoroughly informed of the physical examination once it has been arranged.
Therefore, you must obtain enough rest beforehand. Bring comfortable shoes and attire as well.
Final Thoughts
To embark on the journey to become a firefighter is a process that requires time and involves going through various procedures.
However, with enough training, you should be well-prepared.
The Firefighter exam is a must-take and a crucial element of the recruiting process; failing to pass the test might result in you being denied employment as a firefighter.
Therefore, conduct your research, prepare, and be in the know when it comes to what to expect.