The Firefighter Test in Each US State (2023 Guide)
Updated November 20, 2023
Why Are Firefighter Tests Not Standardized?
The journey to becoming a firefighter is lengthy and varies between departments and states.
Most departments require a written test, as well as physical and medical examinations. However, the written test is not standardized, making it a challenge to prepare for.
The fire departments in some states, such as California, have created a more standardized test. They can do this because their interests and budgets are all similar.
In larger states with smaller, more isolated communities, each fire department deals more with certain types of emergencies than others. It is therefore not possible for a standardized test to be created.
States like California will be more focused on wildfire threats, while New York's priority is coping with fires in densely populated cities.
Luckily, there are some similarities between the tests and general preparation tips you can follow.
This article will look at how the firefighter exam varies between states and what you can do to improve your score.
What Can I Expect On The Firefighter Personality Test?
On most firefighter exams, you can expect to find some or all of the following:
Mathematics – High school level, focusing on geometry and algebra
Reading and oral comprehension – Texts and questions measuring how you interpret information
Spatial reasoning – Measures your ability to visualize and navigate maps and floorplans
Memory – Maps, diagrams or texts that you have a short time to memorize and questions that follow
Mechanical aptitude – Understanding of tools and simple machines
Written expression – Grammar, punctuation and spelling
Reasoning – How you respond to work-related scenarios
It is multiple-choice and can last anywhere from two hours to a full day.
In addition to the written test, you will also need to complete a physical exam. This will include:
Running up flights of stairs
Dragging a hose
Carrying equipment
Raising and extending a ladder
Forcible entry
Search and rescue
Ceiling breach and pull
Being a firefighter is an exceptionally physically demanding job.
In addition, your team and the people you may have to rescue depend on you to be at your physical best.
Firefighter State and County Tests
While it is not possible to give a detailed description of what every fire department puts on its test, it is possible to detail the bigger states and general guidelines.
From the following state and county tests, you will see that there are common competencies in each one.
This will help you better prepare for your firefighter test in your state in 2023.
McCann Firefighter Test
One of the tests you may be faced with is the McCann firefighter test. This computer-based exam consists of 100 questions and has a two-hour time limit.
The test areas include:
Verbal Reasoning
Mathematics – Areas tested are percentages, decimals, fractions, formulas, basic sums, algebra
Information ordering – Place parts of a statement or procedure in the correct order
Situational judgement – Assessment of your behaviors and how you are likely to react to firefighter scenarios
Reading comprehension – Recall information from a text and draw conclusions
Deductive reasoning – How you apply a rule to a situation or circumstance
Inductive reasoning – Find the connection between people, objects, or events
Mechanical understanding – How well you understand equipment and tools
Morris and McDaniel Firefighter Test
Morris and McDaniel Inc. have developed a series of firefighter and police tests known as S.H.I.E.L.D.
For firefighters, there are four tests altogether – Reading Test for Fire, Candidate Self Report for Fire, Entry-Level Fire Test and Structured Oral Presentation.
For states and departments that use Morris and McDaniel, you will sit the Entry-Level Fire Test during your recruitment.
Your recruitment officer will notify you if you need to take any of the other tests. But be mindful that you may sit them later on in your recruitment or during your training.
The assessment areas on the Morris and McDaniel firefighter test are:
Memorization
Numerical skills
Spatial aptitude
Reading comprehension
Mechanical skills
EB Jacobs Firefighter Test
Some of the cities you can expect to find this exam are:
Buffalo
Omaha
Rockville
Saint Charles
Saint Croix Falls
Takoma Park
Washington
The EB Jacobs Firefighter Test is far more comprehensive than others and is often referred to as FSAB (Fire Service Assessment Battery).
It consists of three sections:
The Ability Test – 75-80 questions that measure written comprehension and expression, deductive and inductive reasoning, problem sensitivity and information ordering.

Work Style Questionnaire – Traditional personality test with 200 questions measuring if your behaviors and values match that of the fire department you are applying to.

Life Experience Survey – A 45-minute survey exploring your work history. A question might be, 'How many days have you taken off because you didn't feel like working?'
It is important to remember that if you are dishonest during your firefighter personality test, you will be disqualified from the recruitment process.
Massachusetts (MA) Firefighter Exam 2023
The MA Firefighter exam uses the FSAB test, meaning you will sit the:
Ability Test
Work Style Questionnaire
Life Experience Survey
For those living in Boston, the Boston Fire Department Test is the same, except their focus is on hiring the best person for the job that reflects the city's diversity.
It is recommended that you give yourself five hours to complete the assessment battery.
Louisiana Firefighter Civil Service Test
The Louisiana Firefighter Civil Service Test consists of 100 questions, and you have two hours and ten minutes to complete it.
There are two sections.
The first is oral directions, which measures your ability to follow instructions and structure.
The second is a written exam assessing eight different competencies:
Lecture notes – You will take notes on a lecture and use them to answer questions later on in the exam. Make sure your notes are detailed and accurate.
Learn and memorize – You will have seven minutes to memorize symbols, pictures or codes. After, you will need to answer questions about what you saw.
Reading – For this competency, you will answer questions that need some analysis or conclusion based on the material provided.
Problem-solving – You will need to select the best option or top priority for a series of firefighter-related situations.
Human relations – How well you resolve problems
Mathematics – High school level calculations
Mechanical aptitude – How well you understand the equipment, tools, machinery and basic building constructions
Spatial reasoning – Identifying the shortest routes to locations, finding locations and identifying your location in relation to buildings and objects.
The minimum pass score is 75.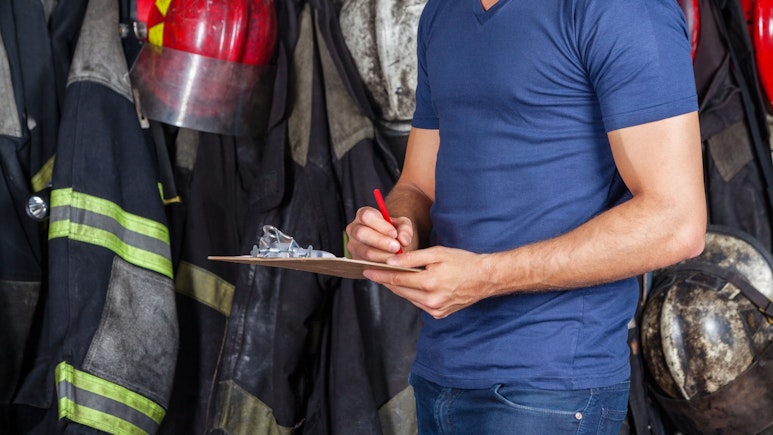 How to Pass the Firefighter Test in Each US State
If you need to prepare for a number of different employment tests and want to outsmart the competition, choose a Premium Membership from JobTestPrep.

You will get access to three PrepPacks of your choice, from a database that covers all the major test providers and employers and tailored profession packs.
California Firefighting Exams
The California Firefighting Exams differ slightly between districts.
The Los Angeles Fire Department (LAFD) uses a five-part test called the Firefighter Candidate Assessment (FCA). The first three sections ask questions based on videos you have watched.
The fourth is a mixture of reading, reasoning and mathematics. The fifth is an employment history survey, similar to the Life Experience Survey in the EB Jacobs test.
The exams for Sacramento, San Diego and San Francisco all test for:
Mechanical reasoning
Mathematics
Reading
Spatial reasoning
Human relation
Written and verbal comprehension
Los Angeles County Firefighter Test
The LA County Firefighter Exam takes a full day to complete and, on some occasions, may fall over two days.
The LA County Fire Department (LACoFD) is the 6th busiest department in the country and employs more than 4,500 firefighters, so their recruitment process is thorough.
You will need to complete:
Work Orientation Personality Test
It will assess how trustworthy you are, how well you work under pressure, if you work well in a team and if you can handle stress.
Mechanical Comprehension
For example, if you can set up a ladder to make it stable and if you can operate the levers you will need to use in real-life emergencies.
Report Interpretation
How well you read and understand information regardless of whether it is written or in graphs, bars or charts.
Reading Comprehension
How well you can read and understand LACoFD procedures and equipment maintenance.
Language Skills
As a member of the community, you are expected to be well-educated and use the correct vocabulary for the role.
Mathematics
This will include simple sums focused on firefighter problems, such as assessing how much water is left in the tank and which size ladder to use.
How to Pass the Firefighter Exam For Every State in 2023
Now that you understand the type of questions you are likely to find on your firefighter exam, you can begin to prepare.
Below are 10 ways you can get ready for your recruitment process and improve your test score.
Step 1. Ask Your Fire Department for Any Exam Guidance and Study Materials
They may not have anything official, but they might be able to tell you the assessment areas and offer their own advice.
Step 2. Sit Practice Tests
JobTestPrep offers study guides and materials for specific states.
Outside of that, there are numerous personality tests, psychometric tests and spatial reasoning tests on Psychometric Success you can practice with.
Complete as many as you need to be comfortable with the question format.
Step 3. Focus on All the Sections
If there are areas you find more challenging, such as mechanical reasoning or memory, then dedicate more time to improving those skills.
However, don't neglect the areas you are already comfortable with; take some time to practice those sections as well.
Step 4. Ask Around
Look for online forums and communities for advice on the tests and what to expect.
It may offer some reassurance or confidence hearing from others experiencing the same thing.
Step 5. Practice Against the Clock
The firefighter exams are timed, and they hold many questions. Practice completing as many questions as you can within the expected time limit (typically two hours).
Step 6. Revise Fundamental Math Principles
Spend time working on your mental math and problem-solving. It will also be helpful to improve your spatial awareness and understanding of measurements.
Step 7. Practice Reading Skills to Develop Reading Comprehension
Reading is the one thing you can add to your daily routine that will improve your brain. It helps with concentration, memory, creativity, thinking and understanding.
Step 8. Practice Memorization
Test and improve your memory by setting yourself small challenges. Read a news article, or watch a video and see how much you can remember. Start small, one or two minutes at first, and keep increasing.
Step 9. Revise Grammar, Spelling and Punctuation
Brush up on your high school English language lessons to ensure you understand grammar and punctuation best practices.
Step 10. Ensure You Are Mentally and Physically Fit
As a firefighter, you should be healthy, but, before you sit your tests, ensure you have gotten a good night's sleep, are fully hydrated and have eaten a nutritional meal.
Preparing in advance of your recruitment will also help eliminate some stress and worry.
Final Thoughts
Being a firefighter is a wonderful job. It requires a lot of bravery and dedication, and only a select few have the willpower to do it.
The firefighter test is your first obstacle in the recruitment process, and the fact that there is no standardized exam can make it that much more stressful.
Before submitting your application, start preparing by:
Gathering as much information as you can
Identify your strong and weak areas
Work through practice papers
Believe in yourself and know that you can pass the tests.