The Civil Service Exam for Firefighters (2023 Guide)
What Is the Civil Service Exam for Firefighters?
Firefighting is a physically and mentally demanding job. It requires diligence as well as specific skills and abilities.
Appointing firefighters must be approached cautiously and diligently, as lives, health and property may be at stake in the everyday work situations of a fire service.
To ensure only suitable candidates make the cut, hopeful applicants must take the Civil Service Examination for Firefighters to show that they are capable and fit for a career in the fire service.
The Office of State Examiner issues the exam for Municipal Fire and Police Civil Service.
The Civil Service Exam is the first part of the recruitment process and does not require candidates to have prior knowledge of firefighting.
The test prepares and assesses candidates on the skill set, comprehension and capabilities needed for a role that is dangerous at times.
The exam is a two-part assessment comprising a physical ability test and a written test.
As well as assessing the candidates, the test also prepares them and gives some insight into what they will be working with on the job, the performance ability, physical endurance, teamwork and dedication required of them through the demands of long hours.
Every fire service department runs Civil Service Exams on their own schedule, so check your state fire departments for start dates.
The process of examination usually takes a few weeks to complete.
Passing the Firefighter's Exam is just one stage of the recruitment process. Before thinking of applying, make sure you meet the additional criteria.
Applicants must be aged between 18 and 30 and must pass various checks, including identity, criminal record and driving record.
A physical and mental health check is compulsory, and you will be expected to pass a drugs test.
What Key Skills Are Being Assessed On The Civil Service Exam for Firefighters?
As mentioned above, the Civil Service Exam consists of two parts, both assessing different abilities.
The written test involves a series of multiple-choice questions to test your learning abilities, mathematical and spatial orientation, and other similar technical skills.
There are different written assessments, including:
Mathematical reasoning
Mechanical reasoning
Reading comprehension
Observation and memory
Situational judgement
Personality assessment
Spatial orientation
Fire safety knowledge
Mathematical skills and reading comprehension assess candidates' basic skills and capabilities of dealing with detailed and specific information to gain insight into their aptitude on the job with, for example, incident reports and other paperwork.
Other specific skill sets are examined in the different areas of the written exam, such as the ability to memorize information in the observation and memory section, or knowledge and understanding of basic physics concepts, firefighting equipment and mechanisms, through the use of diagrams.
Situational judgement tests (SJTs) assess candidates' ability to deal with dilemmas appropriately and correctly.
Personality tests assess communication skills, as their services to the general public demand the ability to help and interact with others and those in need.
Candidates are also required to sit an oral directions test that involves listening to verbal instructions to answer the questions, designed to measure a candidate's ability to follow oral instructions provided by an Officer.
You must show that you can both listen to and follow verbal instructions and communicate effectively with a wider team of colleagues – one of the vital aspects of safe firefighting.
The typical routine of an ordinary firefighter is physically demanding, requiring muscle strength, endurance, cardiovascular fitness and flexibility.
A physical ability test examines your physical suitability for the role, to make sure you have the physical attributes and fitness level to keep up with demands.
Candidates who are not strong or fit enough could become a danger to others in an emergency situation, making this a vital part of the assessment in a Civil Service Exam.
What to Expect on the Civil Service Exam for Firefighters
Written Tests
The written section of the Firefighter Civil Service Exam lasts for two hours and 10 minutes.
Within this time, candidates are tested on eight different sections of multiple-choice questions.
The sections consist of:
Mathematical reasoning
Reading comprehension
Situational judgement
Mechanical reasoning
Spatial orientation
Observation and memory
Fire safety knowledge
Personality test
Tests will vary between fire departments; however, standard exam formatting is a two-part written and physical ability test.
Mathematical Reasoning
The mathematical reasoning part of the test requires the candidate to employ their basic mathematical skills to read and analyze data and graphs.
The ability to recognize patterns and interpret data is vital for firefighters frequently calling upon these skills in the workplace.
Calculators are not allowed in the test.
Reading Comprehension
In the reading comprehension section of the exam, candidates are given a piece of text and are asked to select the most suitable answer from a selection of options.
This test assesses the candidate's ability to accurately interpret written information, essential for completing paperwork and written work as part of the job role.
Situational Judgement
The situational judgement test is a psychometric assessment.
The candidates are given multiple-choice questions to demonstrate how they would respond to a potentially difficult workplace situation.
An example situation could be a conflict within the workplace amongst colleagues or an emergency situation.
Once the candidate has assessed the scenario, they must choose the correct course of action from four or five different options.
However, read the question carefully as, in some cases, the candidate must choose the least appropriate course of action or rank the steps in priority order.
The firefighter role demands an ability to deal with situations calmly and efficiently and communicate to colleagues and the general public. These attributes are necessary for day to day life as a firefighter and maintain safety in an emergency.
If you need to prepare for a number of different employment tests and want to outsmart the competition, choose a Premium Membership from JobTestPrep.

You will get access to three PrepPacks of your choice, from a database that covers all the major test providers and employers and tailored profession packs.
Mechanical Reasoning
The mechanical reasoning section assesses candidates' aptitudes for learning, using basic physics principles of resistance, pressure, energy and motion, and building construction knowledge.
Candidates must understand the equipment and resources used in the job to perform efficiently and safely, particularly in an emergency. Therefore, mechanical reasoning is included in many department tests.
Candidates are required to answer multiple-choice true or false questions on diagrams of equipment. Typical questions might cover calculating force, volume or leverage, or labelling the diagram.
Calculators are not allowed in this section of the test, although pencils and paper are provided for written calculations.
Personality Assessment
The personality assessment is an important part of the testing process, as the role of a firefighter demands the ability to communicate and work with both the public and their team when handling emergencies and in daily life.
Therefore, candidates' personalities play an important role in determining how well they would fit the role.
Departments consider qualities, such as the ability to work in a team, a positive and motivated outlook, focus and flexibility, composure, and quick decision making, integral to the role.
The personality test is designed to assess these qualities.
The test format presents multiple-choice questions, such as true or false/agree or disagree statements, all based on different dilemmas or scenarios.
Questions are often worded similarly to extract the candidate's most honest answers, so it is important to pay attention to detail when answering.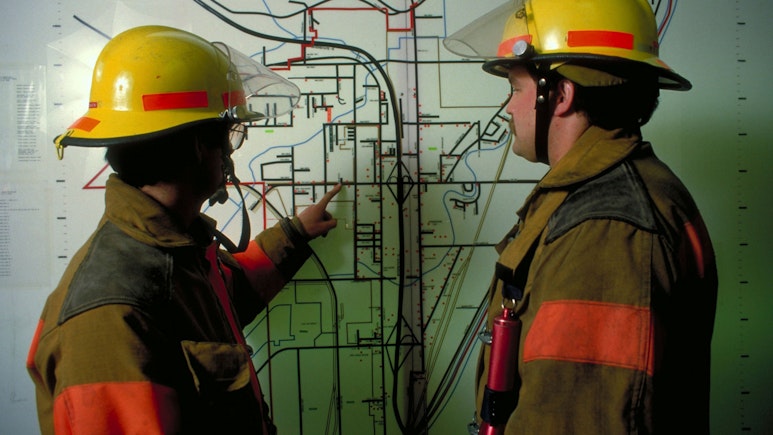 How to Pass the Civil Service Exam for Firefighters
Spatial Orientation
The spatial orientation section of the test examines candidates' ability to comprehend and follow directions given on a map of an area or building layout.
Testing this ability is vital to employers, considering using a map is integral to locating the people or property in an emergency situation.
The candidate is provided with a map or diagram and must answer questions about basic traffic guidelines such as traffic signs, laws and direct routes.
Additionally, candidates' understanding of building construction is tested to ensure an ability to locate where they are in relation to a danger zone and how the building structure may be affected by fire.
Firefighters are putting themselves at risk when entering a burning building, so they must have a good understanding of spatial relations for the safety of themselves and others.
Observation and Memory
The observation and memory section provides candidates with images or diagrams, typically of driving maps or building outlines, that they must memorize in seven minutes, then answer questions using their recollection.
The results of this test indicate candidates' aptitude for remembering information, which is an essential part of the job, particularly within emergencies.
Fire Safety Knowledge
The fire safety knowledge section of the test asks candidates to answer multiple-choice questions concerning basic fire knowledge, such as the sources and dangers of fires or different ways to extinguish fires.
Example Question
Which hospitality venue is a common source of deadly fires?
a) Swimming baths
b) Ice hockey rinks
c) Nightclubs
d) Baseball parks
Example Question
You think that your captain made a mistake during a fire you tackled successfully. What do you do to address this when you get back to the fire station?
a) Confront your captain and tell him he was wrong
b) Do nothing
c) Ask your captain why he made that decision
d) Tell your colleagues to be wary of the captain as he doesn't know what he's doing
Physical Ability Test
The physical ability aspect of the Civil Service Exam assesses candidates' general physical condition and health.
Prepare to be asked to demonstrate muscle strength, endurance, cardiovascular fitness and flexibility in a timed test.
To assess your fitness on a functional level, you will be asked to participate in different tasks, including:
Stair/ladder climbing
Hose dragging
Forcible entry
Rescuing
Other challenges that represent some of the working conditions for a firefighter include:
Running a given distance
Lifting and transporting heavy tools and resources (typically around 200 pounds)
Moving around quickly when climbing stairs or moving through buildings
You will need to wear athletic clothing and trainers for the physical ability test. Some departments allow you to bring protective gear, such as knee or elbow pads, if you wish.
During the test, you will wear a weighted vest and helmet to simulate the weight of the protective suit worn by a firefighter.
The examiners also want to get an idea of your daily fitness levels, so they might ask questions about your general exercise routine.
How to Prepare For the Civil Service Exam for Firefighters in 2023
Step 1. Ask for Preparation Guides or Study Resources from the Fire Department
Resources from the fire department will give you the most accurate idea of exactly what the test entails, so you can prepare thoroughly.
When you apply for the job, ask your recruiter for any information they can provide to give you a head start. Each state department has its own tests and guidance, so contact your local service for more details.
Step 2. Sit past Papers and Practice Tests
Taking practice tests will prepare you for what you might encounter on the actual test, so it will not catch you off guard and lead to underperforming on the test.
You can access past papers and individual example questions online to help you get ready for the real thing.
Study guides or preparation packs will guide you through revision and preparation for the test.
Step 3. Focus on All the Sections Equally
It is important to distribute your concentration and learn equally across the topics, without neglecting sections you find more challenging.
Having a sound understanding of all the different areas is also imperative to carry out the job; therefore, testing is in place to ensure that employees have the required spread of knowledge and expertise.
Step 4. Learn the Formats of the Questions
Familiarising yourself with the question formatting will also build your understanding of how the test functions, so you can perform better on the day, reducing the risk of getting confused or panicked by the test itself.
Step 5. Practice against the Clock
Monitoring the time is particularly advantageous for some parts of the exam, such as the observation, memory and physical ability sections.
It is a good idea to time yourself in each area to pinpoint weaker areas and practice the whole test to know you are finishing within the time frame.
Step 6. Revise Fundamental Math Principles
A good knowledge of fundamental math principles is integral to working safely as a firefighter.
Practising this and revising basic math skills before your exam helps you refresh your skills to the level needed to complete the test.
Step 7. Revise Mechanical Principles
Mechanical principles are also integral to performing the firefighting role correctly and safely, so this knowledge is not only important for the Civil Service Exam, but also for future practice.
Look at topics such as Newton's Law of Motion, movement systems like pulleys, belts and wheels, and fluid and gas pressures.
Step 8. Practice Reading Skills to Develop Reading Comprehension
Try reading a wide range of materials to familiarise yourself with different sources and narrative styles.
Find content about the fire service, either on your local department website or in the news, to get used to the phrasing and terminology related to the fire service.
Step 9. Make Sure You Are Mentally and Physically Fit
The Civil Service Exam is mentally and physically challenging. Take care of your health in the run up to the test, so you feel prepared and calm.
Plenty of sleep the night before will help you feel well-rested, eat a nutritious meal and stay hydrated in the time leading up to the exam.
These actions are particularly vital for the physical ability test, as tiredness or a negative mindset will cost you time and energy during the test.
Final Thoughts
The role of a firefighter is demanding and occasionally dangerous; therefore, candidates must have specific skill sets and aptitudes to carry out the job. At the recruitment stage, the Civil Service Exam tests applicants' capabilities to ensure they fit these strict criteria.
As well as the physical work of firefighting, employees must also be able to work well within a team and take instructions from seniors.
Although the exact test varies between states and fire departments, there are typically two parts to the exam: a physical ability test and a written test. Thorough preparation is the best way to improve your chances of success and secure a position in the fire service.