Tips for Your Assessment Centre Group Exercise (2023)
Updated November 10, 2023
You have beaten hundreds of applicants to reach the final stage of the interview process for your ideal job and have been invited to an assessment day group exercise.
You will likely be thinking, what's involved? How many other people will be there? What are the activities, and how can I prepare?
The purpose of assessment centre group exercises is to whittle down the number of viable candidates to a select few for each role. After all, it is not unusual for an employer to receive hundreds of applications for their most popular vacancies.
By assessing groups of candidates either at the company or at an external assessment centre, the employer can identify a strong shortlist of candidates.
This is much harder to do from a job resume alone.
As a candidate, it is important that you understand what is expected of you on the day to stand the best possible chance of securing the job.
So, here are a few trusted tips for your assessment centre group exercise.
What Is an Assessment Centre Group Exercise?
Usually, an assessment group exercise involves 7–10 applicants who participate in a series of group activities.
The pre-set exercises are designed to assess everyone's performance against the job description's core competencies.
The purpose of each task is to find out who is most suited to the role.
The competencies being tested are often soft skills such as leadership, teamwork, influence and ambition, which are tricky to accurately judge by looking at a resume.
Therefore, employers use the assessment day group exercise to delve a little deeper into each applicant's psyche.
Virtual Assessment Group Centre
Traditionally, assessment centre group activities occur at designated centres or your potential workplace. However, it is not uncommon to be asked to join a virtual group assessment centre instead.
While you may not be stepping through the doors of the place where you wish to work, you will still get a good feel for the workplace culture and how you would fit in.
The move to a digital format is new and very much a result of the COVID-19 pandemic. While it is still a bit of an unknown, there is every chance that employers will continue with the virtual format indefinitely.
Maybe not for all job roles, but certainly for those in which being able to communicate through MS Teams and other online programs is essential.
In the same way as an in-person assessment centre, virtual assessment centre group exercises involve case-study-related exercises, discussions and real-life business challenges.
Usually, a virtual assessment centre group exercise will last a couple of hours (normally a maximum of three hours). However, there is no set rule. It depends on the job, how many people are in the group, and the number of activities you will be expected to complete.
Try not to worry about extended screen time. You will be given ample time for breaks between sessions, and the odd technology glitches will be expected. It is all part of the experience.
Group Exercises - What Will You Be Assessed On?
In simple terms, the purpose of an assessment group exercise is to evaluate how an applicant behaves within a group setting.
The series of tasks give the employer an insight into how confident you are. They let the recruiter know whether you are introverted or extroverted and have the right skills for the job.
How to Pass an Assessment Centre Group Exercise in 2023
But what happens at a group assessment centre, and what is the employer looking for?
If you are wondering where you start, here are a few tips for your assessment centre group exercise preparation.
Step 1. Research Typically Assessed Behaviors
It helps to explore the typical behaviors each group task is designed to assess.
Although the job role will dictate the type of exercises, the typical skills being evaluated are:
Teamwork
Confidence in the workplace
Strong communication
Logical reasoning
Problem-solving
Commercial knowledge
Within your allocated group of between 7 and 10 candidates (sometimes more), you will be presented with a real workplace challenge that requires the entire team to work together to find a solution.
It is worth remembering that assessors will often recruit for a series of vacancies in any given group exercise.
Therefore, not everyone in your group will be vying for the same position. The chances are that in each group, there will be a combination of applicants with varying degrees of experience and knowledge.
Do not feel dejected if you do not know as much as someone else in the group. Focus on how you can add value by drawing on your strengths.
Step 2. Discover the Kinds of Exercises Involved
The type of exercises will depend on the number of people in any given group and the roles they are being assessed for.
However, most assessment group exercises involve at least one of the following:
Assessment Centre Case Study Examples
In a case-study-based exercise, you will be expected to either watch a video, read a passage or digest several pieces of information as a group. As a collective, your role is to work together on the task at hand. Usually, a key part of the task will be to present back to an interview panel.
If the job role is for a position that requires strong commercial understanding, you may be asked to present your ideas for a new product.
Here, a group presentation would need to demonstrate a strong appreciation of the competition, the product lifecycle, routes to market, cost analysis and how to overcome foreseen challenges.
In a virtual assessment centre group exercise, you might be invited to a breakout room where you will discuss your ideas as a collective and come to a solution.
Group Assessment: Discussion Exercise
You may be asked to participate in a group discussion on a workplace problem where there could be several different solutions.
In your breakout room, you will work as a team and use your logical reasoning to arrive at a commercially viable solution.
The employer will be looking at how and what each applicant contributes to the discussion. They will analyze your interpersonal skills in a group situation and how confident you are in communicating your ideas.
Group Assessment: Leadership Exercise
To assess your leadership skills, you could be invited to a role-play assessment day group exercise. You will be expected to enact a role-specific scenario that could legitimately happen in real life.
The role-plays are designed to test your response as a leader to an unexpected situation. It could be that your group is split into smaller groups, with each pair or individual holding a leadership role for a specific department. You will be assessed on your ability to think logically, act responsively, delegate and keep calm.
If you need to prepare for a number of different employment tests and want to outsmart the competition, choose a Premium Membership from JobTestPrep.

You will get access to three PrepPacks of your choice, from a database that covers all the major test providers and employers and tailored profession packs.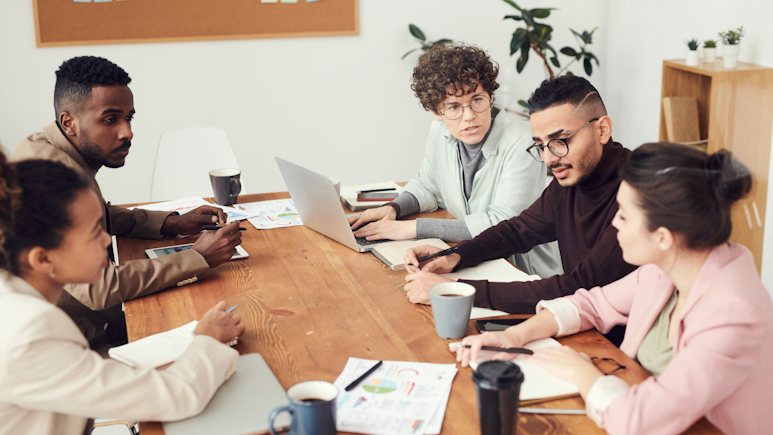 Assessment centre case study examples
Group Exercises – How Do You Stand Out In A Group Assessment?
If you are wondering how you pass an assessment centre group exercise, the first thing you must do is look inwardly. Are you an extrovert or an introvert?
An extrovert is action-oriented, outgoing and very talkative. Introverts are a bit more restrained, reflective, self-aware, and may find group tasks more daunting.
There are plus points to both personality types, and employers recognize this.
However, employers appreciate people who can adapt their behavior to accommodate others within a team.
For instance, as an extrovert, you will need to be careful not to dominate conversations and overpower others in your group. Your enthusiasm may unintentionally come across as brash or overbearing.
As an introvert, you may need to come out of your comfort zone more than you usually would. While being an observer and a detailed person usually allows you to see problems that others may not, you need to remember that group exercises are time-sensitive. If you do not speak up, the employer is unlikely to realize your potential.
With this in mind, regardless of your personality type, here are some behavioral tips for your assessment centre group exercise:
market-informed solutions.
Group Exercises – What to Avoid in a Group Assessment Exercise?
Now that you know how to stand out in an assessment group exercise, what must you avoid at all costs?
There are six things you must consider, and almost all of them involve making a conscious effort:
How Do You Prepare for an Assessment Centre?
A little preparation goes a long way. The most important thing is to read through the documentation the employer has sent you so that you know what to expect.
You should make a note of the assessment centre group activities you have been invited to participate in and what time you must arrive or log on (if virtual).
Most employers will list what you will need to bring with you on the day, so make sure you allow plenty of time for preparation.
You will also need to mentally ready yourself. With this in mind, the following tips for your assessment centre group exercise will help:
Final Thoughts
Once you have navigated these tips for your assessment centre group exercise, the only thing left to do is enjoy the experience. After all, it is a great opportunity to meet new people, put your interpersonal skills to the test, and discover more about yourself.
Assessment group exercises are far more participatory than verbal and numerical reasoning tests, and paper-based competency questionnaires.
The benefit to you as the candidate is that you get a 360-degree insight into what it would be like to work for the company. The assessment day is as much about you as it is the employer. If you are offered the role, you will know with absolute certainty whether the position is an excellent match for you.