Passing the USPS 955 Exam in 2023
As the second-largest employer in the US, the United States Postal Service (USPS) has a reputation for being a fair and honest employer.
There have seemingly endless career and career development opportunities, competitive salaries, and exceptional employee benefits.
Furthermore, management and senior staff are supportive and encouraging when it comes to your own career goals.
As such, many Americans apply for positions at the US post office.
To help with the recruitment process, the US Postal Service requires all candidates to sit a pre-employment exam to assess their aptitude for electrical and mechanical skills.
There are many different exams; however, the USPS 955 exam is specifically designed for those applying for mechanic and technician type roles, including:
Building Equipment Mechanic
Maintenance Mechanic
Electronic Technician
Area Maintenance Technician
Mail Processing Equipment Maintenance Mechanic
The 955 exam recently replaced the 931, 932 and 933 versions.
It is a computer-based, proctored exam taken at testing centers.
The test itself has two types of questions: multi-craft and spatial reasoning.
The multi-craft questions cover technical, electrical, building, maintenance and mechanical.
Spatial reasoning focuses on visualization, mental folding and mental rotation.
The passing score is 70; however, as there are many candidates, the higher you score, the better.
Prepare for USPS 955 Exam with JobTestPrep
What Are the Sections on the USPS 955 Exam?
Personal Characteristics and Experience Inventory
The first section of the USPS 955 exam is personal experience and inventory.
It is self-administered and needs to be taken before the multi-craft and spatial reasoning sections.
It consists of 120 questions, and you have 75 minutes to answer all of them.
These questions help the recruiter in assessing your suitability for the job role you applied for.
They are focused on your thought process, personality and habits in the workplace.
Practice USPS 955 Exam with JobTestPrep
They are presented as statements, and you need to decide to what extent you agree or disagree.
Example:
I like to plan things in advance
A – Strongly disagree
B – Disagree
C – Agree
D – Strongly disagree
I feel confident making decisions
A – Strongly disagree
B – Disagree
C – Agree
D – Strongly disagree
Depending on the statement, you may also answer:
A – Very often
B – Often
C – Sometimes
D – Never
Multi-Craft
The multi-craft section of the 955 exam consists of 60 multiple-choice questions, and you have 60 minutes to answer.
It must be taken at a testing center.
The postal exam tests your electrical and technical skills across 21 fields and 131 topics.
It requires you to have an in-depth knowledge of maintenance, especially new technologies.
Those with experience or a strong technical background in mechanics will find it easier to pass the 955 exam than those new to these types of roles.
The range of topics makes it almost impossible for reliable study guides to be produced.
To include all the scenarios would result in a guide over 1,000 pages long.
However, previous candidates believe that the questions may focus on the role you applied for.
Electronic technicians, for example, will receive more questions about electrical equipment.
Equally, those applying for more senior roles should expect more advanced questions.
As a basic, you should familiarize yourself with:
Ohm's Law
Basic machine functions
Hydraulic ad pneumatic principles
Example test questions:
Which of the following is used in condensing refrigerants:
A – Water and gas
B – Liquid and vapor
C – Air and water
D – Vapor and air
E – Gas and vapor
In a shipment of A/C fans, 25 were unusable. This is 35% of the total number ordered. How many were ordered altogether?
A – 71
B – 45
C – 85
D – 69
E – 30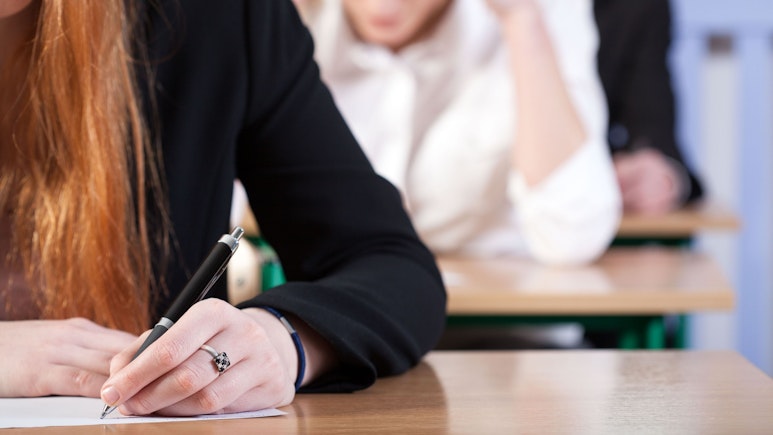 How to Pass the USPS 955 Exam
If you need to prepare for a number of different employment tests and want to outsmart the competition, choose a Premium Membership from JobTestPrep.

You will get access to three PrepPacks of your choice, from a database that covers all the major test providers and employers and tailored profession packs.
Spatial Reasoning
This section is designed to assess how well you visualize and understand how to bring different components together to solve a problem.
It is split into two further subsections:
Matching parts and figures
Spatial visualization
In matching parts and figures, you will be asked to identify various 3D shapes and draw conclusions based on your provided limited information.
You may have to detect patterns in a series of numbers or objects.
You may also be asked to follow a set of instructions to assess how well you understand and respond to written directions.
A significant element of this subsection is using drawings and schematics.
You will be shown a series of images that you need to find the correct answer or corresponding image.
For example, you might be shown a compilation of 2D shapes, and you need to select the image that represents that shape in 3D.
For spatial visualization, you will answer questions about mirror imaging and group rotation.
Prepare for USPS 955 Exam with JobTestPrep
How to Prepare for the USPS 955 Exam in 2023
The USPS 955 exam is known for its difficulty. However, there are practical and useful steps you can take to help better prepare yourself.
Step 1. Understand the Test and Question Formats
The Personal Characteristics and Experience Inventory test is a general exam that will more than likely be the same across all USPS postal exams.
Sitting other psychometric tests will help prepare you for the type of questioning.
Remember that the questions are also based on your resume, so be honest on all application documents and keep consistency.
The mixture and diversity of questions in the second section make it challenging to prepare thoroughly.
But you can presume that it will focus on the role you are applying for; therefore, learn the principles, theories and formulas relating to that before anything else.
Spatial visualization is a primary standard principle; therefore, practicing other spatial visualization tests will help you understand the question format.
Step 2. Sit Past or Practice Tests
As mentioned, there are many spatial visualizations and psychometric tests that you can practice with.
Websites like the Postal Job Source have mock USPS 955 exam study guides you can download that come with mock exams.
Practicing with different types of tests or mock 955 exams will help you gain confidence and feel comfortable with this type of testing.
Step 3. Research USPS and the Job Description
Understanding the company's values and norms will help you know what type of employee they are looking to recruit.
Reading the job description and knowing what will be expected of you can help you with the personality section of the test.
While it is essential, you do not want to say that you rarely make decisions if your role requires you to be a decision-maker.
Step 4. Practice Against the Clock
Practicing under timed conditions is not easy when you don't have a complete exam to work with.
If you do have access to a mock test, practice under timed conditions to get a feel for how the time passes and what areas you need more time for.
Splitting the time equally between all the questions will also help you see which ones you need more time for.
Step 5. Make a List and Schedule
Write down all the subjects and topics related to your job role.
From this list, create a study plan to ensure you cover all the areas.
How far ahead you plan depends on how much knowledge, experience, and confidence you have.
Tips for the Day of the USPS 955 Exam
Find a quiet place for your Personality Characteristics and Experience Inventory test. This section is self-administered, meaning you can do it anywhere. Pick a location where you feel comfortable and will not be disturbed.

Once you have submitted your answers, you cannot go back and change anything. So be 100% sure before submitting your final answer.

Read the instructions and questions carefully. You may be conscious of time, but speeding through a question may lead to mistakes and wrong answers.

Ensure you have had a good night's sleep, eat a substantial meal, and are fully hydrated. This may seem obvious or unnecessary, but drinking enough water can improve productivity and concentration by 14%.
Frequently Asked Questions
The 955 exam is made up of two parts – Personal Characteristics and Experience Inventory Test and two Online Electronic Tests (Multicraft and Spatial Reasoning). The first part is designed to help recruiters to find out how you would approach workplace scenarios. The second part will assess your practical and theoretical knowledge in mechanical and electrical areas.
You will be allowed 75 minutes to complete the 120 questions in the Personal Characteristics and Experience Inventory Test section. These questions can be answered at home.
For the second part, you will be allowed one hour to answer 60 multiple-choice questions on the Multicraft element. For this part of the test (and the Spatial Relations element), you will need to attend an accredited testing centre and answer the questions under strict exam conditions.
To pass the 955 Postal Exam, you must achieve a score of at least 70. However, the application process for USPS technical roles is highly competitive, so you should strive to achieve the highest possible score. Scoring closer to the maximum score of 100 will improve your overall chances of being hired.
You can sit the 955 Postal Exam on more than one occasion. However, there are minimum waiting periods to consider. If you fail the 955 test, you will need to wait 12 months before you can resit it. If you pass the 955 test but you want to improve your score, you will need to wait two years before you can retake the test.
Passing the 955 Postal Exam is just one part of the hiring process. You will need to satisfy the other USPS pre-screening requirements before your application can progress. These include completion of an application form, filling out the Medical Examination Report (Form 1507), passing the drug screening clearance and attending an in-person interview.
Final Thoughts
The USPS 955 exam is challenging to pass. It is designed this way to ensure the USPS only hires the very best.
Passing the exam can lead to a rewarding career that promises progression and opportunities, however.
The job roles that come from the 955 exam are predicted to increase and play a pivotal role in the success of the United States Postal Service.
As processes become automated, maintenance mechanics are more essential than ever.
Before starting the recruitment process, start preparing for the exam by learning the basic principles.
It is not clear how long the recruitment process takes.
Thinking and planning ahead will only leave you feeling more confident and prepared.