The BKSB Test (2023 Guide)
The Department for Education and Skills has identified key functional skills that are necessary for success in the workplace.
To prepare for the functional skills test, candidates can access learning materials and practise tests online.
A bksb test is one way for students to access learning resources and exam preparation to improve their chances of success on the functional skills test.
A bksb test is created and delivered by educational technology specialist company bksb. The assessment has been developed using extensive data and expertise collected over many decades and is delivered via an intuitive artificial intelligence software program.
The tests themselves are designed to assess functional skills and GCSE-level maths and English.
The results of the test can indicate gaps in knowledge or areas in which the candidate needs further training to improve.
bksb also provides resources to prepare for the test, standing students in good stead for passing. bksb themselves claim to have a functional skills test success rate of 17% higher than the UK national average.
In 2019, new national standards for functional skills came into force. In response, bksb updated their functional skills content in line with the reformed standards and remain a stellar provider of assessment and training.
How the BKSB Tests Are Used
The bksb tests are widely used to gain access to apprenticeships in the UK and Australia.
Many companies and organisations use bksb tests, including:
Universities
The military
BAE Systems
Mercedes Benz
KPMG
Retail and service groups, including Boots, Harvey Nichols, Halfords and British Gas, also rely upon bksb tests to recruit junior staff.
Functional skills are considered a mandatory part of all apprenticeships, and students must have the opportunity to learn and develop for the best chance of career success.
An employer must provide this learning as part of the requirement to receive funding for their apprenticeships. Ofsted also monitors and enforces functional skills development for young people in workplace training placements.
In employment, bksb tests are used as a selection tool for recruitment to identify training and development needs, and for workforce management and planning.
Schools can use the bksb system as a low-cost method of bringing all pupils in line with expectations at GCSE level. Colleges and universities can use it to help select and train students according to their chosen career path.
As a student, the bksb test can help secure a place at college, access an apprenticeship or training course for a trade, and develop transferable skills that can be used throughout their lives.
What to Expect From the BKSB Assessment in 2023
The bksb test is made up of several different sections:
Initial assessment
Diagnostic test
Learning
Progress check
Exam practice
All parts work together to provide a comprehensive and cohesive process.
It measures skills from pre-entry to Level 2.
At the start of the process, an initial assessment determines where the student currently sits in their knowledge and skills and gives a baseline from which to improve.
The testing algorithms present questions based on the user's competency as they go through the test, so every student has a bespoke experience to suit their current aptitude.
After the initial assessment, a more detailed test is delivered as a diagnostic assessment.
At this stage, specific skills are checked, including reading, writing, measuring, numerical, understanding statistics and data, shape and space awareness, and spelling, punctuation and grammar (SPAG).
The results also indicate how far the student must go to progress to the next level.
Once these initial assessments are complete, the results are used to create an individual learning plan for the student, who can then access the bksb learning resources to improve their skills and knowledge before taking the functional skills test.
The highest usual result on the bksb test is Level 2.9, which is roughly equivalent to a grade 4 at GCSE (previously a C grade), working towards a grade 5.
The bksb test gradings start at Entry Level 1 (equivalent to Key Stage 1), before moving up to Entry Levels 2 and 3 (comparable to Key Stage 2), before moving up to Level 1 and Level 2 (GCSE grades 1–4).
Each level has a point that indicates how far through that grade the candidate is. For example, Level 2.1 is just into Level 2, whereas Level 2.8 is nearly at Level 3.
The bksb test assesses two main areas of knowledge: maths and English.
Practice BKSB Test with JobTestPrep
Maths Assessment
Candidates sitting the bksb maths assessment have a time allowance of between one hour, thirty minutes and two hours for Levels 1 and 2, and between one hour and one hour thirty minutes for Entry Levels.
Students can take the test in either pen and paper or digital format. Candidates are tested on their basic numerical and mathematical skills.
The bksb maths assessment cover three areas:
Common measures, shape and space
Using numbers and the number system
Handling information and data
Within these areas, typical tasks include addition, subtraction, multiplication, division, interchanging decimals, fractions, percentages and ratios, and ordering numbers in sequence.
Candidates are also questioned on shapes, measurements, probability and analysing basic data sets.
Around 25% of the questions assess underpinning mathematical skills, with the remaining 75% assessing problem solving.
Some parts of the test permit the use of a calculator, while others do not.
Example Question:
Example Question
Ava has £6 to buy oranges and apples. Oranges are 12p each and apples are 34p each. She intends to buy 20 oranges and then as many apples as she can afford. She will spend any change on more oranges.
How many apples and oranges does she buy?
a) 22 oranges, 9 apples
b) 14 oranges, 12 apples
c) 20 oranges, 10 apples
d) 21 oranges, 10 apples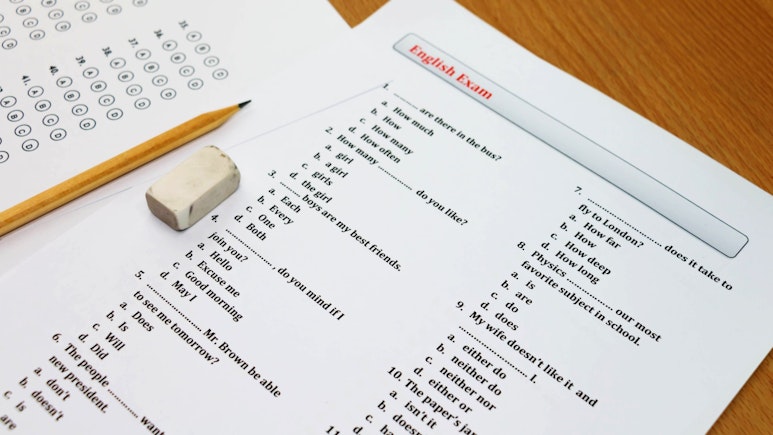 How to Prepare for the bksb Test
If you need to prepare for a number of different employment tests and want to outsmart the competition, choose a Premium Membership from JobTestPrep.

You will get access to three PrepPacks of your choice, from a database that covers all the major test providers and employers and tailored profession packs.
English Assessment
Candidates sitting the bksb English assessment have a time allowance of between two and three hours for Levels 1 and 2 and between one and two hours for Entry Levels.
Students can take the exam in either pen and paper or digital format.
The bksb English test assesses three main areas:
Speaking and listening
Writing – this section focuses on spelling, punctuation and grammar, so the use of spelling or grammar checkers is prohibited
Reading
Within these areas, candidates will be asked questions to test their skills in reading, comprehension, spelling, sentence structure, grammar, punctuation and vocabulary.
Entry Level exams include phonics assessments and word lists for reading and spelling.
A typical style of question presents a body of text that contains relevant information, then a series of questions about the text. The candidate is expected to pick out the relevant information from the text, understand it and apply it to reach a conclusion.
A more straightforward grammar, spelling or vocabulary test might ask the candidate to circle the misspelt word or identify grammatical errors in a sentence.
Example Question:
Example Question
Which is the correct word to complete the sentence?
The ____________ workers were dirty and tired and expressed their displeasure to the boss.
a) Happy
b) Excited
c) Disgruntled
d) Optimistic
How to Prepare for the BKSB Test in 2023
Step 1. Review Sample Questions
There are many sources of sample questions available on the internet, just like the ones provided above in this article.
Sample questions help candidates become familiar with the format and types of questions, and, if the correct answer is provided, can help to identify any areas of strength or weakness.
Reviewing sample questions prevents the candidate from being caught off guard or unprepared for the typical questions that can feature in the bksb maths and English tests.
Step 2. Sit bksb Practice Tests
The bksb platform offers practice exams that candidates can access to track their progress.
These practice tests help the candidate prepare and revise, ready for their exam.
The learner can sit the test at their own pace, becoming more comfortable with the format and delivery of the bksb assessment.
There are two sets of bksb practice tests for each level of study. The maths practice test reflects the real version by allowing a calculator for some parts of the test but not others.
The test is self marking, and correct answers are provided, so the candidate can use the results to improve.
Taking practice tests helps candidates get used to exam conditions and how it feels to sit the whole test in one go to avoid them feeling unprepared or overwhelmed during the actual assessment.
Step 3. Revise Core Maths Skills and Mental Arithmetic
bksb provides learning resources on its website that can help candidates brush up on skills that may be weaker than others.
The maths resources cover all levels of knowledge, from Entry Level 1 to Level 2.
The bksb software creates a learning plan for maths, so students know what to study.
Lessons are delivered in video and written formats, and candidates can access the resources and test on any device.
Improving their core mathematical and mental arithmetic skills helps students complete the maths section of the functional skills test to their highest ability.
Specific areas to revise include:
Addition
Subtraction
Division
Multiplication
Measurements
Shapes
Number sequences
Step 4. Revise Core English Skills
bksb learning resources also cater to English skills and knowledge requirements and support students in improving their reading, writing, speaking and listening skills to prepare them for the functional skills assessment.
Specific areas to revise include:
Spelling
Grammar
Vocabulary
Punctuation
Sentence structure
Comprehension
Brushing up on English skills helps avoid the candidate becoming stressed or overwhelmed with English questions during the exam.
There are two levels of the bksb practice exam for each level of study, from Entry Level 1 to Level 2. The bksb software uses the candidate's learning plan to deliver relevant content at the correct aptitude level for each student.
Step 5. Join Online Forums for Support
bksb test candidates often gather in online spaces to discuss preparation for the bksb test.
Topics of discussion include:
Examples of questions
What each of the levels means
What each part of the bksb process involves
Candidates also talk about their experiences of taking the test and how it felt to work under exam conditions.
Visiting a forum and speaking with peers also taking the bksb test can help avoid unexpected surprises during the test and help alleviate nerves or fear of the unknown that often comes with sitting exams.
Final Thoughts
bksb has an excellent reputation in the education industry because it provides a complete learning experience for students.
Candidates can progress through a full assessment and learning programme to prepare them for the functional skills test needed for apprenticeships, college and university places, and some workplaces.
Passing the functional skills test can open up career paths in industries such as retail, the armed forces and service industries.
Taking the functional skills test can be a nerve-wracking time for students, but bksb helps to make the whole process smoother. The bksb tests are designed to assess skill level so that the student can fill in any gaps in knowledge or skills and develop a greater depth of understanding in the areas of maths and English.
Although bksb makes the process of learning and assessment simpler, students are still advised to approach the tests with diligence, taking each step seriously as an opportunity to improve and to build confidence.
Performance on the bksb assessments can have an impact on a student's future options and can determine the next steps on their career path.
Doing well in the bksb test indicates that the student will likely achieve a good outcome when they sit the functional skills test.