The Amazon Assessment for Warehouse (2023 Guide)
Updated November 20, 2023
Almost everyone is aware of online retail giant Amazon. Launched in 1995, Amazon has delivered products to millions of people all over the world, becoming the largest internet-based retailer in the world.
Amazon prides itself on offering great customer service and satisfaction.
To do this, it employs thousands of people in different areas of the company.
The work pace is quick, with the goal to make every customer happy with their experience.
One of the areas that staffs hundreds of employees is the warehouse.
Working at an Amazon Warehouse
There are Amazon warehouses all over the world, and it is from these warehouses that goods are sent out when customers make purchases.
Understandably, it takes a lot of people to keep things moving quickly in this kind of environment.
There are a wide variety of jobs at an Amazon warehouse:
Pickers
Stowers
Packers
Counters
Janitors
Security guards
(and recently) Social distancing enforcers
All of these jobs are important and required to make the warehouses run smoothly.
Amazon is known for its speedy shipping and delivery, and this means that those who work in the warehouse need to be quick on their feet.
The warehouse jobs involve a lot of time on your feet, a lot of rushing and the urge to always go faster.
Competition for Amazon jobs is high as it is known to be a good place to work.
Not everyone will make it through the hiring process. Out of thousands of applicants, only a few will make it to the interview stage.
The Amazon Warehouse Hiring Process in 2023
The hiring process to work in an Amazon warehouse runs over three stages.
Submit an online application or resume
Do the assessment test
Complete the interview stage
No matter the job or particular stage of the application process, there are key values that Amazon prides itself on following.
You should be aware of these and mention them wherever you are able to throughout the hiring process.
Customer Obsession: Customer trust is key and employees should work hard to gain and keep that trust. While paying attention to competition, customers are the main focus.

Ownership: Amazon leaders think long-term and act on behalf of the entire company, doing what is needed even if it does not fall into their job specifications.

Invent and Simplify: Amazon leaders find new ways to simplify and do things.

Are Right. A Lot: Amazon leaders are often right, with good judgment and instincts. They look for different perspectives and try to disconfirm their beliefs.

Learn and Be Curious: Leaders are constantly learning and looking for ways to improve themselves. They eagerly explore new possibilities.

Hire and Develop the Best: Leaders aim to hire those who will excel and be innovative. They recognize good workers and move them through the organization. Leaders coach others to be great.

Insist on the Highest Standards: Leaders have high standards and continually raise the bar. They coach their team to deliver in terms of products, services and processes and ensure that problems are always fixed.

Think Big: Leaders set big goals and always look for new ways to best serve their customers.

Bias for Action: Amazon values speed and calculated risk-taking.

Frugality: Amazon aims to accomplish more from less. It looks to avoid growing budget sizes, headcounts and fixed expenses. It prefers self-sufficiency and resourcefulness.

Earn Trust: Leaders are able to listen attentively, speak candidly and be vocally self-critical when needed.

Dive Deep: Leaders work on all levels and know what is going on. They are apprised of the details and check things over frequently.

Have Backbone, Disagree and Commit: Leaders have conviction and do not compromise. They will challenge decisions when they disagree and will commit to a decision completely.

Deliver Results: Leaders rise to the occasion and deliver with quality in a timely fashion.
The hiring process at Amazon is heavily automated. Many applicants do not meet anyone from the company until the interview process.
The Online Application or Resume
Many Amazon jobs can be applied for through online applications, and this application will remain in your file throughout your career there. Therefore, it is important to make a good first impression.
Make sure that everything is filled in accurately and completely and always read the job description carefully and base your answers on what the job requirements are.
Add as much information about the company as you can in your answers to show your interest and that you have done your research.
Try to match your experience to Amazon's key values wherever you can and be prepared to answer some motivational questions about the area in which you are applying.
If you are applying by resume, make sure that your resume is up to date and has all of your recent work experience and education listed. If you are unsure, you may want to consider using a resume service that can look over your resume for you.
The Assessment Tests
Amazon uses assessment tests to get to know applicants as well as to identify characteristics desired for the role.
Applicants are assessed equally as everyone is given the same information during the assessment. The tests take approximately 10 to 20 minutes to complete.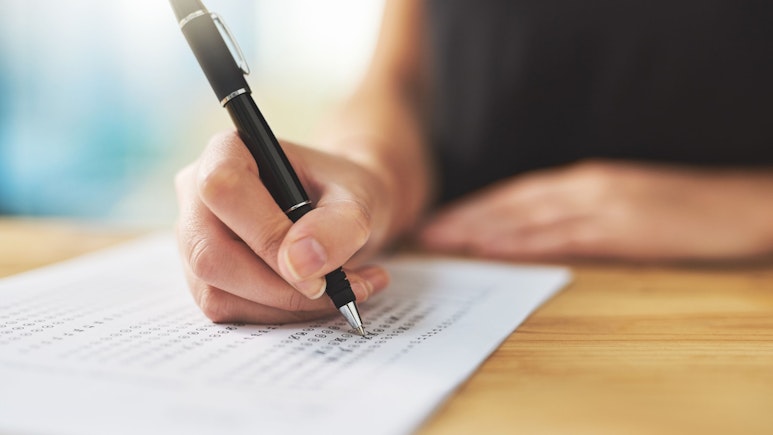 How to Pass the Amazon Assessment for Warehouse in 2021

Applicants may be asked to take an assessment during the application process, or it will be sent separately after the application is received.

While the assessments will differ depending on the role, the most common are work style and work sample assessments.
The Interview
Interviews will be approximately 10 questions in a 45-minute interview. You also need to provide two pieces of photo ID as well as take a drug test.
Applicants can practice beforehand by working out the answers to the 10 questions that may be asked.
1. Please explain any previous warehouse experience
If you have any previous warehouse experience, special qualifications or licenses it is important to mention those up front and distinguish yourself as well-qualified.
Emphasize that you are a team player as well as any significant contributions you made to your last job. Be sure to end with any advantages such as you can work any type of shift, you can work overtime, etc.
If you need to prepare for a number of different employment tests and want to outsmart the competition, choose a Premium Membership from JobTestPrep.

You will get access to three PrepPacks of your choice, from a database that covers all the major test providers and employers and tailored profession packs.
2. How do warehouse members contribute to customer satisfaction?
It is important to remember that at Amazon customers always come first. Think of Amazon as a whole and how poor customer service could affect other areas.
Stress that as a warehouse employee your quickness and attention to detail will help orders get out correctly and on time.
3. How will you ensure orders get sent out correctly?
The important point to highlight in your answer here is that you are meticulous about double-checking your work.
Stress that you would read the order over carefully, checking the items, the quantity, color, size, etc. Once the order is packaged you check the details one more time, especially the delivery address, before sealing everything up to be shipped.
4. What would you do if you suspected your colleague of stealing?
The only correct answer to this question is that you would report the employee to your supervisor immediately. Any other answer opens up the issue that you may not be completely honest on the job.
5. Tell us what you know about Amazon's values
Luckily you have likely done your research, as noted above, and you have a good understanding of Amazon's key values and how they fit into the business.
Explain how the values would make you feel proud to be an Amazon employee and that you love how Amazon values the customer.
6. Would you feel comfortable moving a 35 kg package around?
Health and safety measures are very important in the warehouse environment where large items are constantly on the move.
Show that you understand health and safety regulations and that you follow them and have never been injured.
Also stress that you would not lift something you were not comfortable lifting because not only could you injure yourself, but you could also end up dropping and breaking or damaging the product.
7. What if you had an incident happen while under a tight deadline?
Even if you have a deadline, any incidents such as a malfunctioning machine or a spillage can lead to even further delays, not to mention employee injuries.
Explain how it is best to solve the issues first so that the flow of work can get back to normal, before resuming your duties.
8. The warehouse is so big; how do you remember where everything is?
Having a good memory is important when working in a warehouse. Stress that you work hard to learn where the most popular items are first and then add more items to your memory list from there.
9. What do you do with delivery notes?
Delivery notes are important to help the driver deliver the right goods to the right place.
Note that you carefully check and double-check everything that is labeled against the address list before giving the list to the driver to use on deliveries.
10. Do you have any questions or concerns?
Having a few insightful questions of your own shows that you are interested in the job and have done some research. Good questions to ask center on training, promotion possibilities, company values and company goals.
If you have passed the interview successfully, you will be asked to supply two pieces of photo ID as well as possibly take a drug test.
How Do the Amazon Assessment Tests Work?
Work Style Test
The work style assessments are based on Amazon's leadership principles and consist of 38 questions in total. The test takes approximately 15 to 20 minutes to complete.
Applicants are asked to choose the extent to which a statement represents their work style.
For example, applicants could be asked if they like to work in a busy environment or whether they want to learn new skills.
Questions may also ask whether you consider yourself to be organized or have ever left a job quickly.
Applicants will also be given statements and asked to what extent they agree or disagree on a scale of one to five.
Your answers reveal what kind of worker you are, your work values and whether you fit with the position.
Work Sample Test
Work sample assessments provide the applicant with virtual tasks that are related to the position they are applying for.
The test takes approximately 20 minutes to one hour to complete and questions are based on Amazon's leadership principles.
Applicants will need to demonstrate problem-solving skills, interpersonal skills and how they prioritize tasks.
Some applicants may also need to demonstrate computer skills as well as customer service skills.
Applicants for warehouse positions will likely deal with scenarios such as how best to stack a group of boxes, which items should be stacked first or what order should be filled first. They will be evaluated on how well they respond to the work issues.
How to Prepare for the Amazon Warehouse Assessment in 2023
There are many ways you can prepare for the assessment tests.
Prepare well in advance by reading the job description thoroughly and understanding the requirements of the role. Research Amazon well and understand its beliefs and policies.

Answer your questions honestly. Any dishonesty could taint your answers to other questions, and if discovered later, would end your career at Amazon.

Turn off all distractions. Ensure that your phone and other technological devices are all turned off during your assessments. Find a quiet room that you can have to yourself with the door locked.

Check that the device you will be using for the assessment is working properly, as well as your internet connection. You do not want to run into issues halfway through your assessments.

Place yourself in a professional state of mind. Take the assessments as though you are already an employee. Remain calm and confident and think positively that you can do well.
The Amazon warehouse assessment is designed to consider how well you would fit as a part of the warehouse team, so the most important thing is to be honest.
Having said this, there are several things that you can do to ensure that you can be the best possible version of yourself on the day:
Research the values of the company so that you can think about how to show these skills and values within yourself
Be honest
Make sure that you have read all of the information you have been given ahead of the assessment so that you don't make avoidable mistakes
This really depends on which assessments you are asked to complete.
The work style test consists of 38 questions which will usually take less than 20 minutes to complete. It is usually formatted as a multiple-choice style test, with applicants completing the Amazon warehouse assessment online.
The work sample test is designed to reflect more of what would be expected of you as an employee. You will be given 20 minutes to answer questions that relate to what you would be doing in your role as a member of the warehouse staff. YOu will be asked to answer hypothetical questions to give the recruiter an insight as to your personality and approach to work.
In theory, yes. You could decide to answer the questions in a way which you think that the company wants to see.
This wouldn't help you in the long-term though as the assessments are designed to look at how well your personality would fit within the company.
Lying during the assessment process could result in you being offered a job that really doesn't suit you very well and could potentially make you very unhappy.
The majority of questions on the Amazon warehouse assessment will be multiple-choice, with candidates being expected to select the answer which they feel is most appropriate.
During some parts of the assessment process you will be asked to answer hypothetical questions relating to potential workplace scenarios.
You generally won't get a phone call after completing the assessment, but Amazon does usually contact candidates to let them know whether or not they have been successful.
If you have not passed the assessment, then this is more likely to be as an email rather than by telephone.
Final Thoughts
Working at Amazon can be a great experience. It's a growing company that prides itself on making the customer happy.
Being a part of the warehouse staff is a big part of this. You would be responsible for getting goods out the door and to the customer in a timely manner.
This can be a big undertaking and something you should prepare for.
Prepare well for the application process. Become familiar with Amazon's values and how you can best work them into your answers. Read the job description carefully and suitably reference key points in your responses.
Practice some question-and-answer sessions with a friend and most of all, stay calm and do not panic. You are on your way to a great career at Amazon.