SHL Inductive Reasoning Test: Guide and Tips 2023
Updated September 7, 2023
SHL inductive reasoning tests require candidates to quickly comprehend abstract information.
You may be asked to complete one of these assessments as part of the recruitment process.
The format of SHL inductive reasoning tests can appear unfamiliar. This guide provides some useful tips to increase your confidence and help you pass the test with ease.
What Are SHL Tests?
Saville and Holdsworth Limited (SHL) publishes a range of psychometric tests.
As an international company, SHL tests are globally recognised. Founded in 1977, it now works with more than 10,000 organisations including Fortune 500 companies.
SHL tests are similar to an IQ test but they have been adapted for employers.
They are designed to identify and predict candidates' abilities as part of the recruitment process.
Different SHL tests can be used to assess:
Personality traits
Behavioural characteristics
Aptitude and skills
The available SHL tests include:
SHL inductive reasoning test – Candidates are required to identify and predict patterns from sequences of diagrams.

SHL Verify G+ inductive reasoning test – Candidates must answer logic-style diagrammatic questions. This can be interactive or non-interactive.

Verbal reasoning test – This is a comprehension test assessing communication skills. Candidates read a short text and verify the truth of statements.

Numerical reasoning test – This test focuses on data analysis using mathematical information presented in graphs and tables.

Deductive reasoning test – This is a test assessing problem-solving ability. Candidates analyse provided scenarios and apply logical reasoning.
The tests are often used at different stages of the recruitment process. For example, following an initial interview or as part of the selection process itself.
Which Companies Use SHL Inductive Reasoning Tests?
SHL tests are used by companies of all sizes to assess potential employees during the recruitment process.
The tests are used by employers across a range of different industries. They are commonly used to assess graduates for recruitment schemes.
Some key companies include:
Amazon
Sky
Bombardier
Google
Microsoft
Heineken
Applicants are usually sent an email outlining what tests they will need to take.
The information provided includes a link to the online test and the deadline for completion.
Practice SHL Inductive Reasoning Test with JobTestPrep
Why Are SHL Inductive Reasoning Tests Used?
SHL testing is often seen as a key part of the application process.
This is because companies can:
Understand the key abilities of candidates
Compare results to current employees
Learn how well applicants perform under pressure
Be confident about a candidate's aptitude for a role
Determine if applicants move to the next recruitment stage
Predict the likelihood of a candidate's success in a role
The SHL Inductive Test Format
Inductive reasoning tests are a type of psychometric test.
They are also known as logical or abstract reasoning tests.
The questions are non-verbal and non-numerical. Instead, they present a series of related diagrams that follow a pattern.
Candidates are asked to notice similarities and predict the underlying pattern to solve the problem.
There are three types of inductive reasoning tests used by SHL:
SHL Verify G+ Inductive Reasoning (interactive)
SHL Verify G+ Inductive Reasoning (non-interactive)
CEB SHL Verify Inductive and Logical Reasoning
These three tests vary in the type of questions presented, the test length and difficulty level.
SHL Verify G+ Inductive Reasoning (Interactive)
Number of questions: 15
Time to complete: 18 minutes
This test is considered to be the most challenging of the three.
In the interactive version of the inductive reasoning test questions are activity-based.
Questions are answered using a drag-and-drop format rather than multiple-choice.
Candidates are required to drag lines on the screen to complete alphanumeric sequences.
They are also asked to memorise button behaviour and remember sequences.
SHL Verify G+ Inductive Reasoning (Non-Interactive)
Number of questions: 18
Time to complete: 24 minutes
In this non-interactive multiple-choice test, a series of shapes and diagrams are shown.
Candidates must select the next logical diagram to complete the sequence from the image options provided.
CEB SHL Verify Inductive and Logical Reasoning
Number of questions: 24
Time to complete: 25 minutes
This is an older version of the non-interactive test.
The majority of hiring companies now opt for one of the two versions described above.
When Are SHL Inductive Tests Taken?
Inductive reasoning tests are often taken for roles that include solving complex problems. Potential roles can include finance, IT and management positions.
The inductive reasoning test is usually administered online so it is accessible.
Tests are taken online by following a link provided by an employer.
You may need to attend an assessment centre if the results of a previous test require verification.
Tests can be taken at a convenient time for you within the specified time frame.
SHL Inductive Reasoning Test Answers and Examples
The following questions are examples of what you might expect in the SHL inductive reasoning test.
Test yourself before revealing the SHL inductive test answers and their explanations.
Sample Question One – Interactive
Example Question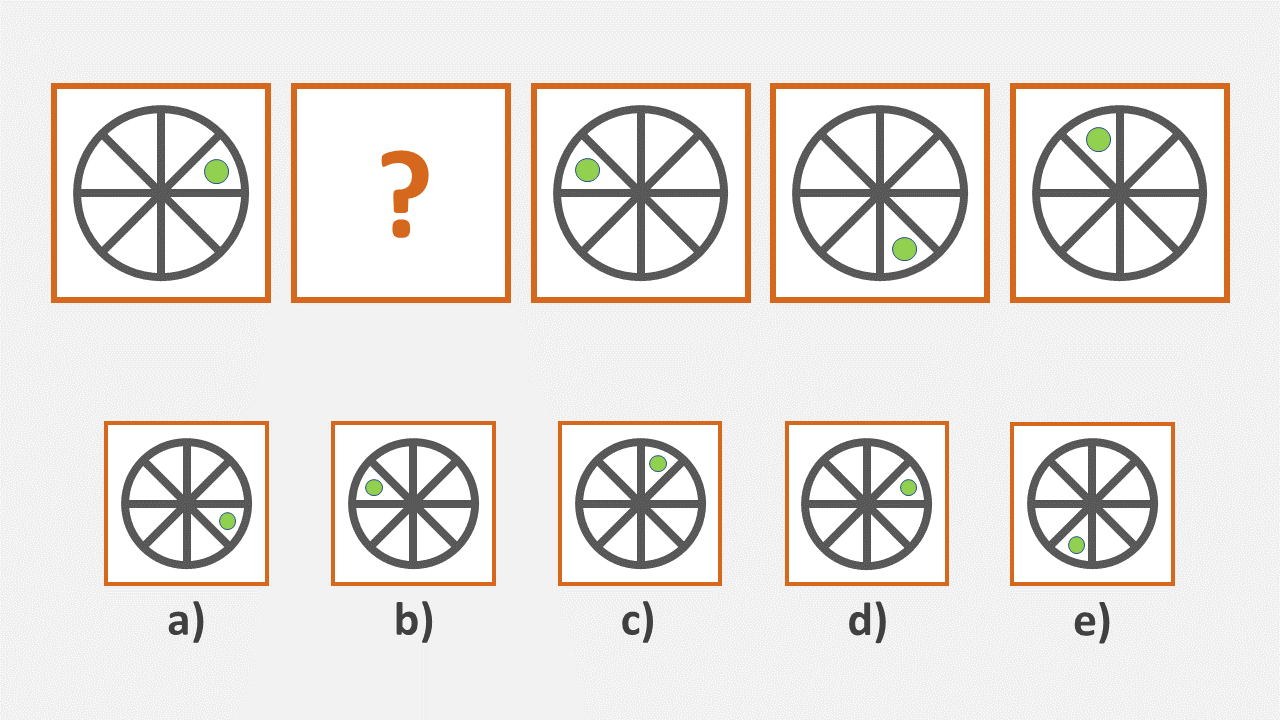 Drag the dot into the correct part of the diagram to complete the sequence.
If you need to prepare for a number of different employment tests and want to outsmart the competition, choose a Premium Membership from JobTestPrep.

You will get access to three PrepPacks of your choice, from a database that covers all the major test providers and employers and tailored profession packs.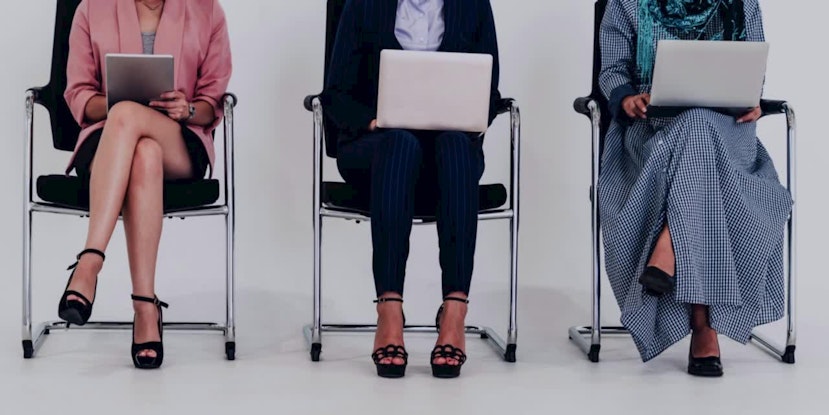 SHL Inductive Reasoning Test: Guide and Tips

Example Question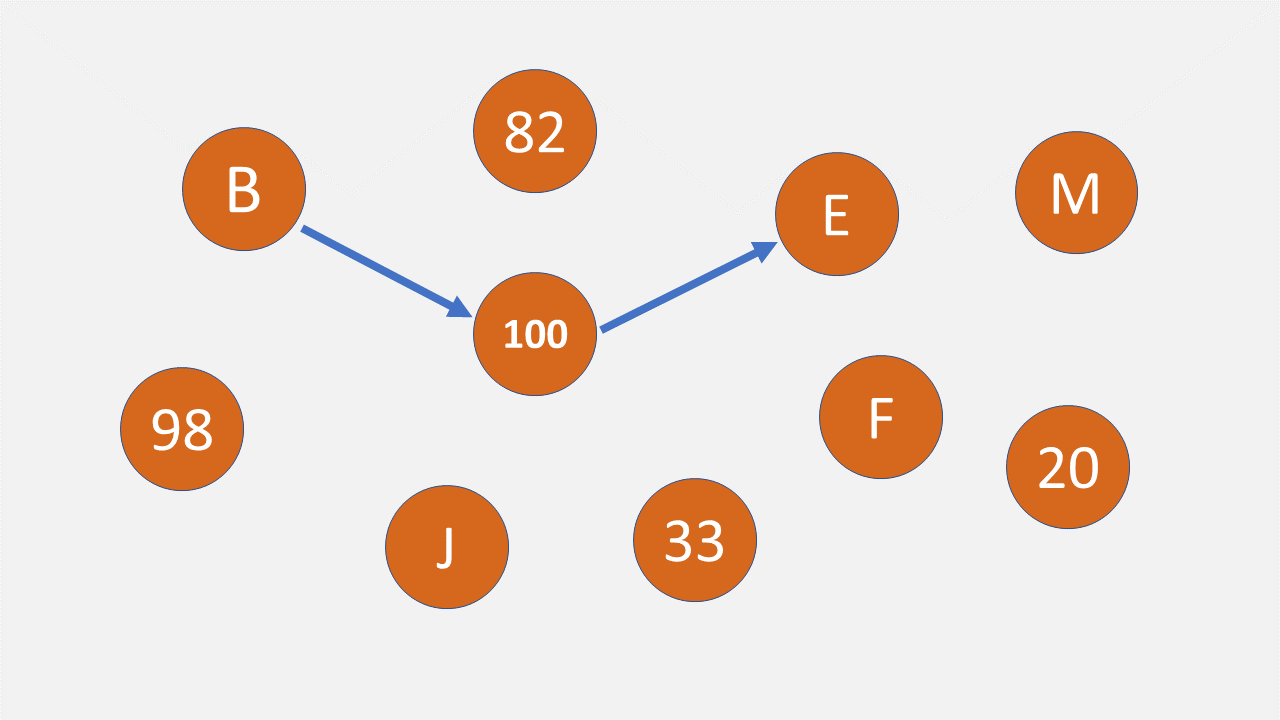 Drag the line to complete the correct sequence of letters and numbers.
Example Question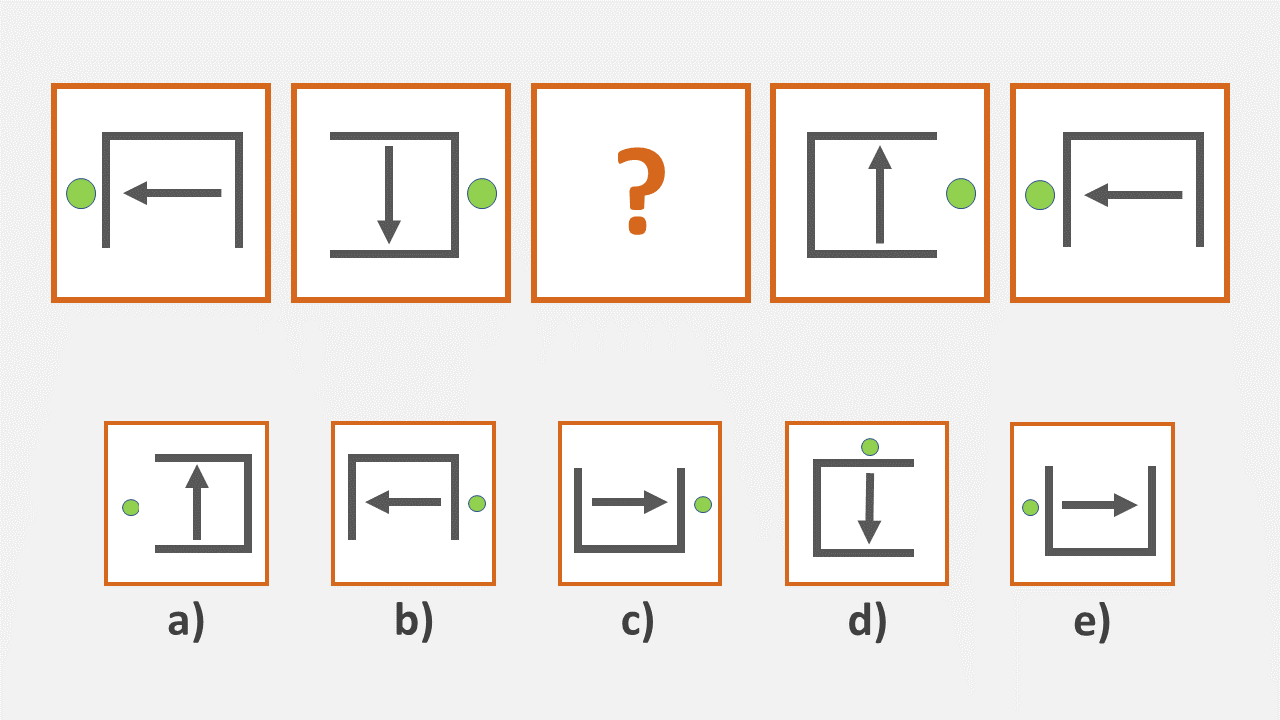 Select the correct image that completes the sequence from options a) to e).
Example Question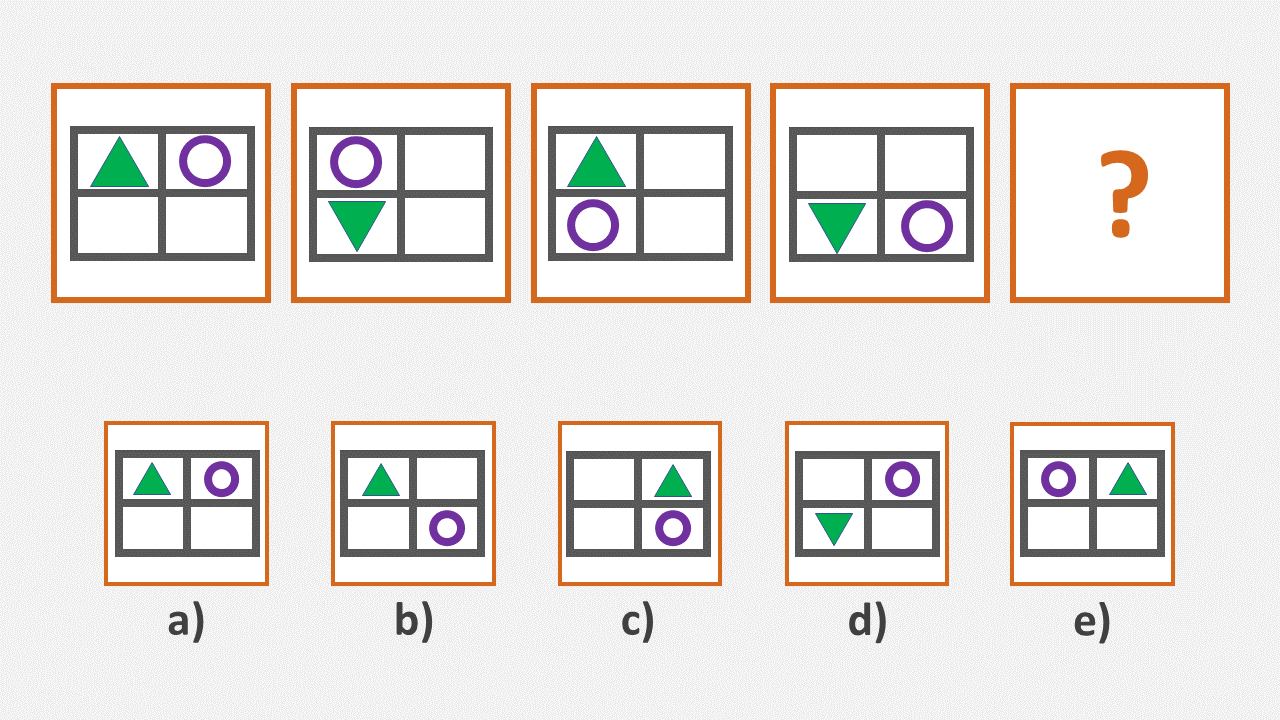 The Scoring System of the SHL Inductive Reasoning Test
All candidates who take the SHL inductive reasoning test will receive an assessment report.
This report contains the test score and provides feedback on the results.
A candidate's score is compared with the results of previous test-takers.
This comparison result places candidates in one of five grade groups from A to E.
The score shows how well you perform in comparison to other candidates. This means the raw score (the actual number of correct SHL inductive reasoning test answers) isn't included in the report.
The reason for this is that it removes unintentional bias. If all candidates receive a low raw score, the grade groups take this into account.
Grade group A is the highest but the cut-off score for success differs. This depends on what company you are taking the test for.
As companies don't reveal their cut-off scores, it is important to prepare fully and aim to score as highly as possible.
The report usually contains a percentage score. Although 50% might be average, most employers are potentially looking for candidate scores of 80% to 90%.
Can You Fail the SHL Inductive Reasoning Test?
There is no strict pass or fail result for the SHL inductive reasoning test.
If you fail the test, the next steps will depend on the employment practice of the hiring company.
You could be asked to complete it again, take a different type of SHL test or end the application process.
If you pass the test, you will move on to the next stage of the application process.
You may be invited to interview or be provided with additional tests.
Practice SHL Inductive Reasoning Test
How to Prepare for the SHL Inductive Reasoning Test in 2023
If you haven't taken a logic-type test before, the questions can appear unfamiliar and feel overwhelming.
Practising beforehand will help you feel more confident figuring out patterns under time constraints.
This will help you feel calmer on test day.
It is worth following these SHL inductive reasoning test tips to help you prepare.
Step 1. Understand the Question Types
The diagrammatic style of questions can seem confusing at first.
SHL inductive reasoning tests use a variety of different graphics. Familiarise yourself with a range of different practice questions.
Step 2. Practice the Test Online
To help familiarise yourself with the types of questions to expect, there are various sites that offer online SHL inductive reasoning practice tests.
Using these will give you valuable insight into how you perform under pressure. Reviewing your SHL inductive reasoning practice test answers will also help you to determine which areas you need to focus your study on.
Step 3. Practice Under Test Conditions
Create a calm environment that is free from distractions. This will help you focus on your studies.
The more often you practice, the faster you will be able to answer these types of questions.
Step 4. Practice Timed Questions
Try and practice at the same time every day. This will help you develop the habit of learning.
You will only get between 60 and 90 seconds per question. So timing yourself as you practice is very important.
Step 5. Learn How to Spot Patterns
Analysing visual information can be tricky. The questions presented in the test will all follow a rule.
When you spot the rule, you will be able to predict what pattern comes next.
It is often easier to identify patterns that do not fit and eliminate these options first.
Step 6. Simplify the Question
To figure out a pattern, try looking at different parts of the whole diagram independently.
Treat the diagram as different parts of a puzzle. This will make it less overwhelming.
Consider if these separate shapes are being rotated, reflected or translated in some way.
Then combine these ideas together for your final answer.
Step 7. Take a Guess if Unsure
If you struggle with a particular question, take a guess at the answer.
Try eliminating options that are definitely wrong first.
If you spend too long on one question you waste valuable time for the rest of the test.
Getting stressed won't help your performance. It is better to take a chance and move on to the next question instead.
Step 8. Don't Get Stuck
Keep a record of the types of questions you struggle with during your practice.
Focus on reading worked answer solutions so you understand different ways the questions can work.
This method helps you focus on areas you need to improve. As a result, you will perform better on test day.
Step 9. Follow the Test Rules
Read all the instructions carefully and follow any guidance provided during the test.
Consider how much time you have to complete the questions and don't spend too long on each question.
Step 10. Avoid Cheating
Due to the difficulty of this type of psychometric test, you may be tempted to cheat.
However, employers may require you to retake the test in person under supervised conditions.
Inconsistencies in your results can lead to disqualification from the position applied for or being blacklisted from the company.
Step 11. Get in the Zone
You need to be in the right frame of mind for taking the SHL inductive reasoning test.
Make sure you are fully rested, alert and free from distractions before attempting the test.
This will guarantee you are fully focused to get the best result.
Step 12. Keep Calm on Test Day
Nerves and anxiety can be detrimental to your performance.
Practising relaxation techniques can help keep you calm on test day.
It is a logic-style test used to assess a candidate's problem-solving abilities.
There are 15 questions on the interactive version, 18 questions on the non-interactive version and 24 questions on the older multiple-choice test.
Prepare by practicing inductive reasoning tests online.
The inductive reasoning test is challenging and works in a similar way to an IQ test.
The test takes between 18 and 24 minutes depending on what version you are asked to complete.
The test assesses problem solving and the ability to think logically and creatively.
The time taken to receive your results varies depending on your potential employer.
Sample questions are included in this article. Other examples can be found online.
The pass marks vary depending on the employer. There is no conclusive number of questions to get right.
A range of different-sized companies use the SHL tests including Microsoft and Google.
Final Thoughts
The SHL inductive reasoning test is challenging. The best way to prepare is through practice.
Familiarising yourself with how to interpret the diagrams is the best way to improve your possible score.
Begin preparation in advance of your test and you will feel confident and ready to perform at your best.