The Myers-Briggs Assessment Test
The Myers-Briggs Type Indicator (MBTI) is a self-assessment questionnaire designed to help define personality types.
It was developed by Isabel Briggs-Myers and her mother Katherine Briggs during World War Two to help place women into employment while men were fighting. The test was based on Carl Jung's theory of personality types, to help women to find roles that were best suited to their strengths and weaknesses.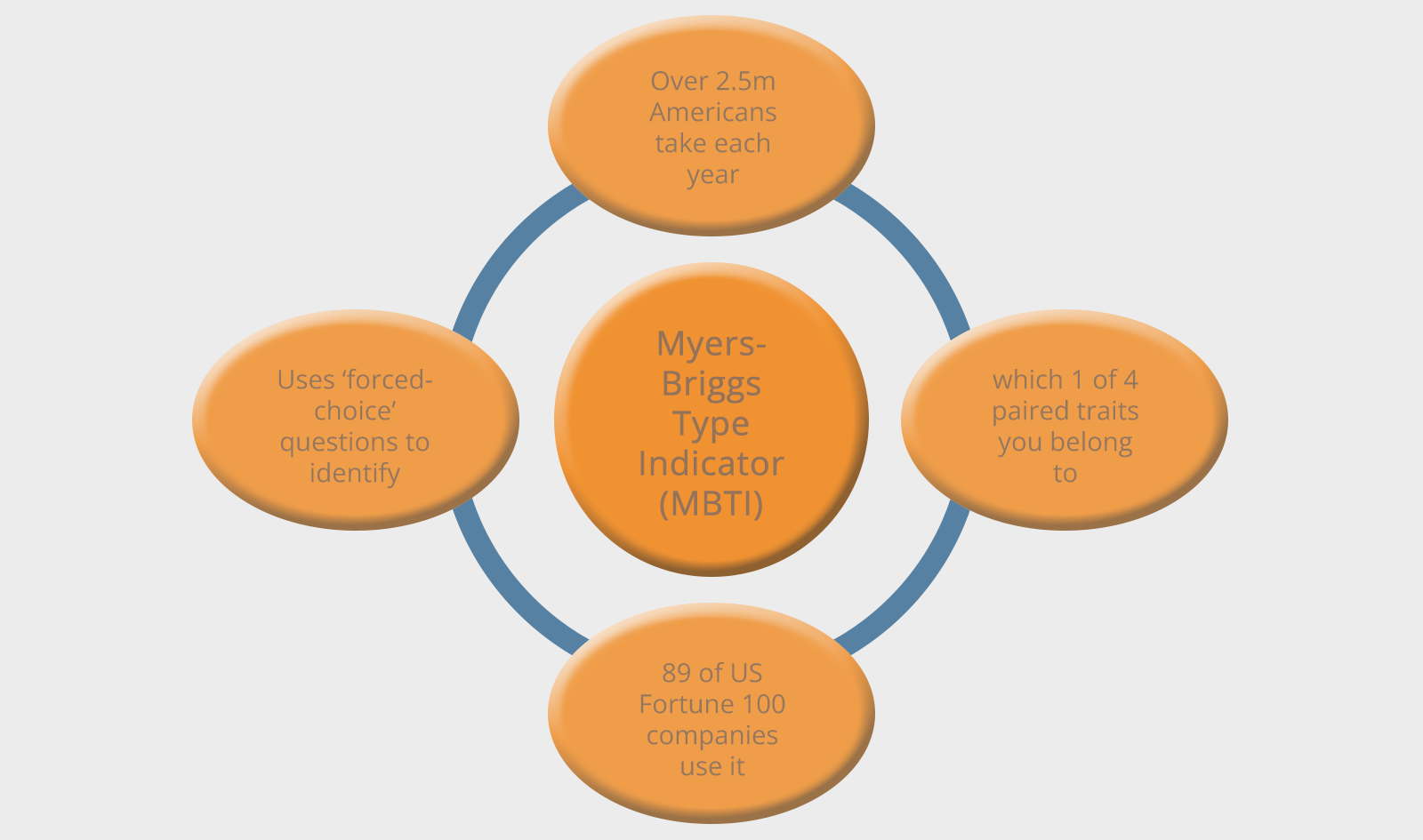 Myers-Briggs
How Was the Test Developed?
The Myers-Briggs model took Jung's archetypal personality descriptions and expanded on them, creating a usable methodology that could reliably assess each test-taker and place them in one of 16 personality brackets.
Jung's personality theory was based on the four major archetypes; the persona (how we present to the world), the shadow (our repressed ideas and weaknesses); the anima/animus (or masculine/feminine features); and the self (unified conscious and unconscious).
From these major archetypes, there are many 'lesser' archetypes based around a higher focus on one or another, such as the caregiver, the ruler, the rebel, the jester, the hero, and the lover – and Jung said these can be found universally in the collective unconscious.
The model assigns personality traits based on the answers to 'either/or' questions and each of the sixteen possible results is designated with a 4-letter acronym.
What Is the Test Used For?
The MBTI is used to assess personality and understand the way that seemingly random variations in behavior are actually quite orderly and consistent. It is not designed to be a screening test for employment or as a decision-making tool in considering an employee for promotion, but rather a tool for self-assessment.
The MBTI results help you to explore and understand your strengths and weaknesses, what your likes and dislikes are and your compatibility with other people. It can help you to understand how others view you and what career paths might be most suited to your talents.
The Myers-Briggs Type Indicator does not value one type above another; no traits are considered better or worse than others, but it can help you realize what your shortcomings may be so that you can work on self-improvement.
Results Overview
The test is based on four different scales of personality based on how view the world, how you make decisions and how you deal with the world. It also looks at whether you prefer your inner world or the outside world.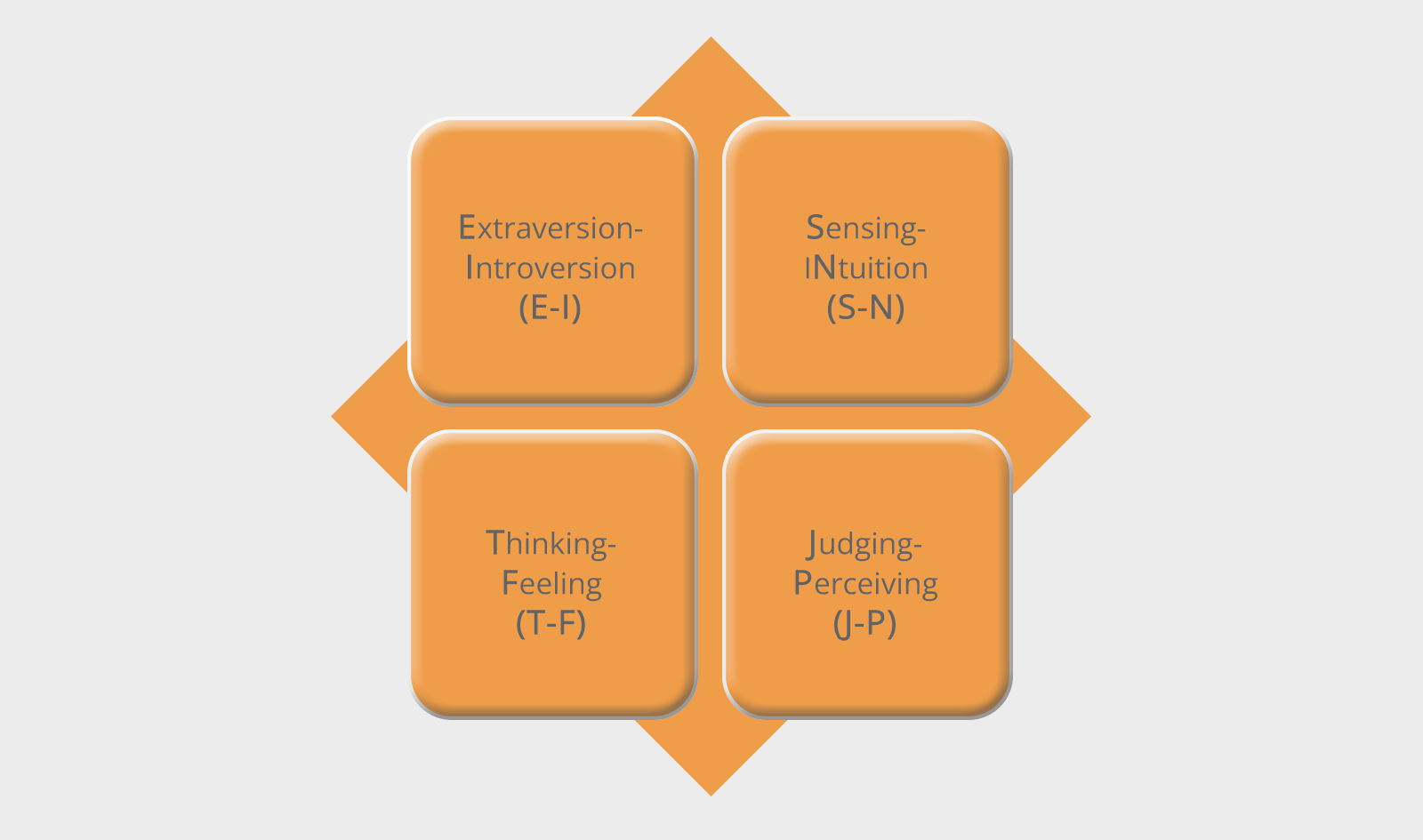 Myers-Briggs
Extraversion/Introversion (E/I)
Extraverts tend to be focused outward, enjoying frequent social interaction and are generally energized when they spend time interacting with other people. They are usually action-oriented rather than thought-oriented.
Introverts are inward-turning, and although they may be considered anti-social, it is more that they prefer deep and meaningful social interactions. Introverts are generally recharged when they spend time alone and tend to be thought-oriented.
Although people will have both extroverted and introverted reactions to different situations, you will likely prefer type one over the other.
Sensing/Intuition (S/N)
This part of the assessment describes how you take information from the world.
Those who are considered 'Sensing' take information from their senses and try to mostly base their information on external factors, facts and hands-on experience.
For the Intuitive personality, imagination, abstract theories and possibilities color their experiences and they tend to look for patterns and thoughts in it instead.
Thinking/Feeling (T/F)
How you make decisions based on the information that you are given depends on whether you mostly use logic or emotion.
People who use objective data and facts to make decisions can be considered Thinkers. They are often impersonal but consistent and logical.
Those who are more Feeling in their decision-making are more likely to consider the emotions of themselves and other people.
Judging/Perceiving (J/P)
This is about how you deal with the outside world. In this context, Judging does not mean 'judgmental'.
If you prefer structure, firm decisions, routine and traditions you are likely to score higher for Judging.
People view high Judging scorers as being task-orientated and wanting to finish work before relaxing. Whereas those who are more flexible, open and adaptable are more Perceiving and tend to take longer to make decisions as they are always looking for more information about a situation. They may miss deadlines as they take a long time to finalize projects.
What Is the Test Format?
In the official MBTI test, there is no time limit, and you have to answer 93 questions in the North American version and 88 in the European English version. These questions are described as 'forced-choice' – to answer, you must select one of two possibilities and cannot say "no preference".
The answers are a mixture of word pairs and short statements that are related to each of the four scales; while they may not be literal opposites, they represent either side. If you really cannot choose, you can skip questions, although this will mean there are fewer data to derive your personality type from.
Once the test is complete, you will be presented with your type and some detailed information about what that actually means for you. One piece of this detailed information is called the Preference Clarity Index and indicates how clearly you fall to one side or another in the pairings.
Example Questions:
Choose the statement that best describes you:
1.
a) I am the life of the party
b) I prefer small gatherings
2.
a) I think of the future
b) I stay in the present
3.
a) I dream of tangible things
b) I dream of abstract things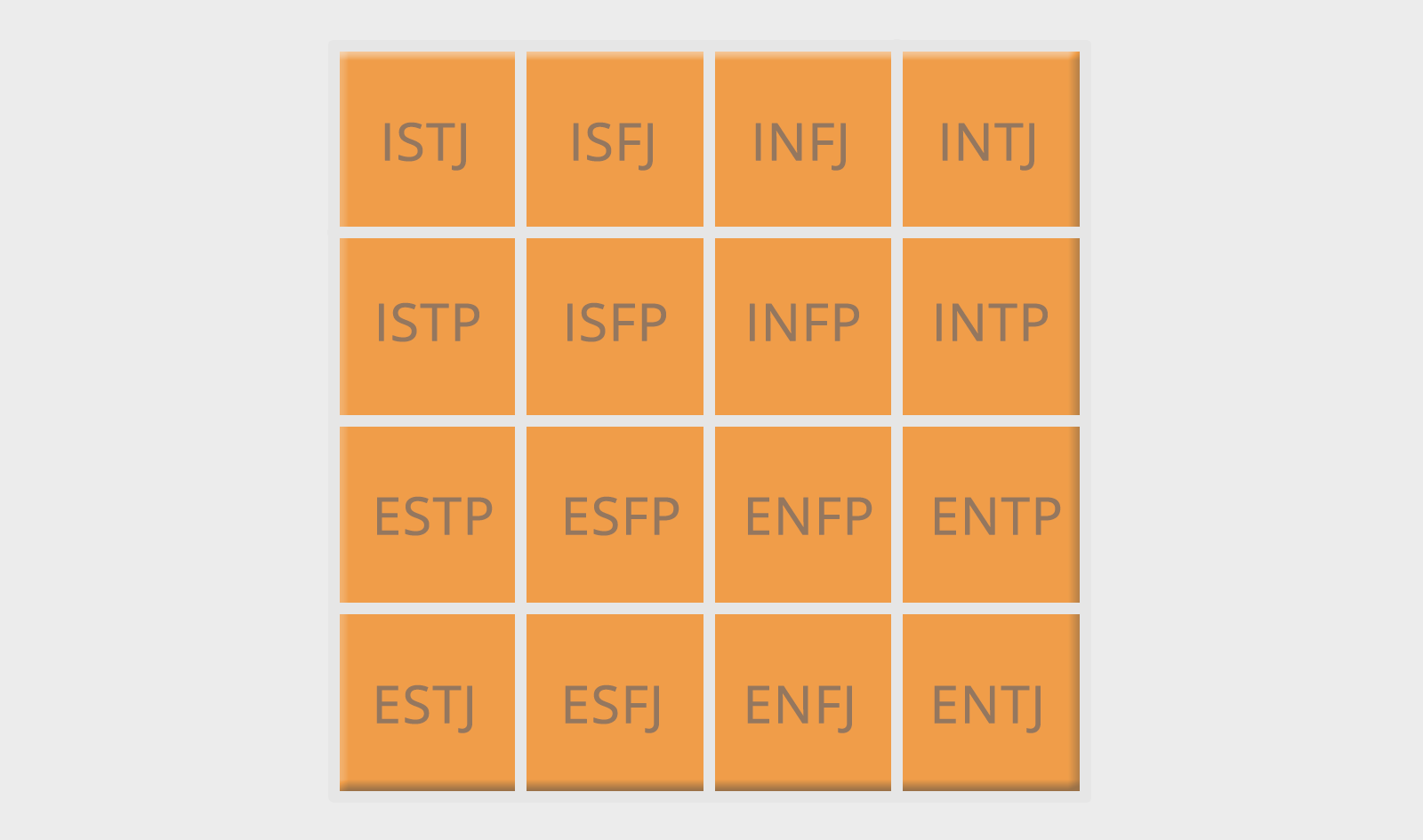 Myers-Briggs
But keep in mind that these are not hard-coded in you – no particular personality type is always and completely the best or worst at any particular job or career. These are suggestions to make the most of the personality's strengths.
ISTJ
Prefers own company (I)
Fact/detail-oriented (S)
Decisions based on logic/reason (T)
Structured/Prepared (J)
The ISTJ personality is hardworking and dependable, with excellent time management and an eye for detail. They are reliable and committed but can be stubborn and inflexible and not interested in feelings.
Great careers for the ISTJ personality revolve around accuracy, order, and facts, like engineering, finance, and technology.
ISFJ
Prefers own company (I)
Fact/detail-oriented (S)
Decisions based on emotions/feelings (F)
Structured/Prepared (J)
ISFJs are natural caregivers as they are supportive and practical. Organized, methodical, dependable and reliable, they offer emotional intelligence and resourcefulness. They can take on too much responsibility, take things too personally and spend too much energy on other people to care for themselves.
Careers that offer structure and stability while allowing the ISFJ to be warm and caring are most appropriate, such as nursing, office management and bookkeeping.
INTJ
Prefers own company (I)
Pattern/possibility oriented (N)
Decisions based on facts/data (T)
Structured/Prepared (J)
INTJs combine creativity with logical reasoning. They are intelligent and ambitious introverts, who come across as self-confident and independent. INTJs can struggle to connect with emotions and can be overly critical of others, overthinking and avoiding small talk.
Careers for the INTJ personality are ideal in science, technology and engineering; for example, in accounting, law and computer programming.
ISTP
Prefers own company (I)
Fact/detail-oriented (S)
Decisions based on facts/data (T)
Flexible/Adaptable (P)
The ISTP personality wants to know how something works and loves problem-solving. They are calm, efficient and pragmatic with great common sense and practicality. ISTP personalities may be considered insensitive because of their directness and distance from other's emotions.
In terms of career options, roles that involve solving problems and hands-on engineering are good, like construction or an electrician.
ISFP
Prefers own company (I)
Fact/detail-oriented (S)
Decisions based on emotions/feelings (F)
Flexible/adaptable (P)
Spontaneous and artistic, the ISFP is curious and fun-loving but also empathetic and loyal. They are naturally observant, picking up on details. They do not enjoy conflict and can be sensitive. They can get bored easily and act unpredictably.
Career choices that are more suitable for the ISFP include being an artist, chef or nurse – anything where they can be hands-on in a fast-paced environment and be organized while developing human connections.
INFP
Prefers own company (I)
Pattern/possibility oriented (N)
Decisions based on emotions/feelings (F)
Flexible/adaptable (P)
The imaginative and idealistic INFP is spontaneous in action and looks for a compromise to minimize conflict. They are dedicated and work with integrity. Sometimes the INFP's idealism can become impractical, and they can be too selfless when compromising, developing resentment inside because they cannot stand up for their own needs.
A career that offers moral purpose without unnecessary bureaucracy, such as an artist, professor or psychologist, suits the personality of the INFP.
INTP
Prefers own company (I)
Pattern/possibility oriented (N)
Decisions based on logic/reason (T)
Flexible/adaptable (P)
Creative and inventive, the INTP is an enthusiastic and liberal worker. An analytical thinker, the INTP can develop unique views. They can come across as condescending and intolerant to those who do not hold their views and can also be absent-minded when it comes to the finer details.
Careers that focus on creativity while using that analytical focus, like engineering, computer programming and law, are suited for the INTP.
ESTP
Prefer the company of others (E)
Fact/detail-oriented (S)
Decisions based on logic/reason (T)
Flexible/adaptable (P)
Sociable and logical, the passionate ESTP personality does not like structure or routine. In contrast, they thrive on working hard and being adventurous. They tend to be practical, perceptive natural leaders. However, they can push boundaries too far and find it difficult to stay focused, often failing to plan in the thrill of doing.
Careers that offer a challenge and create a tangible result are good for ESTP personalities. They could be entrepreneurs, actors and even detectives.
ESFP
Prefer the company of others (E)
Fact/detail-oriented (S)
Decisions based on feelings/emotions (F)
Flexible/adaptable (P)
ESFP personalities are sociable with lots of friends because they are emotionally observant. They have strong people skills but are also practical problem solvers with a creative outlook. Although they are motivated by new experiences, they are poor forward planners and can lack focus. They are not well-suited to conflict and are susceptible to criticism.
A career that is service-oriented like hospitality or sales is great for an ESFP, or a role like a party coordinator, fashion designer or educational experience facilitator.
ENFP
Prefer the company of others (E)
Pattern/possibility oriented (N)
Decisions based on feelings/emotions (F)
Flexible/adaptable (P)
ENFPs are excellent communicators, making them natural managers. They are outgoing and creative with a strong social conscience, but they can lack follow-through and discipline. They are keen for approval and can be oversensitive, reading too much into the behavior of others.
A career that combines challenge with a less rigid structure such as a brand manager, salesperson or designer is perfect.
ENTP
Prefer the company of others (E)
Pattern/possibility oriented (N)
Decisions based on facts/details (T)
Flexible/adaptable (P)
The ENTP personality is innovative and curious, questioning everything. Charismatic and confident, they are great at thinking beyond classical restrictions and improvising. On the other hand, they can be unreliable and chaotic, avoiding rules and norms.
A career that is intellectually stimulating and places value on power is good for the ENTP personality, like a stock trader, film producer or PR specialist.
ESTJ
Prefer the company of others (E)
Fact/detail-oriented (S)
Decisions based on logic/reason (T)
Structured/prepared (J)
ESTJ personalities tend to make decisions according to reason; they are not impulsive They are charismatic, straight-talking and highly responsible, demonstrating initiative to move situations forward.
Their straight-talking can seem forceful at times, and they are often stubborn and judgmental. They can sometimes find emotions difficult to process and demonstrate.
A traditional environment that involves management and the opportunity to be high-performing is suitable for the ESTJ personality. Roles like a judge or financial officer – or better, CEO or MD – offer the power and responsibility that the ESTJ enjoys.
ESFJ
Prefer the company of others (E)
Fact/detail-oriented (S)
Decisions based on feelings/emotions (F)
Structured/prepared (J)
Conscientious caregivers, the ESFJ personality is sociable and enthusiastic with excellent communication skills. They are practical and reliable, enjoying fulfilling duties with traditional values. They can become emotional and oversensitive, invested in social status, and may try and change the behavior of others around them 'for their own good'.
Any career that involves organizing people or tasks, like nursing or childcare, or perhaps training others are good choices for the ESFJ personality.
ENFJ
Prefer the company of others (E)
Pattern/possibility oriented (N)
Decisions based on feelings/emotions (F)
Structured/prepared (J)
Charismatic, engaging and genuine, the ENFJ personality is altruistic and intuitive. With a genuine desire to help, their finely-tuned people skills and emotional intelligence make them excellent listeners and natural leaders. But they can have low self-esteem and be sensitive to criticism, finding it difficult to say no.
Careers that offer a social environment and offer positive change like teaching, event management or being a PA is suitable for the typical ENFJ.
ENTJ
Prefer the company of others (E)
Pattern/possibility oriented (N)
Decisions based on logic/reason (T)
Structured/prepared (J)
The ENTJ person is outgoing, logical and thrives under pressure through their strategic vision. They are objective, intellectual and decisive, offering strong leadership. However, they may seem to lack empathy and be intolerant and impatient of others, as well as stubborn and arrogant.
A role that allows them to lead, have a position of authority and offer strategic insight suits the ENTJ personality. Careers in politics, as a management consultant or in the armed forces are good options.
Validity of the MBTI
There have been some questions about the validity of the MBTI. Some critics point to the 1983 study by personality researchers McCarley and Carskadon, which demonstrated that 50% of test-takers got a different result five weeks after the original test – demonstrating that it might not be reliable.
Other commentators mention that there is limited validity in the real world – nothing tangible links the types to life outcomes. The black-and-white questions do not allow for the shades of grey that exist in the normal personality scale and do not appear to have any bearing on other personality facets like honesty and patience.
According to the Myers-Briggs Foundation, these are common misconceptions based on outdated information. The study regarding the low reliability of the test came out in 1983 and was based on an older model of the MBTI.
More recent research from 2009 (presented in the MBTI Form M Manual Supplement) by the Foundation shows an average test-retest reliability of 72% over more than a year, comparable or better than DISC or NEO personality tests.
Further, previous research by Carskadon (from 1977, before the 1983 low-reliability paper) also found test-retest reliability of 72–87%.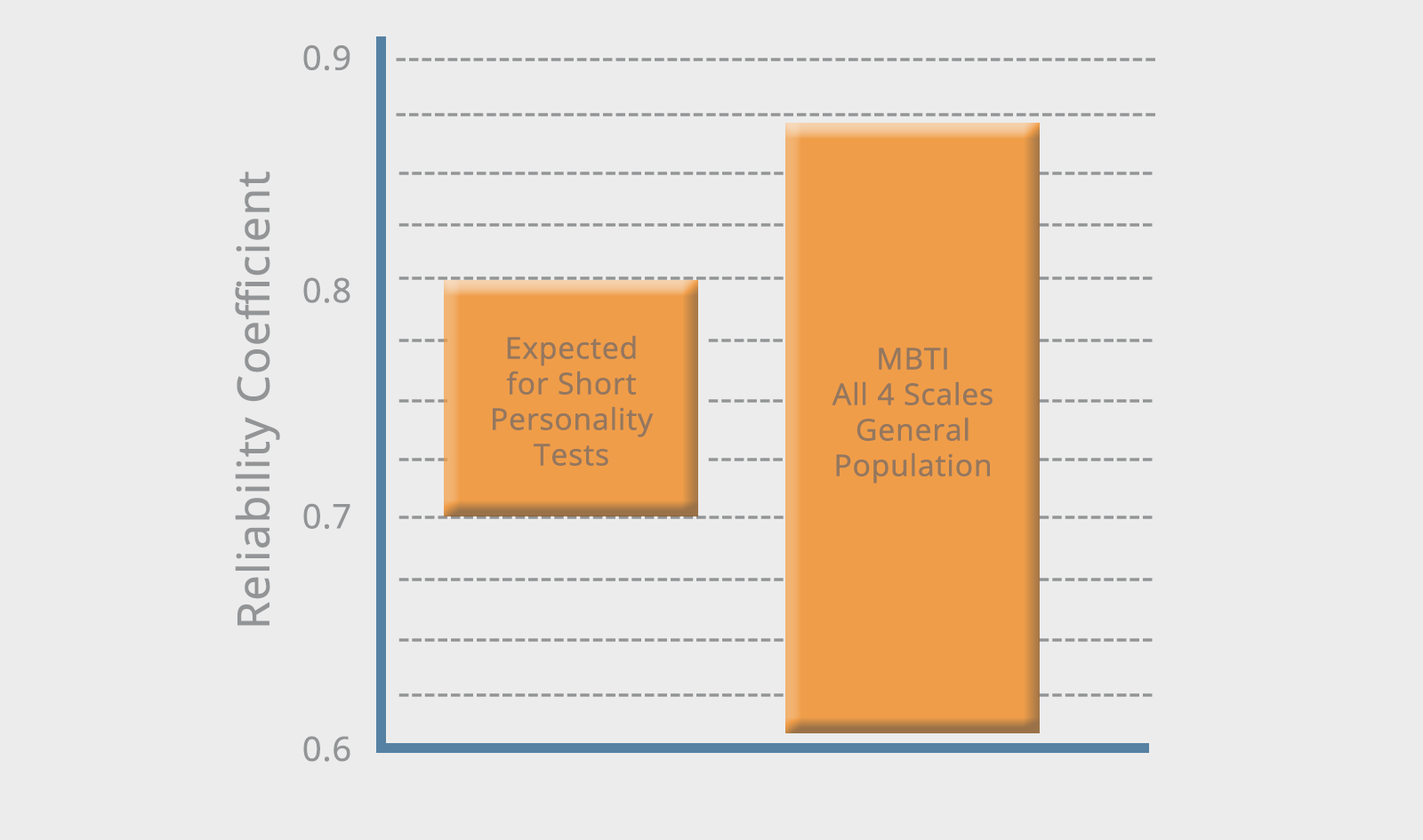 Myers-Briggs
In the end, the MBTI is meant to be descriptive, not predictive. It does not diagnose clinical psychopathology. It consolidates all the preferences you give it into a simple-to-understand label. It does not consider your skills, what you are good at through training, only how you prefer to be. The best way to use it is as a tool of self-analysis, reflection and development. Some people find simply answering the questions prompts a fair amount of introspection they can use to better understand themselves.
Where Can I Take the MBTI?
The Myers-Briggs Foundation generally recommends you take it in conjunction with a certified professional; however, they also offer an online version for quicker results that can later be discussed further with e.g. a counselor. The official online MBTI can be taken here for $49.95. This gets you lifetime access to retake as many times as you want as well as personalized courses and action guides.
Developed and administered by the Myers-Briggs Foundation, this is the official test and has the most reliable results.
Free versions of the test are available online, but they can only give you the basics and are at best an approximate result. They may be an indicator but are not the legitimate test and actual results may vary.
In a workplace situation, you may find that a certified MBTI consultant will administer the test and provide the results alongside some more detailed information about what each facet of your type means and what you can develop as part of your self-awareness. This can be very in-depth and is always unique to you because you can have a one-on-one conversation to get the answers you need.
If you would like detailed feedback about your MBTI results, several registered MBTI professionals are available so you can find one in your area through the Myers-Briggs Foundation website.
Conclusion
The Myers-Briggs Type Indicator is a personality evaluation instrument that is best suited for use as a self-assessment tool. It can offer insight into your psychological preferences, helping you to explore and understand your strengths and weaknesses, how you communicate and possible career preferences.
The assessment itself is not used in the same way as other psychometric tests and should not be part of a pre-employment screen. But it can be useful in training and development for the workplace to help employees understand more about themselves and how they can be compatible with other people.