USPS Postal Exam 475 in 2023
USPS Postal Exam – What Is It?
The United States Postal Service (USPS) is the second-largest employer in the US, offering many job opportunities each year. Its many employees enjoy the prospect of a secure, lengthy career.
USPS jobs are highly sought after and require an online assessment. This takes place on the USPS online portal as part of the application process, to help recruiters choose the most suitable candidates.
There are four main virtual assessments, and which one you take depends on the position you're applying for:
MC 474 – Mail carrier roles
MH 475 – Mail handler positions
MP 476 – Mail processing candidates
CS 477 – Customer service employees
This article is about the MH 475 virtual assessment.
What Is the MH 475 Virtual Assessment?
The USPS 475, which replaces the 473 exam, measures cognitive abilities as opposed to intelligence. It assesses the individual's psychometrics to see if they suit the role of a mail handler.
The test is for people applying for the following roles:
Mail handler
Mail handler assistant
Casual mail handler
As the Postal Service receives a huge amount of job applications, there are generally more applicants than jobs available.
Passing the USPS 475 is vital (minimum pass score is 70) and getting a higher score of up to 100 is crucial to fast-track your application to the top and increase your chances of securing a job.
Your score is key to being successfully recruited, however, passing the exam does not guarantee an instant job. The three highest scores among applicants for that particular job will be invited to move on to the next stage of the application process.
This is why getting as high a score as possible is so important.
Any candidates who do not pass the exam will not be able to resit it for at least 12 months.
With the right knowledge and thorough preparation for the exam, you stand a good chance of getting a high score. Knowing the process of the assessment is a good place to start.
The Process of the 475 Virtual Entry Assessment
To be eligible to take the 475 virtual entry assessment, you must apply for the advertised job first.
Aside from the different tests, if you are looking for a job with the Postal Service, you need to:
Be at least 18 years of age
Have a high school diploma or similar qualification
Pass both a criminal and medical test
If you qualify, you will be sent a link to take the assessment.
You have 72 hours to complete the 45-minute assessment. If it times out before you complete it, you have to wait at least another year to retake it.
Considering both the need for a high score and the short timescale to complete the assessment, it is strongly advised to be fully prepared.
You can start to prepare before applying for the job if you know in advance that you want to work for the USPS.
However, if you only decide to apply for the job when you see it advertised, you need to start preparing for the 475 virtual entry assessment as soon as you apply. It is likely to take a few days for the USPS to process the initial job application.
It is important to remember that just because there is a short amount of time to do the test and it's not based on intelligence, it still pays to practice as thoroughly as possible.
Before looking at the best ways to prepare for the assessment, let's investigate the content of the USPS 475.
Overview of the USPS 475
The assessment takes approximately 45 minutes to complete. However, there is no advised or stipulated set time to spend on each section.
As part of the preparation process, it's advisable to learn about each section and how many questions are in each.
The assessment is self-administered, and the answers can be accessed through the USPS website – where the test takes place – after you have finished. You cannot usually go back and change answers, so having confidence in each answer before moving on is vital.
The four sections included in the MH 475 are:
Work Scenarios – 9 questions
Tell Us Your Story – 22 questions
Your Approach – 79 questions
Check for Errors – 12 questions
Work Scenarios
In this part of the assessment, you will be asked nine questions that are either fictional potential scenarios or written statements.
This section tests your knowledge of the Postal Service, your ability to know what the company and customer are looking for, and your common sense.
It is important to read each question a few times, take it in, and answer carefully but with confidence that your choice is what the USPS is looking for.
Example Question
At the end of your shift, a customer sees you in your uniform walking to your car and approaches you regarding a letter that has been returned to them with the wrong zip code. They ask if you can verify for them what the correct zip code is as they need to get it sent immediately in time to reach its destination by Monday.
What do you do? Please tick the answer that is the most appropriate action to take, and add a cross next to the answer you feel is the worst action to take.
1. Advise the customer to go home and check on the Postal Service's website, telling them verbally the URL.
2. Ask if they have a mobile phone on them and take them through finding the correct zip code.
3. Tell the customer you can show them on their mobile or your mobile where to find the zip code, and advise them of the last post of the day so they can ensure the letter is posted in time to be delivered by Monday.
Tell Us Your Story
Over the 22 questions in this section of the postal exam 475, the USPS is looking to find out more about your employment history and how that could be useful in a mail-handling role.
The 22 questions usually ask for examples of transferable skills already proven or shown in other work scenarios that can be used in the postal role.
This section is another example of why preparing for the assessment is so important, as the Postal Service is likely to cross-reference the answers with your resume attached to the job application. Any inconsistencies could deem you 'ineligible.'
Revising your resume will help you to avoid this kind of error. Knowledge of your resume inside out, including employment dates, names of coworkers and all roles is strongly recommended.
The Tell Us Your Story section is fundamentally about letting the USPS know why you would be an asset to them.
If you need to prepare for a number of different employment tests and want to outsmart the competition, choose a Premium Membership from JobTestPrep.

You will get access to three PrepPacks of your choice, from a database that covers all the major test providers and employers and tailored profession packs.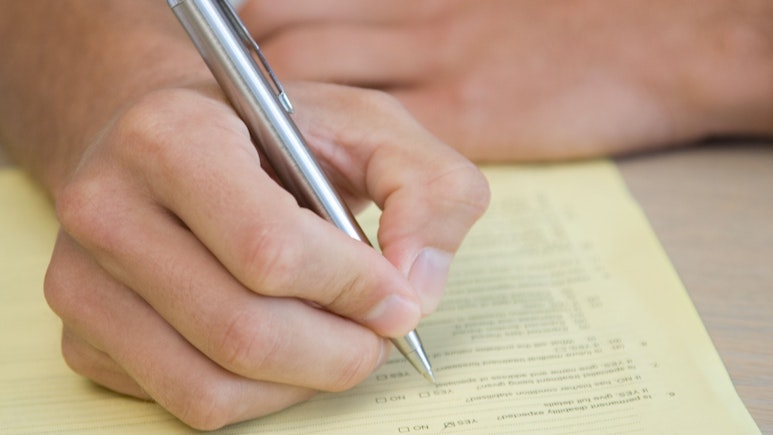 USPS Postal Exam 475

Example Question

Please tell us how many sick days you had in your last or current employment, also indicating how long you have been working there.
Your Approach to Work
This section can be tricky and is arguably the one that candidates struggle with the most.
Containing 79 questions, Your Approach to Work is the longest section. It looks at your personality traits and if you are suitable for a role in the Postal Service.
The 475 assessment is an aptitude test, and this is the section that focuses the most on personality and attitudes in certain scenarios.
One of the reasons people struggle with this section is because they aren't sure whether to give the answer that they think the company wants them to give or their true answer and approach.
It is always best to answer everything truthfully, but it doesn't hurt to fully research the ethos and outlook of the Postal Service too. Bear in mind that if you answer tactically and get the job, you may quickly realize you are not suited to the job or the company's approach.
The questions are a mixture of scenarios, listed options from which you choose the best-suited sentence, and comparative questions.
Example Question
Which of the following statements best describes you?
A. I thrive on working in a team and not independently.
B. I work both independently and as part of a team.
Sentence A
Strongly agree
Moderately agree
Slightly agree
Do not agree at all
Sentence B
Strongly agree
Moderately agree
Slightly agree
Do not agree at all
Check for Errors
This section checks your ability to correctly check data and spot inaccuracies efficiently.
It is important when handling mail to ensure all addresses, data and information is accurate so that the mail carrier can deliver the mail to the correct recipient.
Slightly different from the other sections, this does still assess personality traits and skills as it looks at your abilities of concentration and attention to detail.
Example Question for Check for Errors Section
| | | |
| --- | --- | --- |
| Address number | Zip code on envelope | Zip code on computer |
| 1 | 65733 | 65733 |
| 2 | 71749 | 71729 |
| 3 | 73949 | 73949 |
Example Question
You have to check these zip codes are correct before they are sent out for delivery. By checking the zip code on the envelope to the one on the USPS computer system, you are instructed to highlight any codes that do not match.
Please highlight any mismatches.
How to Pass the USPS Postal Exam 475 in 2023
Once you know what is involved in the online 475 assessment, the next step is to find out ways to prepare for it that will help increase your chances of success to reach those crucial top scores.
If time allows, do plenty of preparation before applying for the role, and top that up once your application is approved and you receive a link to the test.
Some ways of preparing are:
Step 1. Research USPS Ethos and Values
You'll find information about this online. It will give a strong insight into what the company is looking for in an employee when it comes to personality traits and skills.
Step 2. Practice Past Papers and Exams
Companies such as JobTestPrep offer online practice papers for the 475 assessment, which contain examples of different questions that might be asked in each section. Practice papers also allow you to practice against the clock, so you can familiarize yourself with how long each question takes you.
Step 3. Learn the Different Format of the Questions
By doing the practice papers and looking at different questions, you will be able to assess the different formats of questions in the assessment.
Step 4. Study Your Resume and Learn It
Some parts of the exam will cross-reference with your resume, so it is strongly recommended to know everything on your resume, including dates, exam results and duties in each role.
To pass USPS assessment 475, you will need to dedicate adequate time for preparation. This might include researching the USPS corporate values, learning what the company looks for in its employees, completing past papers and thinking about how your resume demonstrates your suitability for the job role you have applied for.
The 475 postal exam is a virtual assessment used by the USPS as part of the hiring process for mail handler positions. It is designed to measure cognitive ability and psychometrics to assess whether a candidate is suitable for a mail handler role.
The 475 Postal exam includes four sections: Work Scenarios, Tell Us Your Story, Your Approach and Check for Errors.
In Work Scenarios, test-takers must answer nine scenario-based questions or statements.
The Tell Us Your Story part of the test includes 22 questions designed to find out more information on your employment history and the transferable skills and experience you would be able to bring to the role of mail handler.
The section on Your Approach to Work is often considered to be the most difficult part of the exam. It is also the longest section, with 79 questions to answer.
Finally, the Check for Errors section assesses whether you can correctly cross-check data and highlight inaccuracies efficiently.
The USPS says that 80% to 90% of test-takers fail the 475 Postal exam, so it is generally considered to be a hard test. To improve your chances of passing, it is important to dedicate sufficient time to preparation and practice.
The 475 Postal exam takes approximately 45 minutes to complete. Test-takers must complete the exam within 72 hours of submitting their job application.
The highest possible score is 100. To pass the test, you will need to achieve a minimum score of 70. To maximise your chances of being hired, you should aim to achieve the highest possible score. Allowing yourself plenty of time for preparation and practice is the best way to perform well on the 475 postal exam.
You can take the 475 postal exam more than once; however, you must wait before retaking it. If you fail, you will have to wait 12 months before you will be allowed to resit the exam. If you pass but wish to improve your score, you will have to wait two years before you will be able to retake the test.
After passing the 475 Postal exam, you will need to pass several other pre-hire stages. These will include completing an application form, submitting Form 1507 (USPS Medical Examination Report), passing a drug screening assessment and attending an interview.
You can sit the 475 postal exam multiple times. However, you will not be able to retake the test straight away. If you fail the test on your first attempt, you will need to wait a minimum of 12 months before you will be able to resit the test. If you pass the test but want to achieve a higher score, you will have to wait at least two years to retake the exam.
Final Thoughts
Although the USPS postal exam 475 is a highly competitive, popular exam, it is possible to achieve a high score by preparing well and having a sound understanding of the questions.
It is important to know why every single question is being asked, as this knowledge will help you find the right answer related to you and keep up the momentum throughout the exam.
Finally, prepare and practice as much as possible, and you will stand a good chance of being one of the three successful candidates who move on to the next stage of recruitment.