How to Pass the CAT4 Level E Test in 2023 (Guide and Tips)
Updated November 20, 2023
What Is the CAT4 Level E?
The CAT4 assessment is a cognitive ability test used for a range of students at different academic stages.
CAT4 Level E forms a large part of many admission procedures for high schools. The test is generally taken in middle schools and junior high schools, so is designed for pupils aged 12 to 13.
The CAT4 is an academic forecast and highlights where your child's academic abilities are. Level E shows high school teachers a child's cognitive strengths and weaknesses.
Later in their academic journey, the child will take further CAT4 examinations up to Level G. Level E is one of the more developed CAT4 tests.
In this article, you will learn what the CAT4 Level E tests contain and how a pupil can best prepare for them.
We will also cover how the test is scored. This will allow you to understand how your child has performed in relation to other children in the country.
Finally, a set of tips and guidance will be given so your child can perform to the best of their abilities on the CAT4 Level E test.
What Does the CAT4 Level E Contain?
The CAT4 Level E test is split into four cognitive areas (or categories). Each tests the student's reasoning and logic skills.
At Level E the format is kept simple – the questions are kept within the four categories. (In later CAT4 examinations, the questions are split into three parts and the questions are in a mixed order.)
The questions you will find on a CAT4 examination are similar to those in an IQ test.
If you are able to get your child used to IQ test questions, they will be prepared for the types of questions on the CAT4 Level E examination.
Let's take a look at the four types of CAT4 questions.
Prepare for CAT4 Level E with Test Prep Online
Verbal Assessment
Verbal assessment questions test how a student can classify and analyze from blocks of texts. They must determine the tone or purpose of a text.
Non-Verbal Reasoning
The non-verbal reasoning section contains visual puzzles and diagrams. The student must deduce something like a pattern from the puzzle.
Spatial Ability
Similar to the non-verbal assessment, the spatial ability tests involve diagrams and data.
A student will have to come to conclusions from the data provided. They may be given a chart or a pattern on a shape.
Quantitative Reasoning
The quantitative reasoning assessment is primarily numerical. A student will be looking at sequences of numbers, and they will also have to analyze mathematical data.
Subsections
In each category, there are two subsections.
The subsections are:
Verbal assessments – Verbal classification and verbal analogies
Non-verbal reasoning – Figure classification and figure matrices
Spatial ability – Figure analysis and figure recognition
Quantitative reasoning – Number analogies and number series
Each section should take no longer than 10 minutes, and in total the test should take around 40 minutes.
CAT4 Level E Sample Questions (2023)
CAT4 Level E Verbal Assessment Example
Example Question
Choose the word that best fits with the group:
Cycle, Run, Swim
a) Look
b) Walk
c) Exercise
d) Dream
Example Question
Which shape would be next in the sequence?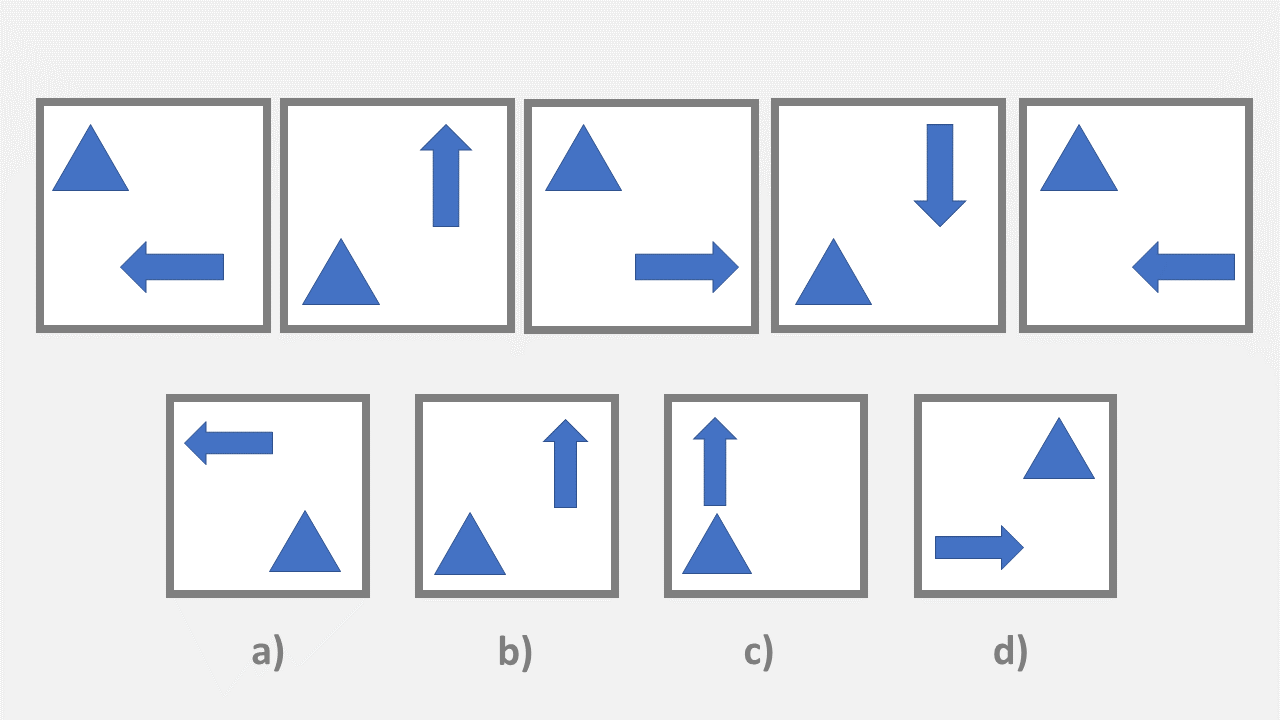 Example Question
What would this shape look like in its plan view?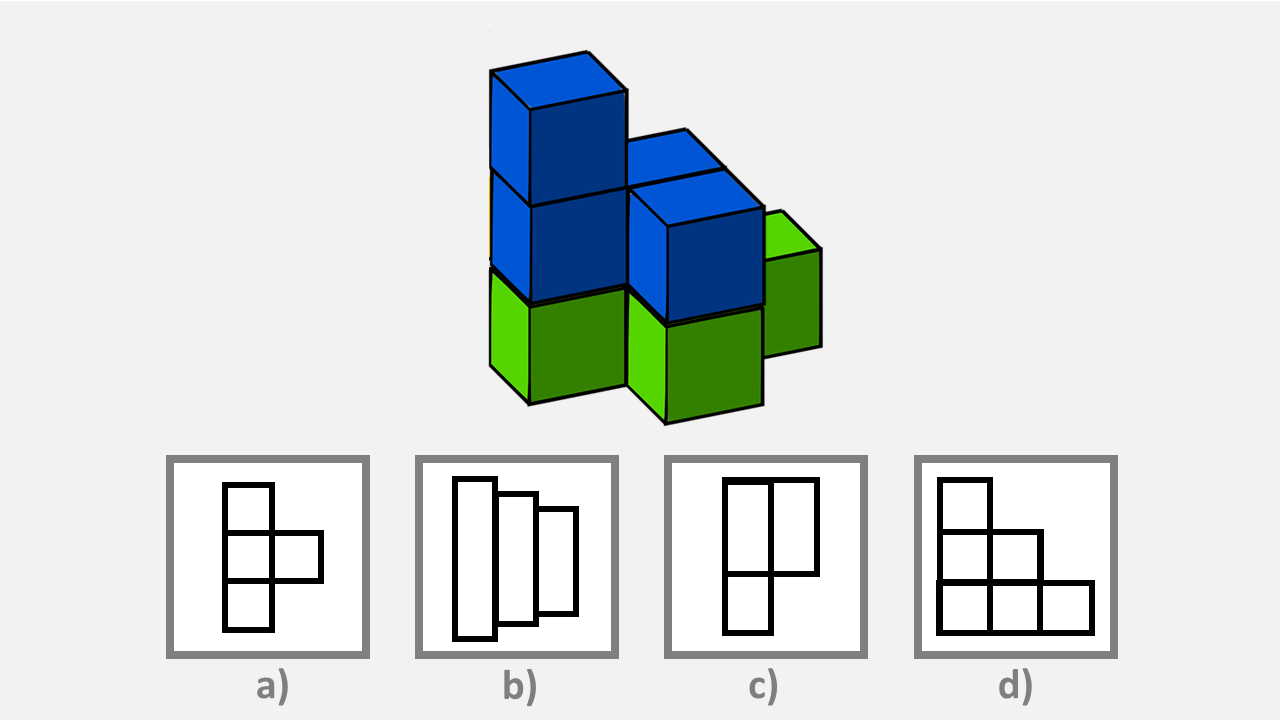 Example Question
Identify the missing number from the sequence:
(5 – 4) (8 – 7) (4 – ?)
a) 6
b) 3
c) 4
d) 2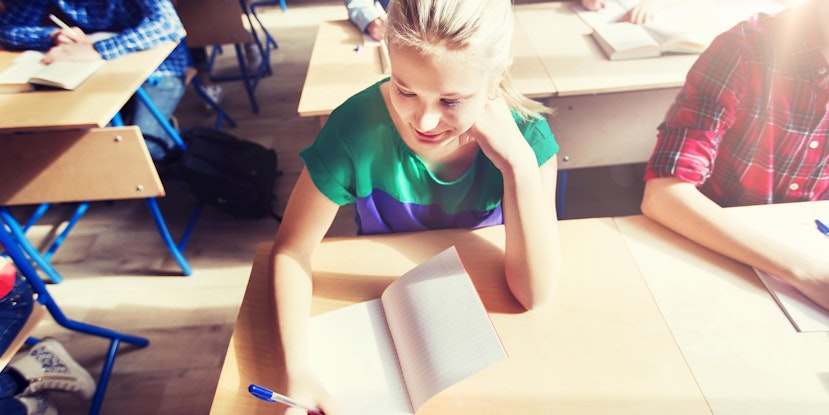 How to Pass the CAT4 Level E Test
If you want 12-month access to all the practice resources for this test, our partner TestPrep-Online.com offers a Family Membership.

Family Membership gives you access to all the TestPrep-Online resources for the next 12 months. You will also get two separate accounts, which can be very helpful if you have two children preparing for their tests.
Get a Family Membership with 12-month access
How the CAT4 Level E Is Scored
CAT4 examinations are all scored in the same way. Whether you are sitting Level E or Level G (the highest level), they all follow the same format.
The first set of results taken form the raw score. This is how many questions the pupil has answered correctly.
The raw score is then compared with other scores from students in the same age group.
From these comparisons and the total raw score, three normative scores are calculated to analyze the pupil's performance.
Standard Age Score (SAS)
In each age group, the average score is set to 100 and there is a standard deviation of two.
This means that if two pupils from two different age ranges sit the CAT4 exam and receive the same standard age score, they have done equally as well as each other when compared to their respective age group.
The standard age score only takes into consideration the age of the pupil and does not measure the difficulty or stage of the CAT4 test the pupil sat.
National Percentile Rank (NPR)
The NPR is calculated by comparing the pupil's score to other students who sat the exam across the country.
The percentile indicates how many students performed better or worse.
For instance, if a pupil is very successful on the test and receives an NPR of 95%, this means that they have scored the same as or better than 95% of pupils in the same age group.
In contrast, if a student struggles and achieves an NPR of 5%, 95% of students have performed better than them.
Stanine Grade (ST)
The stanine grade is calculated from the national percentile and the standard age score.
Stanine grades are split into nine divisions, each corresponding to a different score and level of performance.
There are five bands across the nine divisions. They break down as follows:
Very High Stanine
Stanine 9
National percentile of 97% and above
Corresponding SAS of 127 or higher
Above Average Stanine
Stanines 7 and 8
Percentile 78%–96%
Corresponding SAS of 112–126
Average Stanine
Stanines 4,5 and 6
Percentile 23%–77%
Corresponding SAS of 89–111
Below Average Stanine
Stanines 2 and 3
Percentile 5%–22%
Corresponding SAS of 74–88
Very Low Stanine
Stanine 1
Percentile of 4% or under
Corresponding SAS of 73 or under
The average stanine range of scores is the most comprehensive band. The majority of students will fall into this category.
The grades received from the CAT4 Level E are used to determine how a student will cope when they enter high school.
Students who perform well will be put into classes that match their abilities. Those with lower results should be given support to improve their cognitive reasoning skills.
Prepare for CAT4 Level E with Test Prep Online
How to Pass the CAT4 Level E Test in 2023
Taking a test is particularly stressful, especially for children, as they may not have had much experience of doing so.
Here are some ways you can improve your child's results and ensure they perform to the best of their ability.
Step 1. Revision
As we've seen, the CAT4 Level E is separated into four categories. It is best to review one category at a time, so you can see where your child may struggle more.
Try to spend more time improving their weaker skill sets. The examination content is balanced, so each section is covered equally.
Depending on the amount of time they have, set aside a certain number of hours or days in the run up to the test.
For example, if they have 10 weeks before the examination date, attempt to revise for two hours per week. This will result in 20 hours of extra revision on top of their schoolwork and other extracurricular activities.
Speak to their teachers and supervisors about the examination, as they will be able to advise on which revision material to use.
Step 2. Practice Papers
The best way to prepare for the CAT4 Level E is to sit past papers and online mock examinations. These can be found in many places, including TestPrep-Online, and are easily accessible.
Your child does not have to sit through the whole of the mock examinations. It is a good idea to focus on one part of the paper.
However, you may want to simulate the exam itself. In this case, set it up as close as possible to the actual exam. Have a time set for each section and ask your child to attempt to answer all the questions.
Afterwards, tally up their scores from each section, and analyze where they need to revise more.
Past examination papers are a key part of every revision process. Encourage your child to do these towards the end of the revision timetable or at the beginning, depending on your goals.
If you want them to get used to the exam early on, and to see which areas they need to practice more, get them to take the practice tests at the beginning of the revision timetable.
In contrast, if you want to use the practice tests to see how well their revision has gone, they should take them towards the end of the timetable.
Step 3. Exam Preparation
After the revision diet, they are as prepared as they can be. Once you are a couple of days out from the examination, it is unlikely they will learn anything new.
Use this time wisely. Skim over any notes they have made and write a quick checklist before the examination date.
Ensure that they are well rested and have time set aside for the full 40 minutes of the exam. Clear their schedule and try to find a place where they can completely avoid distractions.
Since this is an online examination, ensure you have a stable Wi-Fi connection. Also have any snacks and water to hand so they do not have to move during the test.
If you would like to sit with them during the examination, let them know in advance. This may help settle any nerves.
Tips to Ace the CAT4 Level E Test
If you have done the preparation correctly and they have sat lots of mock CAT4 Level E examinations, you will be aware of the little things to keep in mind during the test.
If you are still unsure of these, here are some tips to help them through the process:
Follow an order that suits their strengths
Answer the easier questions first so they have more time to concentrate on the difficult ones
Have a watch or a timer to hand
In multiple-choice questions, there are always two answers that are completely wrong and two that are closer to the actual answer
Have paper to hand for any calculations and notes
Leave 5–10 minutes to check through the answers
If they do not know the answer, do not leave it blank
How to Prepare for Cat 4 Level E
To prepare for CAT4 (Cognitive Abilities Test, Fourth Edition) Level E, which is typically administered to students in the age range of 9-10 years, you can follow these tips:
Understand the Test Format: Understand the sections you will encounter: verbal reasoning, non-verbal reasoning, quantitative reasoning and spatial reasoning.

Practice with Sample Questions: Seek out CAT4 Level E sample questions and practice materials available online or in test preparation books.

Strengthen Cognitive Skills: Focus on strengthening the cognitive skills assessed in each section.

Time Management: During your preparation, time yourself while solving sample questions to ensure that you can complete each section within the allocated time.

Analyze Your Performance: After practicing with sample questions, review your answers and analyze any mistakes or areas where you struggled.

Seek Additional Resources: Consider utilizing test preparation resources such as books, online courses or tutoring services specifically designed for CAT4 Level E.

Take Care of Yourself: Prior to the test day, ensure you get sufficient sleep, eat well and stay hydrated.
Final Thoughts
The CAT4 Level E is a useful way of assessing a pupil's ability before they enter further education.
If you are a parent, you can use the test results to understand where your child is academically capable and where they need to improve.
The CAT4 Level E results are also good indicators for teachers. Try to communicate with your child's teachers about their abilities and what the student needs to focus on.
Finally, this test is not the only way to determine a child's ability. The CAT4 should supplement a child's education process.
Avoid putting any unnecessary stress on a child to perform well on the test. Make the revision process fun, and reward them for sitting the examination.