A Full Guide to the Geico Assessment Test
Updated November 18, 2023
What Is the GEICO Assessment Test?
The Government Employee Insurance Company, referred to as GEICO, is primarily an auto insurance company that also provides other insurance for US policyholders.
Established in 1936 with the express aim of providing auto insurance directly to federal government employees and their families, the company has always been privately owned.
It is not affiliated with the US government at all.
Getting a job with GEICO follows four distinct phases. However, the details at each stage will depend on the role that has been applied for and the level of qualifications and experience needed.
Job roles at GEICO include:
Accounting and Finance
HR and People
Legal
Auto damage claims
Business operations
Customer Service
Claims
Sales
Working at GEICO is a popular choice for many people because there are several benefits, referred to as a Total Rewards Package.
This includes insurance, legal and debt assistance, funding and support for tuition and licensing, and various types of paid leave.
Candidates who are interested in a role with GEICO need to be aware of the Guiding Principles of the company, which are as follows:
Respect, support and provide an opportunity for all associates
Be the low-cost provider
Be fanatics for outstanding customer service
Operate with uncompromising integrity
Maintain a disciplined balance sheet
Make an underwriting profit while achieving optimum growth
Invest for total return
The Four Stages of the GEICO Application
The details of the application process will differ depending on the type of role that you are applying for, but the general stages remain the same.
The delineation occurs between roles in sales, customer service, claims and auto damage and those that are in leadership, IT or corporate.
Online Application
All the available roles in every department are listed on the GEICO Careers Page, and you can choose the one that you are interested in there. Once you have pressed the 'apply now' button, you need to complete an application form.
The application form is a detailed collection of information; you must give your full work experience and education in the document rather than referring to a resume.
If you are applying for a role in corporate, leadership or IT, there will be more details that you need to provide.
Set aside at least 30 minutes to complete the application form; it is not a complicated document, but you will want to ensure you are giving all the important details (and using correct spelling and grammar).
Phone Interview
Suppose you match the basic criteria for the role that you have applied for according to the details on your application form. In that case, you will be invited to a phone interview.
This is scheduled via email using a scheduling tool, so you can choose a time and date that is most suitable for you.
If you are applying for a sales or claims role – one where you will have direct contact with customers – this phone interview will be all about your competencies and experience that is relevant to the role.
You can expect to be asked to provide examples of problem-solving, good teamwork and of excellent communication skills. This phone interview will usually take about 30 minutes to complete.
If you are looking for a corporate role, the phone interview will be more in-depth, taking up to 60 minutes and asking more questions about your work behavior and specific experiences named in your application form to see how well you will fit in the role.
Geico Aptitude Tests
Assessments for a role at GEICO are an important part of the application process. Almost every applicant will be expected to complete at least one test.
The content of these tests will depend on the role that you have applied for. The assessments are completed online, so you can take them at home and on time.
Some Assessments That Are Used By GEICO
Computer Skills
The GEICO team wants to ensure that the candidates interested in a position working with customers can navigate computer programs and have the appropriate level of typing skills.
They are looking for candidates who can type at least 40 words per minute, with excellent spelling and grammar.
Customer Simulation
Specifically for candidates who are going to be dealing with customers personally, the customer simulation is a role-play exercise that can take place as a role-play or as a written exercise.
Candidates will be expected to deal with customers, including 'difficult' customers, while also utilizing database systems.
Geico Multitasking Test
Being able to deal with customers and manage a busy workload means being able to multitask effectively.
In this Geico simulation test (the Geico Multitasking Test), the candidates have to use a split screen system to find information and share it with someone else, like a customer.
Comprehension
Reading and understanding written information is tested in the comprehension test, where the candidate will be given a passage of text and will be expected to answer questions about the information given.
This assessment is all about getting to the important details quickly and recalling them to choose the right answer.
Spatial Reasoning
In a spatial reasoning assessment, the candidate is presented with a series of shapes or images that are in some sort of sequence.
They need to identify the rule that governs the pattern and find the missing item.
This is all about making decisions based on limited information. It is a well-used test when hiring for corporate or leadership roles.
Candidates are likely to face this sort of assessment if they are applying for a role that needs some mathematical knowledge and numeracy, such as in finance.
In this test, numerical data is provided in the form of tables or graphs, and candidates need to be able to manipulate that data using basic mathematical operations to make a reasoned and logical decision about the data.
Technical Assessment
This is usually a skills-based test that consists of specific technical knowledge that the candidate will need to be successful in the role.
Skills like coding are usually assessed with technical tests. The candidate is presented with work-related scenarios that need programming understanding to solve.
GEICO Interview
If your performance in the assessments reaches the required benchmark, you will be invited for an in-person interview.
This could occur with a management team member or a recruiter and is more about what you know about the role and the company.
To succeed in this interview, you will need to have done your research – the interviewers want you to demonstrate that you are ready to commit to the company and understand what the role entails.
You will also need to be ready to show that you have the competencies that they are looking for in a successful candidate.
You will be asked to give examples from your work experience that show you have the soft skills and aptitudes that the role needs – you might want to revisit the STAR mnemonic so that you stay clear on what you are sharing.
At the end of the interview, you will be invited to ask some questions of your own, so you should try and think of some insightful questions to ask that will demonstrate your understanding of the role and really stick in the interviewer's mind.
Example GEICO Test Questions
Customer Simulation Example Question
Example Question
'You are having a conversation with a customer who wants to cancel their coverage because they feel it is too expensive. As part of your role, you are expected to try and convince the customer to stay, and you are allowed to offer up to a 20% discount on the monthly cost if it is necessary. The customer is angry and not willing to listen to the offer of a discount, becoming rude and shouting while using bad language.'
How would you deal with this situation?
a) Hang up on the customer because they are obviously not going to listen
b) Transfer the customer to a supervisor to deal with the problem
c) Shout at the customer to get them to listen
d) Ask the customer to take a breath so that you can help them
Example Question
According to MoneyGeek, there were 28 million uninsured drivers in the US in 2019, which means that those drivers are risking fines, getting their vehicle impounded, or even getting their license suspended if they are caught by law enforcement.
Multiple offenders might even face prison time.
For insurance companies, making it simple for customers to get the insurance they need is the most important thing, which is why almost every service is now available online.
Statement: Not having auto insurance always leads to prison time.
a) True
b) False
c) Not enough information to say
Example Question
| Name | 2022 Costs | 2023 Costs |
| --- | --- | --- |
| A Aaronson | $3,245 | $3,555 |
| B Branson | $3,468 | $3,488 |
| C Charles | $2,445 | $3,445 |
| D Davis | $2,504 | $2,670 |
| E Ericsson | $4,570 | $4,670 |
According to the table above, which customer has seen their annual costs rise the most?
a) Aaronson
b) Branson
c) Charles
d) Davis
e) Ericsson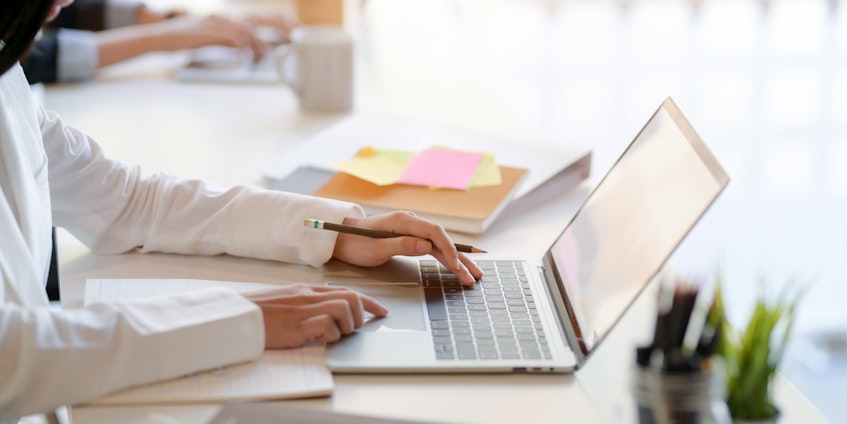 Geico Assessment Test
If you need to prepare for a number of different employment tests and want to outsmart the competition, choose a Premium Membership from JobTestPrep.

You will get access to three PrepPacks of your choice, from a database that covers all the major test providers and employers and tailored profession packs.
How to Prepare for the Geico Assessment Test
Step 1. Read About the Company
GEICO, as a company, is enormously proud of its heritage, and the recruiters will be looking for a candidate who aligns with their Guiding Principles mentioned above.
The company is built on the following:
Ingenuity
Perseverance
Innovation
Resilience
Hard and Honest Work
To make the best impression throughout the application process, you want to be able to demonstrate that you understand how GEICO works as a business and its position in the wider insurance industry.
Step 2. Learn About the Position
The job description will have a wealth of information about the role, not only the requirements in terms of experience, skills, and qualifications but also the type of person that they are looking for.
You will be able to see details about the role itself, what your responsibilities will be, and other details that you can use as extra information for answering questions and demonstrating your alignment with the role.
Step 3. Practice
When you know what type of tests you are going to be taking, one of the most effective things that you can do is take a geico practice test.
There are so many practice tests available online that you can use – and although they might not be exactly the same as the ones you will be taking, the structure, layout and content will be broadly similar.
Make sure that you have all the right conditions for an assessment; set a timer and complete it in silence.
Step 4. Prime Time
Everyone has an ideal time for cognition – some people might be more active and awake in the morning, while others prefer to work in the later afternoons.
To give yourself the best chance of presenting yourself in the right way, try to schedule any assessments or interviews for your best times.
Step 5. Show Motivation
For the recruiters, candidates who seem to be genuinely interested in the role and the company are going to be the most popular choice for the job.
Working at GEICO is about starting a career, whether that is in customer service and claims or in a corporate position.
The recruiters want to see that you have a strong interest in the industry and, specifically, in becoming a member of staff at GEICO with an eye for the future.
Step 6. Provide Examples
Examples are a really important part of the interview process, and you can expect to be asked to provide details about what you have done in the past, either in education or in a previous job.
You can prepare some of these before the interviews.
Using the information provided in the job description, you will be able to see what sort of skills and competencies the role requires, so you can think of examples that show you have those aptitudes.
Brush up on STAR examples; give the Situation, Task, Actions and Results for each event that you mention.
Step 7. Know Strengths
When you are applying for a role, you need to know what your strengths (and weaknesses) are. The recruitment team wants to see what you are good at and why, and they need to know that you are aware of your own limitations and willing to work to improve them.
Do some work on yourself before you apply for the role so that you can give the best of yourself in the application process and in the role when you get it?
There are several different assessment tests used by the GEICO recruitment team, depending on the role that you have applied for.
If you are looking for a customer-facing role, you can expect to have a computer skills test and a customer simulation, while corporate roles usually use tests like spatial reasoning assessments.
The best way to pass the GEICO assessment tests is to know what assessments are coming and to practice them beforehand.
You can get a good feel for what tests there might be by looking at the skills and aptitudes that are needed for the role.
If you are applying for a position in finance or claims, you will probably have to demonstrate that you have good numerical reasoning abilities.
The GEICO assessment tests are designed to be challenging because they are used to filter through large candidate pools to find the applicants who have the right level of skills and aptitudes.
The candidates who have the skills will find the assessments reasonably simple, at least in content.
When you know what GEICO assessments you will be facing, you can find practice tests and revision materials at JobTestPrep.
Example questions, worked sample questions, hints and tips for success, and other information that will help you perform at your best.
The GEICO recruitment team keeps in touch with candidates via email, and you will be kept up to date in the same way.
For most roles, the time taken in the application process is a couple of weeks but can be up to 31 days.
The GEICO assessment tests are timed, and you can expect to take up to 45 minutes to complete.
If you pass the GEICO assessment test, you will be contacted by the recruitment team to set up the interview for the next stage of the application process, which is usually the face-to-face interview.
There are different tests that are used in the GEICO application process, so the number of questions in the assessment test will depend on the position that you apply for.
You can expect whichever test you are taking to be relatively short; however, according to the recruitment team, they take less than 45 minutes to complete.
The GEICO assessment test has been chosen to evaluate candidates based on their abilities and skills to see which applicant has what it takes to be successful in the future.
Pre-employment assessments are a fair and balanced way of getting more information about what a candidate is capable of.
You can get sample questions for the GEICO assessment test when you know what test you are going to be taking from JobTestPrep.
On this site, there are practice tests across a range of subjects and skill sets, as well as revision materials and sample questions that have the answers worked out so that you know how to approach them.
If you fail the GEICO assessment test, your application will be terminated. However, you can reapply for the role after six months to get another chance to pass the test.
You can get a full guide for the GEICO assessment test when you know what tests you are facing from JobTestPrep.
There are example questions, great descriptions of the content of questions, and tips and tricks that will help you get ahead, as well a full-length GEICO practice test that will help you to learn the right GEICO assessment test answers.
Final Thoughts
The GEICO assessment tests are designed to find the right person for the roles that are advertised, which is why they are challenging.
Working in the insurance industry, and for GEICO in particular, takes a specific type of person.
The application process, whether for customer service or a corporate role, is meant to be challenging to make sure that every applicant has what it takes to be successful, and when it comes to the GEICO assessments, only 50% of candidates will pass the test.