CMA Test (2023 Guide) : How to Pass the CMA Exam?
Updated November 20, 2023
What Is the CMA Exam?
The CMA certification test or the CMA Exam is the first official certification for medical assistants.
It is provided through the American Association of Medical Assistants and is widely recognized across the country.
Passing the CMA Test indicates that you meet the standards of the AAMA certification board.
As of February 2021, there were 87,623 CMAs taken with a pass rate of 67%.
While not every state requires medical assistants to have the CMA certification, there are still several advantages to getting one.
First, it indicates you can implement a high level of care and diligence into your medical assistant procedures.
Second, it acts as a solid letter of recommendation as the AAMA is widely recognized and respected.
Third, it signifies that you are dedicated to your future and have committed to delivering the best care possible.
Medical assistant roles are predicted to grow by 19% over the next 10 years, making it a competitive field. This CMA certification can help give you the edge.
How Long Does the CMA Test Take?
The CMA test consists of 200 multiple-choice questions spread across four 40-minute sections.
In addition to the 160-minute exam, there is an optional 20-minute comfort break between each section and a 15-minute tutorial before the exam starts.
The maximum amount of time allowed for your exam slot is 195 minutes.
How Much Does the CMA Test Cost?
The CMA Test costs:
$125 if you are a member of AAMA, CAAHEP or ABHES
$250 for non-members
$50 for a reactivation fee
What Is the CMA Exam Passing Score?
You are scored on how many correct answers you have for all four sections.
It is a standardized score on a fixed scale of those who have sat the CMA previously (first time results only, no resits).
The scale ranges from 200 to 800, and the minimum passing score for the Certified Medical Assistant Exam is 430.
Of the 200 questions, only 180 are scored.
CMA Practice Test with JobTestPrep
CMA Exam Structure and Sections
There are three sections on the CMA test:
Clinical Competency
General
Administrative
You are not allowed to bring with you any additional tools. The test centre will provide you with a dry marker and eraser if you need to make notes.
Clinical Competency
Total number of questions: 106
Total percent of the exam: 59%
Topics covered:
Patient Intake and Documentation of Care – Vital signs, medical terminology, interviewing techniques, documentation of care, wellness assessments, processing provider orders

Infection Control – Infectious agents, infection cycle, modes of transmission, standard precautions and exposure control, medical asepsis, biohazard disposal, safety resources, safety and emergency procedures, emergency management and basic first aid, ergonomics, risk management

Procedures and Examination – Preparing patients, supplies, equipment and techniques, surgical assisting, wound care, instruments, anatomy and physiology, specimen collection techniques, process and examine the specimen, laboratory quality control, laboratory panels and selected tests

Pharmacology – Medications, preparing and administering medications
Example Question
Which cells in the body do not have a nucleus?
a) Basophil
b) Monocyte
c) Neutrophil
d) Lymphocyte
Example Question
What is the meaning of the term 'menarche'?
a) End of pregnancy
b) Interfility
c) Beginning of menstruation
d) Beginning of childhood
If you need to prepare for a number of different employment tests and want to outsmart the competition, choose a Premium Membership from JobTestPrep.

You will get access to three PrepPacks of your choice, from a database that covers all the major test providers and employers and tailored profession packs.
Example Question
Which of the following is spelt correctly?
a) Rhynorrhea
b) Rhinorrhya
c) Rhinorrhea
d) Rhynoryha
General
Total number of questions: 38
Total percent of the exam: 21%
Topics covered:
Legal and Ethical Issues – HIPPA, PHI, consent, federal and state regulations, Pharmaceutical laws, mandatory reporting, ethical standards, medical directives

Communication – Interpersonal relationship skills, therapeutic/adaptiveness responsiveness, learning styles, health care team roles, professional telephone etiquette
Example Question
A procedure cannot be formed on a patient until the doctor receives:
a) Informed consent
b) Insurance confirmation
c) A lunch break
d) Vital statistics
Example Question
How do the HIPPA requirements apply to?
a) Certified Nurse Aids
b) Nurses
c) Physicians
d) All employees of a healthcare facility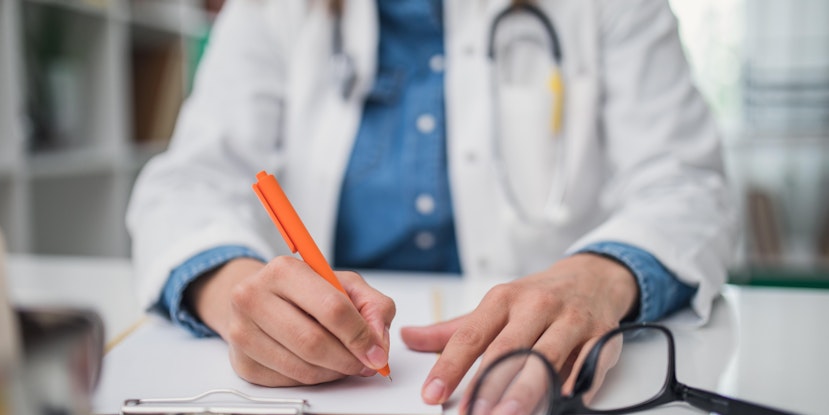 How to Pass the CMA Exam

Example Question

Which is not part of effective communication?

a) Feedback
b) Noise
c) Message
d) Sender
Administrative
Total number of questions: 136 Total percent of the exam: 20%
Topics covered:
Billing, Coding and Insurance – Coding applications, insurance fraud and abuse, coverage for services and waivers, insurance types, authorizations and resources, financial terminology, patient account financial procedures, financial calculations, billing and collections

Schedule Appointments and Health Information Management – Scheduling appointments, medical reception and patient registration and electronic health records
Example Question
Before referring to another healthcare facility, you need to check:
a) The other facility has the availability
b) The patient insurance
c) If the patient can drive
d) The address of the facility
Example Question
What is 'ambulatory care' categorized as when the patient is not admitted to the hospital?
a) Use of an emergency service
b) Outpatient services provided
c) Free
d) Miscellaneous
Example Question
What is the best appointment time for a patient who is always late for their scheduled appointment?
a) First thing in the morning
b) The last appointment of the day
c) Never
d) The time they request
Preparing for the CMA Exam: Getting Ready for November 2023
The CMA passing score, set at 430, along with a pass rate of 67%, emphasizes the rigorous standard required to succeed in the CMA exam. However, with dedication and preparation, you can feel comfortable passing your test the first time.
To help you with the CMA practice test:
Step 1. Create a Study Plan Early
This will give you enough time to thoroughly study everything you need to.
Depending on your learning ability and schedule, you may want to give yourself three to six months to prepare.
If you are particularly confident, you may only need one month.
Step 2. Focus Equally on All the Sections
It may be tempting to only focus on your weaker areas, but try to dedicate equal time to all topics. You don't want to get caught out on exam day.
Step 3. Understand Your Learning Style
Do you prefer to read and highlight, or do you absorb more information from colorful flashcards?
Find what works for you and use those techniques throughout your study sessions.
Step 4. Get a Study Buddy
If you know someone taking the CMA certificate at the same time as you, ask if they would like to study with you.
This way, you can work through problems and solutions together, and it generally makes studying more fun.
Step 5. Take Advantage of Practice CMA Exams
There are plenty of websites that offer free CMA practice tests and CMA test prep packages.
The more you practice, the more comfortable you will be with the question format and the type of questions they ask.
Working through practice papers will also allow you to see which areas you struggle with.
Step 6. Invest in a CMA Test Study Guide
A CMA study guide will have all the topic and exam details, making everything you need accessible in one place.
If your budget allows, invest in a CMA study guide to ensure you don't miss anything.
Step 7. Practice Against the Clock
Once you have worked through practice tests and feel comfortable, begin setting a timer and gradually build up to 40-minute limits.
Practicing under test conditions allows you to see how quickly you need to move through the questions.
Step 8. Learn Multiple-Choice Strategies
If you find a question challenging, identify the possible answer by eliminating the options that are definitely wrong.
You should also go with your initial thought, as our instincts are usually right.
Before submitting your answer, read the question properly and understand what it is asking – do not look for keywords and answers that match.
Step 9. Talk to People Who Have Already Taken the Test
Speaking to those who have already sat the CMA exam will give you a better understanding.
They can tell you about test day procedures, the types of questions they had, and what they would do better.
Practice CMA test with JobTestPrep
CMA Exam Tips for the Day of the Exam
Looking for CMA Exam tips to ace your upcoming test? We've got you covered!
On the day of the CMA exam, here are a few valuable tips to keep in mind.
Firstly, arrive early at the exam center, ensuring you're calm and collected.
Prioritize your time by reviewing the exam structure and allocating time for each section.
Stay focused, manage your time wisely, and attempt all questions.
Remember to read each question carefully and underline key details.
Maintain a positive mindset, take short breaks if needed, and stay hydrated.
Lastly, trust in your preparation and believe in yourself. These CMA Exam Tips will enhance your chances of success.
CMA Exam Registration Process
The CMA exam registration process is a straightforward and systematic procedure designed to ensure candidates' eligibility and facilitate their participation in this prestigious certification program.
The CMA process typically begins with creating an account on the official website of the Institute of Management Accountants (IMA), the governing body for the CMA program.
After providing personal details, educational qualifications, and professional experience, candidates proceed to select their desired exam window, as the CMA exam is offered during specific periods throughout the year.
Following this, candidates are required to submit the necessary fees, which vary depending on factors such as membership status and exam location.
Once the payment is confirmed, candidates gain access to the exam preparation materials, including study guides and practice questions, which are essential resources for successfully navigating the CMA exam.
Overall, the CMA exam registration process aims to streamline the entry of qualified individuals into the program, setting them on a path towards attaining the highly regarded CMA certification.
CMA Benefits
Obtaining the CMA (Certified Management Accountant) certification offers numerous benefits to professionals in the field of management accounting.
The CMA Benefits are extensive and encompass various aspects of career growth and advancement.
Firstly, the CMA certification enhances job prospects by demonstrating a high level of competence and expertise in management accounting.
It validates one's skills in financial planning, analysis, and decision-making, making them highly sought-after by employers globally.
Moreover, CMA-certified professionals often enjoy increased earning potential, as the certification is widely recognized and valued in the industry.
Additionally, CMA certification opens doors to exciting career opportunities, including senior management roles and leadership positions.
The knowledge and competencies acquired during the certification process equip individuals to drive organizational growth and strategic decision-making.
Furthermore, CMA-certified professionals gain access to a vast network of like-minded individuals through membership in professional organizations, facilitating valuable connections and knowledge sharing. Lastly, ongoing professional development and continuing education opportunities provided by the CMA program ensure that certified professionals stay up-to-date with industry best practices and advancements.
In summary, the CMA Benefits are multifaceted, providing a competitive edge in the job market, career progression, and continuous learning opportunities
Final Thoughts
Taking your CMA exam is a big step in your career, and this certification can lead to many opportunities.
Prepare well in advance, book your exam on a day where you don't have any other commitments, and have confidence in your knowledge.
The CMA certificate test can be taken up to three times, so if you miss a pass the first time, remember that you can retake it.