How to Pass the ISEE Test in 2023
Updated November 20, 2023
Many private schools and independent schools use admissions tests to decide who is admitted. The tests look at many different areas of intellect and can include an essay option.
Any kind of test can cause anxiety, nervousness and doubt in a child. A school admission test may be worse, given the use of the results.
There are many ways to prepare both by understanding the test you are taking, what areas are tested, how the test is scored and by preparing as best you can.
What Is the ISEE Test?
The Independent School Entrance Exam (ISEE) is an admission test used at over 1,200 schools around the world. It can be taken both online and in written form and focuses on math, reading and verbal reasoning.
The test is used on students entering grades two and up and can provide fair and unbiased test results. The results are used for admission to private middle schools and high schools.
The test is both created and maintained by the Educational Records Bureau (ERB). Registration can take place online, by phone or by mail. The cost to take the test can vary depending on the location, but ranges between $89 and $180. If you choose to register by phone, it will cost an extra $20.
While the test can be taken throughout the school year, it is primarily administered in the fall and early winter. The availability of the test depends on location and can only be taken once every six months.
Locations and test dates can change, but some states offering the test include Connecticut, Florida, New York, Massachusetts, Pennsylvania and Texas. Internationally, the test is administered in Shanghai, China and Seoul, Korea.
Test consortiums can be found in several area schools in a central location, testing applicants applying to different, local independent schools.
Practice ISEE Test with Test Prep Online
How Is the ISEE Test Structured?
Because the ISEE test can be administered for both middle and high schools, there are different test levels, depending on where students are in their studies.
The ISEE test covers the following levels:
ISEE Primary is for entry into grades 2 to 4
ISEE Lower level is for entry into grades 5 to 6
ISEE Middle level is for entry into years 7 to 8
ISEE Upper level is for entry into years 9 to 12
The tests look at reading comprehension, verbal reasoning, quantitative reasoning and mathematics achievement.
There is also an essay that is not scored but is sent to schools the student is applying for.
ISEE Primary
The Primary ISEE test is for entry into grades 2 to 4. The test for entry into grade 2 is 53 minutes and consists of:
18 reading questions
24 math questions
An auditory comprehension section with six questions
A writing prompt with a picture
For entry into grade 3, the test is one hour, plus writing time, and has:
24 math questions
24 reading questions
A writing prompt with a picture
For entry into grade 4, the test is one hour, plus writing time, and consists of:
24 reading questions
24 math questions
A writing prompt
ISEE Lower
The ISEE test for entry into grades 5 and 6 is two hours and 20 minutes and contains:
34 verbal reasoning questions
38 quantitative reasoning questions
30 math achievement questions
Five passages with five questions for each passage to test reading comprehension
An essay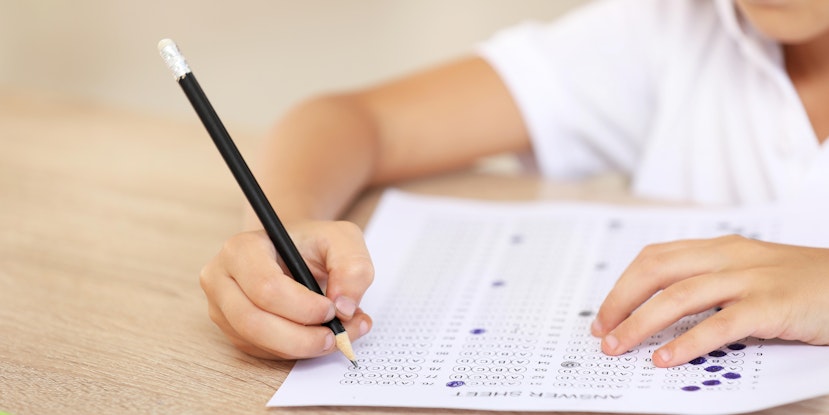 How to Pass the ISEE Test
ISEE Middle and Upper
The ISEE test for entry into grades 7 to 12 is two hours and 40 minutes and consists of:
40 verbal reasoning questions
47 math achievement questions
37 quantitative reasoning questions
Six passages with six questions for each passage to test reading comprehension
An essay
ISEE Verbal Reasoning
Questions: 34 for lower level and 40 for middle and upper
Time: 20 minutes for all tests
The verbal reasoning section assesses a child's vocabulary and reasoning by asking them to look at correlations between different words, synonyms, and sentence completion. The sections also measure an applicant's reading ability and vocabulary.
Each vocabulary question includes an appropriate grade-level word with four answer choices, as well as sentences with missing words or phrases, along with four answer choices.
ISEE Reading Comprehension
Questions: 25 for Lower level, with five reading passages, and 36 for Middle and Upper levels, with six reading passages
Time: 25 minutes for Lower level and 35 for Middle and Upper levels
The reading comprehension section uses reading passages about history, literature, science and the modern world to assess how well the applicant has understood what they have read.
Each passage comes with five or six questions that quiz the main idea of the passage, ideas that support the main idea, vocabulary, the logic, and organizational structure, what is inferred in the passage, and the use of figurative language, tone and style.
ISEE Quantitative Reasoning
Questions: 37 word problems for Lower level and 37 questions for Middle and Upper levels
Time: 35 minutes
Quantitative reasoning looks at the applicant's mathematical reasoning ability with word problems and quantitative comparisons.
The comparison questions are only used for Middle and Upper levels. The emphasis is on mathematical thinking and reasoning.
The questions are all grade-level appropriate and may look at the following areas: numbers and operations, algebra, geometry, problems solving, measurement, data analysis and probability.
ISEE Math Achievement
Questions: 30 for Lower level and 47 for Middle and Upper levels
Time: 30 minutes for Lower level and 40 minutes for Middle and Upper levels
The mathematics achievement sections look at an applicant's skills based on basic math problems in areas such as algebra, measurements and geometry.
ISEE The Essay
Applicants taking the Lower, Middle or Upper level tests will be required to write an essay on a random topic assigned the day of the test.
After receiving the topic, applicants are given 30 minutes to prepare and write the essay. Essays are not graded, but copies will be sent to schools the applicant has applied to.
Practice ISEE Test with Test Prep Online
How Is the ISEE Scored?
There are four different scores for the ISEE test, one for each section. The essay portion is not scored but is looked at by the schools being applied to.
The different types of scores are ISEE Raw Score, ISEE Scaled Score, ISEE Percentile Ranking, ISEE Stanine Score and ISEE Stanine Analysis.
The test is scored with a raw score between 760 and 940, a percentile score of 1 – 99, compared to other students and a stannic score of 1 – 9, an abbreviated version of the percentile score.
Most schools look at the percentile, and those seeking admission will need to be in the top 50th percentile.
If your child does not do well on the test, it can be disappointing and worrisome that they may have to take it again. If you have multiple children, it can also cause financial worries.
A TestPrep Online Family Membership Plan offers a preparation package for up to three applicants in a one year package. This can allow all applicants in one family to get the maximum preparation.
Schools may receive the ISEE scores as quickly as the Monday following a Saturday test. Those tests done on paper may have results mailed Monday, Wednesday or Friday afternoons.
Parents can access the test scores online for a fee and ERB sends scores by mail and will take approximately 7 to 10 days to arrive.
Scores of online tests are posted online, and parents will receive an email when the scores are available.
ISEE Raw Score
The ISEE Raw Score is tallied by the number of questions with the correct answers. Each question is worth one point and there are no penalties for the wrong answer or skipping questions.
ISEE Scaled Score
The Scaled Score is a conversion of the raw score. If your child takes multiple versions of the ISEE test throughout the year, the scaled score, which ranges from 760 to 940, is applied to each of the sections and can be turned into a solid score.
Regardless of the version taken, the scaled score has the same meaning, allowing scores to be on the same scale for all students.
ISEE Percentile Ranking
The Percentile Ranking is used to compare students to the score norm in their age and grade group, over the three years prior to the test, as well as to each other. The scoring is provided for each section of the test.
ISEE Stanine Score
The Stanine Score provides simplified scores on a range from one to nine and is another way to report a percentile. It is derived by taking the student's scores into nine segments.
ISEE Stanine Analysis
The Stanine Analysis allows parents to see how their child's performance compares on all sections of the test, except for the essay.
How to Pass the ISEE Test in 2023
Practice and test preparation can go a long way to improving your child's score. A lot of what they can do to practice may be things they are already doing through daily schoolwork.
Step 1. Make Use of Practice Tests
The more you know about the test, how it is formatted and scored, the better you will do.
Know the different sections, the order they appear in and that they are all multiple choice, except for the essay. Using practice tests can also help identify areas of weakness that need to be worked on.
If you are a family with multiple children taking the test, then maybe a package practice test deal could be the way to go. A TestPrep Online Family Membership Plan can help with that.
Step 2. Practice Against the Clock
As the test is timed, practicing producing your answers in a timed situation can help simulate the test conditions.
Not only will it help your child think and work faster, but it will also help alleviate the pressure of the timed conditions when the day comes.
Step 3. Read as Much as You Can
Reading is one of the best ways to expand your vocabulary, pick up new information and grow your knowledge of the world and the events in it.
Encourage your child to read as many good quality books as they can, and not just prior to test time.
Step 4. Practice Close Reading Skills
To work on your reading comprehension, practice reading and looking for the key message in each paragraph and summarizing it. Read to understand what the words are saying.
Step 5. Try to Form Your Own Answers
The test is multiple choice with several answers being offered. Before looking at the options, try to produce your own answer and then choose the one closest to it.
It can help you understand the question a bit better and may make you move quicker.
Step 6. Practice Interpreting Data
Make some charts and graphs based on the interests of your child – something with their toys, foods they like or participants in activities they do.
Give them some questions to help them interpret the charts and graphs and come to conclusions.
Step 7. Practice Basic Math
Helping your child to have a strong understanding of basic math skills will help them out in the test.
Go over what they have learned previously and what they are currently working on. Look for areas of weakness to improve.
Step 8. Take Care of Yourself
If you do not feel good, no amount of preparation will really matter. Make sure to get a good night's sleep the night before the exam, eat a proper breakfast, avoid too much sugar in the morning and wear comfortable clothing.
Do not forget to wear a watch, bring the proper supplies and turn off any phones or other electronics.
Fortunately, there are plenty of ISEE practice papers online and they are free to take. Depending on the level of ISEE test you are taking, you can also ask your teachers or fellow students to help revise for the examination.
The ISEE has five sections: verbal reasoning, quantitative reasoning, reading comprehension, mathematical achievement and an essay.
The test is difficult because there is so much to cover. It is an entrance exam used for independent schools and magnet schools, so they are looking for exceptional pupils.
As well as the online practice papers and tests, there are tutors and teachers dedicated to guiding pupils through what is required on the ISEE test.
Teachers advise that you spend around two months preparing for this exam. Most students spend on average 25 hours preparing for this test but remember that you can spend as long as you feel necessary.
The ISEE is scored in stanines which are blocks divided to indicate a pupil's performance. There are a total of nine stanines and if you achieve stanine nine or higher, you will likely be considered for most schooling applications.
Because independent schools seek out the most talented and gifted individuals, they usually require a stanine score of seven or higher.
Final Thoughts
A private education can be a great opportunity for a child. Taking any kind of test can cause nervousness and doubt in a child, especially an admissions test.
Knowing what the test contains, how it is structured and what to expect can help alleviate a lot of worry. Practicing and knowing as much as you can will help your child feel well prepared.