The CCAT Test Grade 6: CCAT Level 12 Test 2023
Updated November 20, 2023
What Is the CCAT Grade 6?
The Canadian Cognitive Abilities Test (CCAT) Grade Six is a test sat by sixth graders that assesses their abilities within math and reading, as well as their literary skills and whether they can group and analyze shapes and symbols.
The CCAT is the Canadian equivalent of the CogAT, which is taken by students in the US. There are different levels of CCAT tests designed for students from kindergarten right up to grade 12.
These tests assess how children and young people's cognitive and reasoning abilities develop over time through pattern recognition and word association, rather than asking questions that require general knowledge or remembering facts from a particular class or subject at school.
These cognitive ability tests require students to be able to think critically and apply similar methodology over and over to different sets of questions, covering their verbal, non-verbal and numerical skills.
Often, these tests will be taken during the last year of elementary school before students move on to high school (or middle school).
However, in Canada, the cut off dates for school years do vary from province to province and are set by local school boards, meaning that sometimes students continue at elementary school for 7th grade.
Practice CCAT Test Grade 6 with Test Prep Online
What Does the CCAT Grade 6 Contain?
The CCAT Grade 6 Test may be the most difficult test that your child has been required to sit so far during their schooling.
It requires them to be able to think critically and analytically as well as to stay focused throughout the 176 questions of the test.
There is a 90 minute time limit, and all questions in all of the three key areas are in a multiple choice format, with students having to select the correct answer from a choice of five possible answers.
Questions are grouped into three sections (referred to as batteries) as follows:
CCAT Test Grade 6 Verbal Battery
The verbal battery includes question sets such as:
Complete the sentence – Finding the word that is missing from a sentence. This tests both literacy and logic
Verbal analogies – Looking for connections and relationships between words to find missing words
Word classification – This tests for abstract thinking abilities and understanding of word categories. This requires a substantial vocabulary and the ability to reason
CCAT Test Grade 6 Quantitative Battery
The quantitative portion of the CCAT has questions including:
Number series – Finding missing numbers which require addition and subtraction skills
Complete the number pattern or find the missing number – Analyzing patterns and making calculations to make logical predictions or find missing digits
Number puzzles – This tests ability to solve various types of equations
CCAT Test Grade 6 Non-verbal Battery
The non-verbal battery assesses reasoning skills in the absence of language. Questions include:
Paper folding – This tests the student's ability to look at the 2D images on screen and imagine they were folded pieces of paper and how they would look if they were unfolded. This requires significant organizational and analytical skills and the ability to think visually
Figure matrices – This tests for similar skills to the verbal analogies portion of the CCAT. Students have to decode relationships between shapes and symbols to find the missing one
Figure classification – Finding rules that apply to the figures or diagrams to understand how they fit together
The questions in all of the key areas of the test each will build on CCAT tests that have been completed in previous years, with the questions becoming more advanced as children progress through their grades.
Some skills that are being tested are student's abilities to make associations between words, numbers or pictures, whether they can find missing numbers in numerical sequences, their understanding of relationships (both quantitative and qualitative) and if they can make sensible predictions based on the data they are presented with.
With three key categories, each further divided into three subsections, students will have around ten minutes to spend on each individual part.
Some may want to spend a little longer on certain areas (such as the verbal analogies or figure classification sections that are considered the most challenging) and make up the times elsewhere, although this will vary from student to student.
CCAT Test Grade 6 Example Questions
1. Which number comes next in the sequence?
9.96, 9.82, 9.68, 9.54, ?
a) 9.56
b) 9.40
c) 9.46
d) 8.48
e) 9.60
The correct answer is: b) (subtract 14 each time).
2. 'What' is to 'white' as 'Ship' is to ?
a) Shape
a) Sharp
a) Boat
a) Ships
a) Snapped
The correct answer is: a) Shape (Same first two letters as the origin word with an E added onto the end).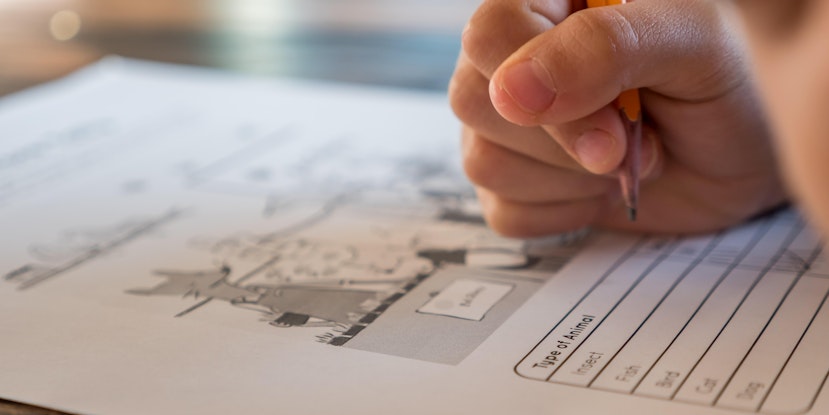 The CCAT Test Grade 6: CCAT Level 12 Test

3. Which symbol makes the most sense to fill in the blank space?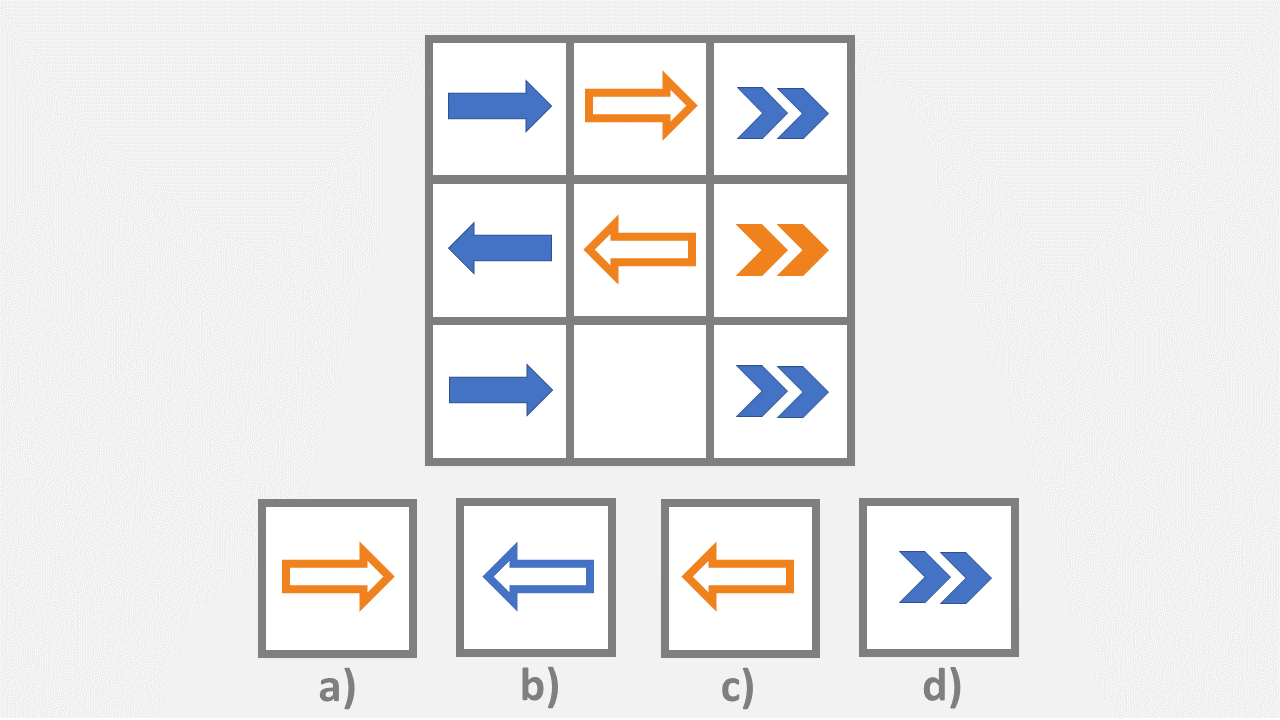 The CCAT Test Grade 6: CCAT Level 12 Test

The correct answer is: a). The arrows are facing the same way as on the top row, and the coloured arrows are grouped together in columns.
How Is The CCAT Level 12 Scored?
The CCAT is scored based only on correct answers; therefore, answering incorrectly or skipping questions does not negatively impact the score.
Your 'raw score' reflects the number of questions that were answered correctly.
The raw score that is achieved is compared to those of your peers (students in the same grade or of similar age), which generates a 'complete' CCAT score. This score shows your percentile when compared to other test-takers.
Generally, the top 20% are considered to have a 'good' test score. The way you interpret your results might depend on how you scored in CCAT tests in previous grades or your own personal goals and circumstances. This is not a test that you technically pass or fail.
The CCAT scores can help to identify students that require additional support and those that are suitable for gifted and talented programs.
They might also give an indication of a student's strengths and weaknesses or help teachers to group individuals within the class in order of ability.
Practice CCAT Test Grade 6 with Test Prep Online
How to Pass the Grade 6 CCAT in 2023
Your percentile score on the test will give an indication of your performance in comparison to others of a similar age/grade. It can also be useful to compare this to previous scores you have achieved.
Individual children will have their own strengths and weaknesses in different areas of their school curriculum, and this is perfectly normal. The CCAT, however, is designed to measure a child's critical thinking and analytical skills, problem-solving skills and how they are developing over time.
You can give your child the best chance of performing well on their CCAT by giving them the materials they require, like test questions, and the time they need to prepare for the test, as well as providing them with positivity and encouragement.
Helping them to prepare for the CCAT Grade 6 Test will help them to improve their score report and average score. The CCAT exam and CCAT questions are aimed at word problems, verbal reasoning and numerical reasoning.
Test preparation can improve your child's CCAT results.
You might want to help them to achieve the best score they can for themselves by trying to incorporate the following into their exam prep:
Step 1. Practice
Take a CCAT practice test with practice questions to get them used to the structure, types of questions and content of the CCAT. Practice tests can be found online.
You can find a limited number of sample questions for free online, or with paid membership on some websites, you can practice full tests with questions and answers.
Spend additional time covering any areas of weakness they have, rather than allowing them to focus on the parts that they find easy or that they enjoy.
If they are routinely getting questions wrong, once they see the answers, ask them if they understand why the answer they selected was wrong and encourage them to have another go.
Step 2. Read Widely With Your Child
Try to get into the habit of asking questions about the texts they read to assess comprehension. As they read, see if they can notice any key literary themes or basic narrative devices in fiction books.
Simply being able to read well and get through a lot of words per minute will not be enough here; students need to have the basic analytical skills to understand and decode different types of texts and even start to think about the author's intentions.
Pausing during reading and asking them questions or pointing out key information to them will help them to start to view texts in the way they need to, and asking them what specific words or terms mean will help to increase their vocabulary.
Step 3. Get Into a Study Routine
Most children react well to routine, and this is what they will be used to from being at school. Get into a study routine and collaborate with them to create a lesson plan of what they will practice and when.
Sixth graders should generally be able to organize themselves, at least to a degree, so you could try out letting them take the lead here.
Explain to them that by doing some preparation at home, they are making life easier for themselves at school as they will be well prepared for their tests.
Encourage them to work hard and praise their success. Stick to the routine you have agreed to as far as possible to limit stress and make sure they are not overworking.
Stressed and anxious children do not perform at their best in tests.
Step 4. Self Care
Ensure that your child is getting enough sleep, staying hydrated and eating a balanced diet.
Students who are tired are less likely to retain important information and more likely to become stressed whilst studying. They also do not need to be distracted by feeling hungry or thirsty.
The goal of preparing thoroughly for their CCAT is to make it easier for them in the long term and to help them perform at their best; therefore, make sure they do not view their study-prep as a kind of punishment.
They should be able to take regular snack and rest breaks whenever they need.
Allowing them to pace themselves and practice self-care might even help them with their organizational skills and give them a chance to demonstrate their growing maturity.
Some sixth-graders might struggle with this responsibility or take advantage of the freedom – this should highlight to their parents the certain behaviours that need to be worked on.
Step 5. Pay Attention
When you start out with practice tests, make sure your child is reading the questions thoroughly and not rushing through. Some of the wording might be tricky, and this is where paying attention is key.
Encourage your child to read the questions slowly and as many times as they need to. They will be unable to give a correct answer if they do not fully understand the question.
Try to encourage them to pause and think about the question for a moment, especially if you know they have a tendency to rush through tests to get them over with.
Final Thoughts
Grade 6 is a transitional time for children as they prepare to leave elementary school behind and progress with their education.
By helping them to prepare for their CCAT test, you are giving them the best chance at success; therefore, they can start at their new school with increased confidence and an understanding of their own abilities.