8 Best LinkedIn Profile Writing Services
What Is a LinkedIn Profile Writer?
A LinkedIn profile writer is an individual or business that helps others create eye-catching, stand-out profiles on the LinkedIn social media platform.
In the modern world of recruitment and job hunting, many employers will use the information that they can gain from LinkedIn profiles to help them decide whether or not to hire someone.
Your profile is the equivalent of an online resume and can be used to showcase your skills and talents, as well as giving insight into what you might be like to work with.
Top 8 Writing Services for LinkedIn Profiles
Cost: A complete profile will usually cost $125
Turnaround: Within seven working days
Features include:
Two revisions per profile
Trained writers who can write about more than 60 different industries at an expert level
Completed profiles are sent as a document to be uploaded by the recipient
Cost: $200 when included as part of a package; $375 to $649 when not part of a package
Turnaround: Most profiles are completed within three days
Features include:
Fully virtual office
Guaranteed to work with one writer to create your perfect profile
Communication is via email or phone
Work is uploaded directly to LinkedIn by your writer
Cost: $509 to $649, depending on the package chosen
Turnaround: Profiles are bought as part of a package, so they are completed within the three to four weeks that it takes to complete an entire package
Features include:
30-minute initial phone consultation
Profile writing is not available by itself, only as part of a package
Multiple revisions included
Cost: When selected by itself, LinkedIn profile writing costs $399
Turnaround: LinkedIn profiles are usually completed within three business days
Features include:
One-on-one phone call with your writer to discuss details such as your ambitions and achievements
After-hour appointments are available to fit around your schedule
Packages available that include resume-writing and cover letters
Cost: As this service is designed to give you the tools you need to write your own profile, it is much cheaper than a professionally written profile service. Access to the LinkedIn library database is $19 for the first 30 days and then $19 per month thereafter.
Turnaround: There is no designated turnaround time for this service, as you are provided with the tools you need to create your own profile
Features include:
Access to a library of information to help you write your own LinkedIn profile
Documents and spreadsheets available that detail the most popular skills and keywords to use
Provides a variety of different profile options tailored to suit a specific purpose, such as job searches and lead generation
Cost: This service usually costs between $100 and $159, depending on whether discount codes are available
Turnaround: LinkedIn profiles will usually be completed and delivered within three to five working days
Features include:
Copies of your new profile in Microsoft Word or PDF format
Focus on providing a professional summary of employment history and accomplishments
Keyword optimization
Cost: A LinkedIn profile must be purchased as part of the Advanced Package, which is $300 and includes a resume and cover letter
Turnaround: LinkedIn profiles have a three-day turnaround period
Features include:
Theoretically unlimited reviews and revisions
A variety of different packages to suit your needs
Communication is mostly online via email and a live chat function
You will be sent a copy of the completed document, which can then be uploaded to your LinkedIn profile
Cost: A LinkedIn profile will cost $69 to complete
Turnaround: Within five business days
Features include:
Free initial consultation
Communication is via a combination of email and phone calls
CV and resume writing services are also available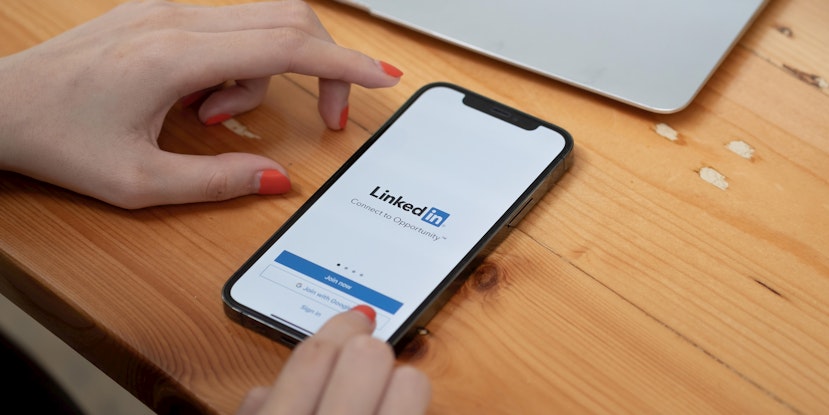 8 Best LinkedIn Profile Writing Services
Who Can Use a LinkedIn Profile Writer?
Anyone can use a profile writer. They are especially popular with people who are hoping to secure new roles or make progress in their chosen careers.
A well-optimised profile is also considered essential for many business owners who use the platform to network, find new clients and grow their reach.
Do I Have to Use a LinkedIn Profile Writer?
No. You can write your profile yourself if you prefer.
Many people use a professional service if writing isn't one of their strengths or if they struggle to identify what they are best at.
Using a profile writer can help you to see which characteristics are most important for your profile and may help to identify strengths that you might never have considered.
A professional will also be able to advise on areas that you might not be familiar with, such as keywords, but can make a big difference to how you appear in searches on the platform.
What to Look for in a LinkedIn Profile Writer
A large part of what guides your decision-making process when choosing a profile writer will be about chemistry and whether or not you feel the person will do a good job.
You should choose someone whom you feel can put your personality and skills into words while still sounding like you.
Although this is a big part of what you want when you look for a writer, there are a few other things to consider.
Reviews
You wouldn't hire a plumber or an electrician without looking at their reviews, and a writer is providing a service just like anyone else.
Taking the time to look through reviews of their work can help you to judge whether you are likely to get on well with the company or individual.
It can also help you to identify whether others have had issues previously and how well these were resolved.
Examples
A good writing service will always offer you the opportunity to look at work samples. These could be blank mock-ups to give you an idea of the styles that the service provides.
Alternatively, they might direct you to genuine profiles they have written for previous clients.
Cost
The saying 'you get what you pay for' is true for most things in life.
But, when it comes to writers, the fees and charges associated with them can vary significantly. You could ask five writers for a quote, and they would probably all tell you a different price.
Some beginners will charge low rates that don't always reflect their writing skills. Alternatively, some less talented writers may charge high fees, thinking this indicates that they are good at what they do.
When it comes to finding a profile writing service, first consider what you can comfortably afford.
Then, find writers who provide services within your budget and use their sample work to help guide your decision-making process.
Extras Included
Some individuals and companies will include extras as part of a package to help you get the most for your money.
These elements should be considered when you are thinking about affordability. If there is an extra included that you would definitely use, consider how much you would have been willing to pay for it separately. You may find that you are able to save money.
It is important to remember, however, that extras are only useful if you would actually use them.
Many profile writers also offer services such as interview coaching or CV writing, but if you wouldn't use these, it might be best to consider a cheaper profile writer who doesn't include the extras or potentially negotiate a new deal for the services you do require.
Revisions Included
A good writing service will always include a certain number of revisions as part of their package.
This is an opportunity to iron out any issues and make changes. If your profile writer doesn't include at least one revision as standard, it is usually a sign not to work with them.
Frequently Asked Questions
It might seem easier to write your profile yourself, and it's definitely cheaper. But, there are a number of reasons why it's better to use a professional service:
Keywords – A profile writer will know the words to use to make your profile stand out and where best to use them
They're professional – Even if you're good at writing, they are experts when it comes to words. Some things are just best left to the professionals.
Singing your praises – It can be hard to talk about yourself in a positive way; getting a professional profile writer makes this process easier, as they won't be modest on your behalf
A cohesive look – A profile writer will look at every aspect of your LinkedIn profile, so they can create a look and theme that runs through your whole presence on the platform
The price varies considerably, depending on the profile writer you choose to hire. Each individual or company will set their own rates.
The fee can also be affected by factors like where you live, whether there are lots of profile writers to choose from for your profession and how complicated the overhaul is likely to be.
Yes.
Current figures show that 90% of recruiters look at LinkedIn when they are considering hiring someone. Having a profile that stands out is more important than it has ever been before.
This will depend on the company you choose. In most cases, it is likely that you will work with the same writer throughout the process. This is to ensure that the same tone of voice is used throughout the profile.
Occasionally, some companies may have specialists who deal with different areas of a profile, which may mean speaking with more than one person, but this is rare.
Final Thoughts
Social media is a vital part of everyday life for many of us nowadays and for the professional world, this means LinkedIn.
It is so much more than simply a platform to keep in touch with others. When used properly, it can bring business opportunities that you may never have considered.
To make the most of everything that this platform has to offer, make sure your profile showcases your skills and abilities so recruiters can realise the potential you could bring to a new role.
The best way of doing this is to hire a professional writer who can identify your strengths and bring your unique voice to this professional platform.