Writing a Resume For a Physical Therapist (2023 Guide)
Updated September 20, 2023
As a physical therapist, you are capable of helping people recover from injuries, determine pain levels and even help patients adjust to living with prosthetics.
But writing a resume for a job you really want is another skill set entirely.
Tied in with the fact that this sector is predicted to rise by 21% over the next 10 years, your resume needs to stand out.
This article will help you:
See what information the employer is looking for
Understand what skills and competencies you need to include
How to present them
What Is An Employer Looking For In a Physical Therapist Resume?
Whether your employer is physically reading all the resumes or using ATS software, there are specific keywords they are looking for.
These keywords are often in the job description and relate to:
Experience
Qualifications
Skills
Achievements
Areas of specialization
Physical Therapist Key Skills and Competencies
From live physical therapist job descriptions, the key skills and competencies include:
Compassionate and empathetic
Experience working with a variety of ages and injuries
Willingness to learn and develop
Patient
Inspiring
Communication and listening skills
Ability to perform ongoing evaluations
Capable in creating a plan of treatment
Familiarity with approved medical documents
Understanding of anatomy, equipment and medical terms
Professional and technical knowledge
Team player
Leadership skills
Practical experience in a fully equipped facility
Bachelor's or Master's degree in Physical Therapy from an APTA approved program
Current physical therapist licence in the state of operation
Current basic life support and AED certificate
Dedication to patients health and care
Reading comprehension
Personal physical wellness
Time management
Attention to detail
Get A Free Resume Review with Top Resume
Top Tips For Writing a Physical Therapist Resume in 2023
Before writing your resume, ensure you have considered the following tips and collected the correct information.
Step 1. Tailor to the Job Description
When writing out your experiences and skills, use the exact words and phrases in the job description, such as 'worked with clients of all ages, with a variation of injuries' or 'have created successful plan of treatments for all patients'.
Step 2. Reflect on Experience and Past Responsibilities
There are lessons learned and skills demonstrated in everything we do.
If you don't have enough physical therapist-related experiences, look to other areas where you have shown similar skills – for example, any volunteer or work experience or extracurricular activities and clubs.
For entry-level roles, include what you did in internships or assignments/projects.
Did you help with a patient's plan of treatment or take an active role in someone's recovery, for example?
If during your education you were part of extracurricular clubs and maintained excellent grades, then you have demonstrated:
Time management
Personal development
Ability to multitask
Dedication to learning
Communication skills
Not all skills and competencies are obvious. Sometimes we need to really think about the skills we use each day and where we excel.
Step 3. Include Metrics Where Possible
Quantifying your successes is a quick way to impress potential employers.
When demonstrating success with patients, try to quantify it. Did you speed up a patient's recovery by X amount of weeks with your treatment plan or improve motivation by X percent? What is the percentage of your success rate?
Step 4. Use Active Verbs
Active verbs give clarity to a sentence and put you in the action. They are encouraged in resumes because it allows the recruiter to picture you in the role.
For a physical therapist resume, some good active verbs are:
Coordinated
Executed
Oversaw
Created
Designed
Devised
Formulated
Finalized
Diagnosed
Accelerated
Delivered
Influenced
Overhauled
Rehabilitated
Standardized
Transformed
Aligned
Facilitated
Coached
Evaluated
Counseled
Showcased
Exceeded
Step 5. Display Information in Order
List all your education and work experience in order, with the most recent at the top.
The most recent experience is often the most relevant and is what will interest the employer most. But all experience matters and should be included.
What Should a Physical Therapist Resume Include in 2023?
Before submitting your resume, it is advised that you take advantage of a free evaluation offered by some professional resume writing services.
This service allows professional resume writers to provide feedback on how well they think your resume will perform.
They may also check to see if it is ATS compatible. ATS, or Applicant Tracking System, is software that scans your resume for the keywords mentioned in the job description.
As so many people apply for one job role, recruiters or employers cannot hand read every resume. ATS allows them to eliminate those candidates that do not meet the minimum requirements.
If your resume is not formatted to suit the ATS software, then you may not be invited for an interview.
As for the content, you want to ensure your resume has the following sections or information:
Contact information
Objective
Experience
Education
Skills
Additional information such as memberships, affiliations, hobbies and interests
Contact Information
Simply your name, state and zip code, contact number, email and relevant social media links:
Ms Jane Doe [Add in qualification letters if applicable]

Manhattan, NY 10010 | 555-555-5555 | jane.doe@gmail.com | LinkedIn link
Ensure that your email address has a professional name. Employers do not want to contact janeybabey@gmail.com.
Objective
The objective is your opening statement to capture your employer's attention and let them know why you are perfect for the role.
You should aim to keep it to two or three sentences so it doesn't take too much room on your resume:
Physical therapist offering a demonstrated history of excellent patient care and rehabilitation for a range of ages and injuries. Qualifications include an APTA-approved Doctor of Physical Therapy degree, NY state licence and BLS and CPR certification. Specialized in adolescent care.
Experience
While listing your work experience, ensure you match your tasks with the responsibilities detailed in the job description.
If the job description states they want someone with experience in a fully equipped facility, mention that facility so they can clearly see where you worked.
East Side Recovery, NY, Physical Therapist | January 2015–August 2020

Assessed patients' health by reviewing physician referrals, medical histories and current conditions
Designed and executed plan of treatments, including at-home rehabilitation, to ensure the patients were motivated and supported
Trained and assisted 12+ physical therapist assistants to better support patients and physical therapists
Implemented weekly support groups for adolescents dealing with physical ailments, so they had a safe space to express themselves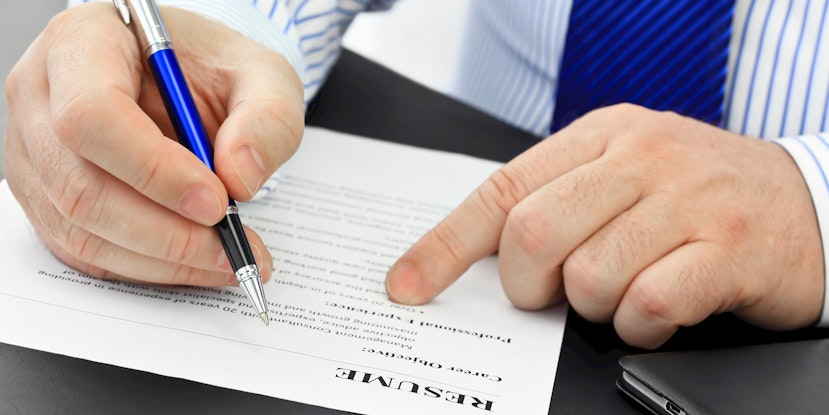 Writing a Resume For a Physical Therapist (Guide and Tips)
Education
As you only have one page to show all your experience, there is no need to mention your entire educational background.
If the job description mentions specific college programs and certifications, then only include those in the resume.
If you have a bachelor's or master's degree, then the assumption is that you completed high school.
Again, start with the most recent first and mention your grade:
NYU, Doctor of Physical Therapy 2012

Scored top of my class
Conducted independent research into the effect of physical injuries in adolescents

NYU, Manhattan, 2009
Bachelor of Science Biology
GPA: 4.0
Skills
Here you can highlight any skills you think will impress your employer. These skills do not necessarily have to be directly related to the role.
Indicating that you are tech-savvy or are competent with equipment tells the employer you are more than capable:
Regularly commended for interpersonal skills
Competent with computer systems new technology
Well versed in all HIPAA compliance terms
Additional Information
If you have a well-formatted resume and have only included essential keyword-heavy information, you should have space for additional information such as licensing, certifications and interests.
Although you mentioned these in your objective or opening statement, it is best to note them again so your employer can confirm your qualifications.
Again, only include the essentials.
For the additional interests, it may be tempting to list all the activities you do, but too many may put the employer off. They may think that you are trying too hard or won't have time/be too tired for your PT role.
Try to focus your activities on your health and wellbeing. Physical therapy is a physically demanding job, and your potential employer will need you to be at your physical best.
Physical Therapist Resume Examples (2023)
Now that each section has been detailed, below are two examples of how your resume should read.
The first is for those with experience, and the second is for those straight out of college.
Physical Therapist Resume Example With Experience
Ms Salma Ray

LA, 90011 | 555-555-5555 | salmaray@mail.com | LinkedIn Profile

Compassionate physical therapist with a history of superb patient care for all ages and injuries. Qualifications include an APTA-approved Doctor of Physical Therapy degree, CA state licence and BLS and CPR certification. Specialized in treatments for the elderly. 92% success rate in achieving client goals.

Work Experience

Los Angeles Recovery Center, CA
Senior Physical Therapist | May 2015–Current

Assisted in the rehabilitation of 15+ patients each week of varying age and injury
Created and implemented plan of treatments, including at-home rehabilitation and additional mental health support
Trained and assisted seven physical therapist assistants to better support the running of the clinic
Oversaw refurbishment of the clinic and ran training sessions for all new equipment

West Coast Rehabilitation, CA
Junior Physical Therapist | August 2013–May 2015

Assisted in the treatment of 5+ patients per week by reviewing physician referrals and medical history
Gained familiarity with technology and equipment used to aid recovery
Achieved an 86% success rate in patients achieving their goals

Educational Background

UCLA, Doctor of Physical Therapy 2012

Scored top of my class
Conducted an independent project in the best ways to treat the elderly and frail

University of California, Berkely, 2009
Bachelor of Science Biology
GPA: 4.0

Skills

Five-star ratings from customer feedback with emphasis on care given and attention to detail
Confident and experienced with computers and advanced equipment
HIPAA compliant

License

Licensed Physical Therapist, State of California, PT092285

Certification

BLS and CPR, American Heart Association

Additional Activities

Teach yoga for the elderly twice a week
Daily gym-goer, attending either Pilates or Soul Cycle
Mr Mike Smith

Tampa Bay, FL 33647 | 555-555-5555 | mike.smith@mail.com | LinkedIn Profile

Newly licensed physical therapist skilled in pre-and postnatal care. Scored top of my class in both college and postgraduate. Teaches mother-and-baby yoga. Commended by both management and college professors for empathy and attention to detail.

Freelance Experience 2017–2021

Throughout the pandemic, hosted free virtual mother-and-baby yoga classes and meet-ups with 20 mothers to ensure they felt part of a community
Six-month internship at Tampa Bay Physical Rehabilitation Center, where I assisted in creating a plan of care and conducted patient follow-up calls to assess the recovery process – commended for personalized care and understanding needs
Personal trainer at the campus gym with 15 clients. Help establish sustainable workout routines and best practices

Educational Background

The University of Tampa, 2020
Doctor of Physical Therapy

Graduated top of my class
Published dissertation on the positive mental effect exercise and movement has on pre-and postnatal mothers

The University of Tampa, 2017
Bachelor of Science Biology
GPA: 3.8

Skills

Regularly commended for empathy, attention to detail and patient care
Trained in the latest technology, methods and equipment
Fluent in Spanish and French

License

Licensed Physical Therapist, State of Florida, PT667854

Certification

BLS and CPR, American Heart Association
Registered Pre-and Postnatal Yoga Instructor

Additional Activities

Run weekly pre-and postnatal yoga classes
Rock climber and cyclist
For a resume in physical therapy, you need to include key information and phrases relating to the job.
These include relevant job experience, any educational or vocational qualifications, your specialized skills and any information about referees.
Avoid including anything too generic or not specific to physical therapy.
If a resume is too long it will bore the reader. If it is too short you may risk not including all of the essential information you need. A good resume should be around one page.
This should give you enough room to include all the key skills and qualifications you need for the role. If you have references to use in the resume, include them in a separate document and inform the employer that you have separated them.
Your license is one of the most important elements of your resume. Because of this, you should mention that you are a licensed therapist in the summary or personal statement section of the resume.
It is also a good idea to elaborate on this in the education and accolades section too. It is in this part of the resume that you can outline where you got your license from and what year you received the license.
To make your CV look professional, there are four elements you need to consider. You will need a summary, a section dedicated to your work experience, a section for your education, and finally, a section outlining your specialized skills and strengths.
You can also include references at the end of the CV if you have room for that. Remember to include only relevant information and the physiotherapy experience you have on your cv. Avoid writing more than one page as well as employers will not have the time to look at this properly.
Final Thoughts
Writing a resume for physical therapist roles is not always easy.
Your job has so many responsibilities, and there isn't enough space to include everything.
When writing your resume, include experience that relates to the keywords in the job description. This will help you focus and show the employer you have the exact attributes they are looking for.
For entry-level applications, the employer is less concerned with your work history and more concerned with what skills you currently have.
Use your experience from your extracurricular and curricular activities to help find your skills.
You could also ask friends, family and teachers what skills and competencies they think you have.
Finally, read through physical therapist resume examples for inspiration.