Writing a Resume for Pharmacy Technician Position (2023 Guide)
Updated November 20, 2023
Writing a CV or resume for a pharmacy technician role takes time and self-reflection.
This article outlines the key points, skills and competencies to include in a resume for a pharmacy technician role and offers an example resume.
What Will an Employer Be Looking For?
There are many things a potential employer will be looking for when reviewing pharmacy technician resumes:
Relevant certifications – Whether a candidate has attained any state or national qualification, such as the Certified Pharmacy Technician (CPhT) credential from the Pharmacy Technician Certification Board (PTCB).
Technical skills – These may vary between roles but can include math, IT and administration skills.
Soft skills – Pharmacy technicians must work as part of a team and often interact with customers, therefore making interpersonal and other soft skills very important.
Prior experience – While entry-level pharmacy technician roles exist, having prior experience will help your CV come out ahead.
Membership to professional bodies – For example, the National Pharmacy Technician Association (NPTA).
Interest in pharmacy – While this may seem a given, as you are applying for a pharmacy technician role, being able to show a broader interest in the field of pharmacy, through journals you subscribe to or conferenced you've attended, indicates you will be eager to learn and improve.
Technical and soft skills are expanded upon more below.
Key Skills for Pharmacy Technician Positions
While each candidate is unique in what they can bring to the role of a pharmacy technician, some common skills and competencies are required to successfully fulfill the position.
Many of these will be listed in the job description when you apply.
In general, pharmacy technicians' skills can be split into technical (or hard) skills and soft (or interpersonal) skills.
Technical Skills
There are many technical skills that candidates can build up throughout their careers that make them better candidates to become a technician at a pharmacy.
These include:
Checking prescriptions
Filling in and preparing prescription labels
Administering, measuring, dosing and dispensing drug prescriptions
Selecting appropriate containers for packaging drugs
Cross-checking dispensed drug prescriptions against prescription
Storage of drugs according to industry-standard guidelines, such as at the correct temperature, while ensuring the security of drugs
Maintaining pharmacy equipment used for the dispensing of drugs
Inventory management
Awareness of and adherence to HIPPA
Proficiency in labeling software
Proficiency in accounting/billing software
When thinking about the technical skills that you have, it is essential to review the job description and then to think about the technical skills you have that are relevant to this role.
If you find you are lacking in an essential area, consider if there are any transferable skills that give you similar abilities.
Many employers also look for candidates who have attained a pharmacy technician certification or diploma. The certification program also requires candidates to have completed some form of work experience.
Get a Free Resume Review with Top Resume
Soft Skills
Alongside technical and role-specific skills, all pharmacy technician roles need candidates who demonstrate strong soft skills.
These are the non-technical skills that you have built up throughout your academic and working career. Softer skills enable you to perform the role of a pharmacy technician efficiently, communicating with others so that everyone can perform at their best.
Common soft skills or competencies required for pharmacy technician positions include:
Customer service skills – Such as answering drug or prescription-related queries from customers
Organizational skills – Important for maintaining stock
Teamworking and collaboration – Necessary to maintain a working pharmacy team
Communication skills – For both other professional and laypeople in person and writing
Time management skills – Pharmacies can be fast-paced
Keeping calm when under pressure – You will potentially be dealing with customers under medical stress who may take it out on you
Attention to detail and accuracy – To avoid making a potentially life-threatening mistake
Desire to further your learning in the pharmacy field
Problem solving – This is an important competency in any role
Mathematical understanding and application – You may need to convert between units, such as grams per liter to milligrams per centiliter.
Organizational skills – To keep on top of multiple patients' orders and deliver them correctly and on time
While these skills are common requirements for pharmacy technician roles, you will likely have developed these soft skills and competencies in many different ways.
It is worth remembering that you can build up soft skills throughout your working career.
How to Write a Pharmacy Technician Resume in 2023
When writing your pharmacy technician resume, it is best to adopt a logical and systematic approach.
Doing so ensures your resume details all the technical and soft skills and competencies necessary for a pharmacy technician role, while still ensuring that you can differentiate yourself from the many resumes that employers receive for these positions.
Step 1. Resume Objective
Think about what your resume objective is.
Your resume objective should be short, outline any qualifications that you have and detail your proven experience.
Adding in metrics such as the length of time you have been qualified further adds credibility to your resume objective.
An example of a pharmacy technician resume objective for a candidate who has previously worked in this field could be:
Certified pharmacy technician (CPhT) with over eight years of experience gained in both retail and pharmacies. Proficient in many types of labeling software with a commitment to ensuring utmost accuracy when dispensing and dosing prescriptions. Proven customer service skills with a desire to help customers, excellent teamwork and organizational skills guaranteeing efficiency in the workplace.
If you have yet to gain work experience in the pharmacy technician field:
Outline your relevant qualifications
Detail voluntary work experience or ways that demonstrate your passion and commitment to a career as a pharmacy technician
Outline achievements or commendations received as part of your education.
An example of a pharmacy technician resume objective for an entry-level candidate could be:
I am a motivated and enthusiastic diploma-qualified pharmacy technician. I attained a high grade in my diploma qualification, receiving a commendation from my tutor for my dedication in going above and beyond to further my theoretical knowledge of pharmacy ethics, tools and techniques. My commitment to a career as a pharmacy technician is demonstrated through my voluntary work at my local pharmacy, where I have received a letter of recommendation in recognition of my outstanding customer service and attention to detail.
Step 2. Certifications and Qualifications
These can be written in bullet point form, to ensure the salient information is available quickly and so that the ATS understands what qualifications and skills you have.
When detailing certifications, it is important to ensure that any nationally recognized certifications are prominent on your resume. These include certifications from the NHA (National Healthcareer Association) or PTCB (Pharmacy Technician Certification Board).
These are the ones that employers will be looking out for.
Any education or experiences that are relevant to the role can also be included here.
Write down any certifications or qualifications that you have attained, with as much detail as relevant to the role, in a way that explains the skills you gained from them.
For example, instead of writing:
Completed certified pharmacy technician training.
Write:
Attained CPhT national pharmacy technician certification
Demonstrated excellence in customer service, dispensing and inventory management
Entry-level candidates may also want to include any commendations received as part of their certification. For example:
Received recognition for my achievements and attitude from my tutor
Step 3. Technical Skills
Write down all the technical pharmacy skills that you have. Think about each part of your role and note down each of your tasks that demonstrate these technical skills.
Many job descriptions for pharmacy technician roles detail the technical skills required for the role.
It is essential to review these. Use them to guide you when thinking of the technical skills you have gained.
If you haven't yet gained any work experience, consider any practical experiences you had as part of your pharmacy technician training or diploma course.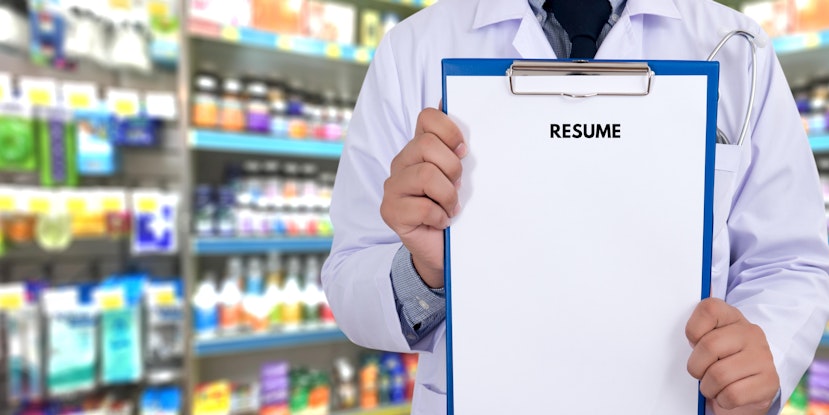 Writing a Resume for Pharmacy Technician Position (Guide, Tips and Example)

It is important to use specifics to put your technical skills into context.

Consider: an applicant has worked in a busy retail pharmacy environment. There, they worked with less experienced pharmacy technicians and been involved in their training.

Instead of writing:
Experience in a retail pharmacy environment
Worked with entry-level pharmacy technicians
They could write:
Experience gained in a fast-moving retail pharmacy environment
Supervision of three entry-level pharmacy technicians
Responsible for staff appraisals and training resulting in all technicians being retained in the team
Excellent feedback attained from team members. Feedback was concerning communication, training and organizational skills
The latter version contains more specifics about what the person did, which helps elucidate why they are a great candidate.
Step 4. Soft Skills
Think about all the soft skills that you have gained throughout your academic or working career and any voluntary experience you have had.
Being familiar with the soft skills employers look for in pharmacy technicians helps focus your thinking on the skills relevant for this role.
Again, reference the job description when it comes to documenting the soft skills that you have.
Document them similarly to the examples given above for the technical skills – include a brief example of when you, for example, used your communication skills to give an excellent PowerPoint presentation to your volunteer manager about the project. Evidencing your skills is important.
Step 5. Work Experience
The main part of any pharmacy technician's resume is prior experience.
Use the job description as a starting point to help you think about your work experience.
If you haven't gained any paid work experience, think about any practical work you carried out as part of your certification or diploma or any voluntary work experience you have concerning pharmacy technician duties.
You can also use this part to include commendations from course leaders, for example, if you do not have much prior experience.
Step 6. Education
As well as certifications and qualifications relevant to the role it is essential to fully document your education.
Ensure that the dates that you write on your resume are accurate.
A vital skill of a pharmacy technician is attention to detail and accuracy. Taking the time to ensure the dates of your education are correct –and that the resume's spelling and grammar are also correct – could mean the difference between getting an interview and having your application put in the trash.
Step 7. Additional Information
A pharmacy technician's resume can also contain any additional information, hobbies or interests, although it is generally recommended to make this part concise so the whole CV is not too long.
For entry-level candidates, this is especially important as this section can demonstrate your commitment to a pharmacy technician's career.
Detail any pharmacy-related educational resources that you regularly read or listen to, such as publications or podcasts. Think about any professional associations or memberships you are a part of like the National Pharmacy Technician Association (NPTA).
Remember to outline any voluntary work or hobbies that you do. This adds a bit more information about you as a person and can make you more memorable, which is important because employers will be reading many pharmacy technicians' resumes
Ensure that you make the most of this section; use it to show your commitment to this field.
Sample Resume
Many formats can be used when it comes to drafting a pharmacy technician's resume. Consider looking online for a template to use.
When choosing your layout, make sure that your resume is straightforward to read and ensure that your key information, skills and competencies are highlighted.
Example
Pharmacy Technician Resume for John Smith

Contact Details

Email: johnsmith86@mail.com
Telephone: 07293865536
Address: 12 Tree Street, Allentown, OH, ZIP: 18126
LinkedIn handle: JohnSmith

A nationally certified pharmacy technician (CPhT) with five years of experience and nursing home pharmacy settings. Passionate about delivering outstanding customer service. Outstanding attention to detail receiving commendations for diligence and accuracy in dispensing and dosing prescriptions. Experienced in inventory software, billing and medical software with additional certifications in sterile products (IV).

Certifications

Certified Pharmacy Technician (CPhT) (2016)
Sterile Products (IV) Certification (2018)

Key Skills

Problem solving
Organizational skills
MS Office suite

Professional Work Experience

Senior Certified Pharmacy Technician; Sunnyvale Nursing Home (2018 to present)

Dispensing and dosing of drugs according to prescriptions
Excellence in customer service as identified by commendations from nursing home residents.
Training of other pharmacy technicians on storage of drugs compliant with guidelines
Supervision of three entry-level pharmacy technicians, including training and supporting their development, resulting in staff retention
Organizing, streamlining and devising a fit-for-purpose inventory management system, resulting in a 17% decrease in administration time


Certified Pharmacy Technician; Vale Pharmacy (2016 to 2018)

Packaging and cross-checking dispensed drugs against prescriptions
Received excellence in customer service award for both years employed
Coordination of insurance and billing to clients using relevant software systems.

Volunteer Pharmacy Technician; Vale Pharmacy (2015 to 2016)

Assisting with non -pharmacy related customer queries
Received letter of recommendation from a head pharmacist

Education

Associate in Pharmacy Technology, Renton Technical College (2013)
High School Diploma, Renton High School (2011)

Additional Information

Member of the National Pharmacy Technician Association (NPTA)
Regular subscriber to the Pharmacy Times
Keen gardener
Top Tips for a Pharmacy Technician Position (2023)
An employer will receive many resumes for a pharmacy technician position. Outlined below are some top tips to make sure your resume for pharmacy technician roles stands out from the crowd.
Tailor to the Job Description
Tailoring your resume to the job description is essential.
Highlighting the critical skills and competencies mentioned in the job description and competencies deemed the most important for their role helps your resume stand out.
Using keywords like this can also help your CV pass the ATS.
Reflect on Your Experience and Past Responsibilities
Taking the time to reflect on all your experience, especially if you are at entry-level, is essential. Make notes and refer to them as you craft your CV.
It could be that you have gained some work experience as part of your certification or diploma course. Or it could be that if you are an experienced pharmacy technician, you have had more experience with insurance and billing procedures than you first realized.
Reflecting on your past experience enables you to detail on your resume all of the relevant skills and competencies for a pharmacy technician.
Include Achievements and Metrics
For both entry-level and experienced pharmacy technicians and include all achievements in your prior roles and training.
Including metrics alongside achievements is an easy way to highlight the impact of an achievement.
For example, pharmacy technician roles involve a lot of administration when it comes to inventory and billing. In the pharmacy technician example CV above, the applicant details how the system they designed and implemented reduced time spent on administration by 17%.
Detailing the impact of any achievements in metric terms on these key areas of a pharmacy technician role will also make your resume stand out.
Use Action Verbs
Use action verbs to describe achievements or key responsibilities.
This makes your resume sound more dynamic and engaging to read.
This WikiJob artile on action verbs details many of them if you need inspiration.
Among a pile of resumes, you want yours to catch the eye of the hiring manager. Using action verbs where appropriate is a way to do this.
Put Certifications Close to the Top of Your Resume
If you are a certified pharmacy technician, put this key role requirement at the top of your resume.
This is a quick way to catch the eye of the hiring manager and may get you fast-tracked to interview.
This also shows your commitment to a career as a pharmacy technician.
Frequently Asked Questions
A pharmacy technician should prioritize the primary skills needed for the role on their resume. A good candidate will include educational examples or work experience that show the skills being used.
An employer will always be more impressed if a candidate can show their professional experience, education, and any additional skills that will be helpful for the job role. Avoid using generic examples.
Pharmacy technicians prepare and supply medical prescriptions for both patients and doctors. You will need good attention to deal, strong communication skills, knowledge of the chemicals you be working with and strong patience to deal with meticulous tasks. You will also be working with others in this role and members of the public, so good customer service skills come in handy.
Your resume objective should be short, outline any qualifications that you have and detail your proven experience. Make sure to tailor it to the job you are applying to so as to impress upon them why you are the perfect candidate for the job.
Someone who is just starting as a pharmacy technician can expect to be helping more experienced members of staff distribute and supply medicines to members of the public. They may also be given duties like checking the medical health records of patients and distributing repeat prescriptions.
Conclusion
Following a systematic approach to writing your resume ensures your resume stands out from others.
Make sure you are aware of the common skills and competencies needed for the role.
Use metrics to emphasize the impact of your achievements on yourself or the workplace.
By following these simple steps, you can draft a resume for a pharmacy technician that is unique to you, your skills and achievements, showing you off in the best light to your hopefully future employer.