Writing a Dentist Resume (With Examples & Templates)
Updated November 28, 2023
What Will an Employer Be Looking For in a Dentist Resume in 2023?
There are key things a hiring manager will look for in a dentist resume. You must include these to increase your chances of being invited to interview.
The key things to include in your dentist resume are:
Qualifications
Certifications
Skills
Competencies
Experience
Achievements
Your resume should highlight and emphasize these throughout.
A prospective employer will look for someone who is keen to develop their skills in the profession. Demonstrate your ambition and drive to succeed in the field of dentistry.
You will also need to show your ability to nurture trusting relationships with patients and colleagues. Teamwork and good communication are key skills for a career in dentistry.
Common Skills and Key Competencies for Dentist Resume
There are common skills and competencies needed for a career in dentistry.
Hard skills are linked with a specific job. You have to learn them to complete specific tasks.
These skills are teachable. For example, operating an x-ray machine or fitting braces.
Key Hard Skills Needed for Dentistry
Dental assessments
Oral surgery
Fluoride treatments
Whitening techniques
Cosmetic dentistry
Bridges, veneers and crowns
X-ray skills
Soft skills are linked with personality traits. They include things like communication skills or interpersonal skills.
These traits can also be developed over time. They relate to different jobs, so outline these on your dentist resume to your potential employer why they are useful in the dentistry role you are applying for.
Key Soft Skills for Dentistry
Compassion
Attention to detail
Communication
Adaptability
Enthusiasm
Problem-solving
Emotional intelligence
Positivity
Employers don't recruit employees simply based on an assessment of hard skills.
They are looking for a good balance of hard and soft skills that will be useful in the workplace. Therefore, you need to highlight these clearly on your dentist resume.
How to Write a Dentist Resume in 2023
This is a step-by-step guide to writing a dentist's resume. It provides useful advice to follow when constructing a professional and high-value resume.
Get A Free Resume Review with Top Resume
Step 1. Contact Information
Your contact details must be kept up to date. Check these every time you apply for a new role.
Remember to use a professional-sounding email address that includes your name.
Step 2. Resume Summary or Objective
A resume summary is the best choice if you have had previous experience in the dentistry industry.
If you lack vocational experience, use a resume objective instead.
This section acts as your personal profile. It is the first thing a potential employer or hiring manager reads.
A good profile needs to be engaging and powerful. Remember to use active words and clearly highlight your career achievements.
Bad Example of a Profile
I have been a dentist for a few years. I treat patients with their dental care needs. I am keen to pursue my career and develop my skills as a dentist.
This example gives no specific dentistry terminology. It also does not explain what direction or specialism the candidate is intending to pursue.
Good Example of a Profile
Professional dentist with 3+ years experience in a busy urban dental practice. Implemented an innovative counseling method to support nervous patients. This increased overall patient satisfaction by over 25%. Currently seeking to specialize in pediatric dentistry as part of a forward-thinking practice.
This example provides more specific information. It shows that the candidate is able to work under pressure in a busy environment.
It also describes a key achievement and their interest in gaining knowledge of pediatric dentistry and further study.
Including numbered achievements on your dentist resume will capture the reader's attention and create a professional appearance.
Step 3. Experience
Include a full work history of your previous dental positions, including dates and locations. List these in reverse chronological order.
Remember to include powerful action words and describe your tasks with appropriate terminology.
For each position, highlight your key responsibilities and achievements during that role.
Some example points you might include on your dentist resume are:
Managed and trained dental assistants.
Implemented surgery reduction time techniques.
Treated patients empathically and with the utmost respect.
Communicated clear expectations to team members.
Provided highest levels of care for patients.
Educated patients regarding preventative dental care and hygiene procedures.
Reviewed and reflected on positive patient care techniques.
Step 4. Skills
Recruiters will be looking for skills in dentistry, interpersonal skills, as well as administration abilities.
Different types of skills are in high demand when applying for a dentistry role. Include your competencies with both hard and soft skills.
Some example skills for your dentist resume:
Interpersonal
Computer
Problem-solving
Active listening
Management
Leadership
Organizational
Communication
Trusting relationships
Remember to include the skills listed in the job advert. This section should be adapted for each position you apply for.
Include any dental specialties, particularly if stated in the job advert.
Soft skills for dentist resume examples:
Communication
Teamwork and leadership
Problem-solving
Building trusting relationships
Hard skills examples:
Smile makeovers
Four-handed dentistry
Preventative dentistry
Dental assessments
Dental skills:
Endodontics
Dental hygiene
Cosmetic dentistry
Oral surgery
When you have chosen relevant skills, use action words to describe how you use them.
Step 5. Education
This section details your educational history. If you have a degree higher than a bachelor's degree, it is not necessary to include your high school diploma.
These should be listed on your dentist resume in reverse chronological order with the most recent qualification first.
Use this section to highlight achievements and relevant coursework completed during your studies.
Step 6. Hobbies and Interests
If you are applying for an entry-level or junior position in dentistry, this section can provide useful information.
It can be included if you have no or limited practical experience in the field of dentistry. Think about what transferable skills you have gained from your experiences.
Some examples might include manual dexterity from a craft hobby or leadership ability from coaching a football team.
Step 7. Extras
Some examples of what you might include on your resume as a dentist are memberships and affiliations, research experience, publications or awards.
Any extra sections you include will make your resume unique.
However, additional information should only be included if it is relevant to the role you are applying for.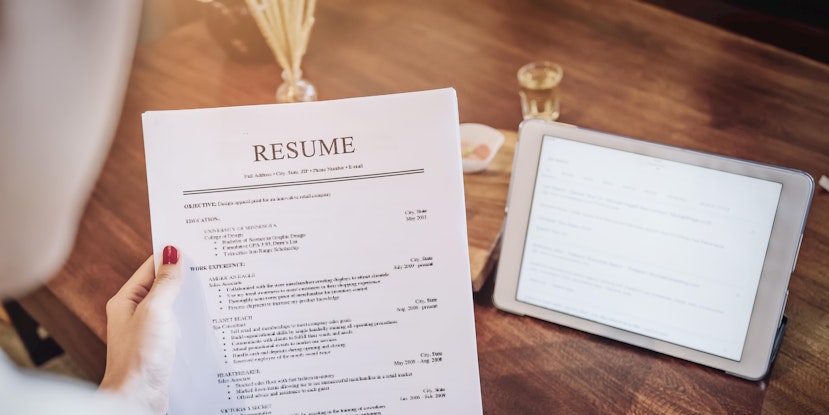 Dentist resume examples and templates
Layout
Your dentist resume must be easy to read. It should be easy to quickly find the key information an employer is looking for.
Consider the use of an online dentist resume template builder. This way you can try out different formatting styles to select the one that works best for you.
Applying for Roles as a Dental Assistant or Dental Hygienist
Applying for a role as a dental assistant or hygienist will require a different focus on your dental resume.
Resume for Dental Assistant Roles
Dental assistant roles are often junior or entry-level positions. This means no previous experience is required other than a high school diploma.
In this case, it is important to emphasize your personal attributes and soft skills on your dental assistant resume.
The most in-demand qualities for an assistant role would include communication skills, clerical work and teamwork.
Think about your experience in other roles or volunteer work. Pick out examples that demonstrate these skills.
For example, as an administrative volunteer at a charity, you could highlight the clerical and organizational skills you developed.
If you have completed an externship in a dentist's office, include this in your dental assistant resume. This will highlight your motivation and drive to succeed in your dentistry career.
Be creative with using your past experience and tailoring it to the job you are applying for. Pick out the keywords used in the person specification and make sure you cover these.
If you have already completed a Certificate III or Certificate IV in Dental Assisting, this should be included in your dental assistant resume.
If you are interested in specializing in a particular field of dental assisting, draw attention to this. This will demonstrate your clear career goals and passion for dentistry.
Resume for Dental Hygienist Roles
When applying for a dental hygienist post, make sure you expand on your responsibilities to highlight how you can bring value to your prospective role.
For example, rather than saying you cleaned teeth, explain how you skillfully removed plaque and other debris in your dental hygienist resume.
Alongside your relevant work history, you should also emphasize your communication and interpersonal skills.
Soft skills are of particular importance to a dental assistant or hygienist. These roles are customer-focused.
Keeping patients calm and comfortable is a key aspect of the job. Highlight your abilities in empathizing and communicating with others.
Dental hygienists don't require medical or dental degrees. You will need to include your education and certifications on your dental hygienist resume.
Sample Dental Resume (2023)
Resume Summary

Fully licensed and enthusiastic dentist with 4+ years of experience. Adept in carrying out dental assessments, cosmetic dentistry, restorative dentistry, oral surgery and whitening treatments. Achieved a 38% increase in patient satisfaction by implementing reduced surgery time procedures. Committed to developing further techniques to enhance positive patient experiences and wellbeing at Clearly Different Dental Surgery.

Professional Experience

2019-ongoing
Dentist
Bright Smiles Dental Center

Implemented innovative procedures to effectively reduce surgery time
Collaborated with a large team of colleagues to improve the patient experience
Treated 5-7 patients on a daily basis, including complex cases
Designed and delivered a community outreach program to promote dental care

2016-2019
Dentist
Inspire Dental Group

Achieved 'Dentist of the Month' award six consecutive months based on patient satisfaction
Conducted detailed dental assessments
Educated patients on home oral and preventative tooth care
Careful and meticulous reviews of patient history pre-consultation

Education

2009-2013
University of Colorado School of Dental Medicine
Doctor Of Dental Medicine

Developed critical thinking skills in treating complex patients.
Impacted community by providing dental care to underserved populations.

2005-2009
Western Colorado University
Bachelor of Science – Chemistry

Designed research project investigating advanced laboratory techniques.
Regular contributor to the campus Chemistry Club.

Skills

Skilled in four-handed dentistry
Experienced in endodontics
Knowledgeable in preventative dentistry
Problem-solving abilities with complex cases
Conducts comprehensive dental assessments
Keeps detailed records of patient care
Top Tips for a Dentistry Position
Competition for dentistry positions is high. Here are some top tips to make sure your resume stands out from the crowd.
Tailor to the Job Description
When you create your resume, select keywords and phrases from the job description and person specification.
Try and work these into your dentist resume or cover letter. For the best chance of success, you need to customize your resume for each position you apply for.
Use Active Verbs
Using action verbs will result in a stronger dentist resume. It will clarify your strengths, skills and accomplishments.
Include words like operated, pioneered, streamlined and implemented. These will add detail and create an impact.
Include Detail
To demonstrate your dentistry knowledge, use detailed descriptions. Be specific with your use of key terminology on your dentist CV.
A clear understanding of the tasks involved will impress your potential employer.
Exclude Personal Information
There is no need to include personal details such as date of birth, gender or marital status. A photo is also unnecessary.
You are not required to disclose your health or disability status on your dentist resume.
Use PDF Format
Saving your resume in PDF format ensures that all the formatting remains the same.
This means that it will display properly when it is opened on any device, such as a smartphone or a laptop. This will look professional.
Consider Applicant Tracking Systems (ATS)
Optimize your dentist resume for any recruitment screening software. This means using relevant keywords from the job description in your resume.
The design of your resume will also affect tracking systems. Don't use tables, graphics or a mixture of fonts.
Include a Cover Letter
A dental cover letter is a good way to personalize your resume. It is your opportunity to create a positive first impression with the reader.
It is a chance to explain your career motivations and interest in dentistry. You can also show how you can contribute to the workplace you are applying to through your dental cover letter.
Consider Resume Layout
Design your resume for ease of reading. This means choosing a clear font and using enough white space to make sure that key information is quick to find.
Some resume formats will draw attention to keywords with a skills box. This is a useful way of highlighting your relevant skills and experience.
Reflect on Experience and Responsibilities
Look back over your past experience and responsibilities. Consider how you can apply these to the role you are applying for.
Remember to include the impact your actions had on others or the environment. This will show the hiring manager your potential influence on the running of the practice.
Include Achievements and Metrics
Including achievements and metrics will demonstrate in a quantifiable way how you can impact the workplace.
One example is the percentage reduction of customer complaints. Think about other ways you can include data and statistics to support the statements you make in your dentist resume.
Use Chronological Order
Clearly and quickly see how you have developed in your skills and responsibilities throughout your career.
This format is useful if you have plenty of work experience. However, if you are a recent graduate of dental school, it is better to use a skills-based dentist resume.
Frequently Asked Questions
When you are writing a resume for dentistry, you need to ensure you tailor it to specific job requirements and qualifications. Include all of your relevant professional experience, your educational background and any additional skills that will help you succeed in the role. Avoid anything generic or irrelevant on a dentistry resume.
Alongside all the relevant work experience and academic qualifications, it is also good to include any internships you may have taken.
If you have either volunteered or taken an unpaid position that has been conducive to you becoming a dentist, also include details of these.
It is also a good idea to include any outstanding results or projects that you have done. Finally, ensure that you include references or at least contact details of people who can vouch for your resume. Avoid fabricating any referees.
A dental assistant is not expected to have a wealth of professional experience or the qualifications that a dentist may have. What dental assistants should include are their key strengths, any official accolades that they need to practice dentistry, relevant work experience and internships, and the grades they have received so far during their undergraduate degree program.
Your Curriculum Vitae is what you send to employers at the beginning of a job application. It is a simplified version of the resume but serves the same purpose.
For dentistry, a CV should still include the relevant dental licenses you need to practice, any first aid qualifications, and a brief overview of your work experience and education.
It is always good to have a CV to hand in case you need to refer to it in an interview or if you need to pass on information quickly to an employer.
Final Thoughts
There is a lot of competition for dentistry roles. Follow the guidance suggested, making sure your dentist resume stands out above the other candidates.
Take time to create a resume that clearly demonstrates your skills and experience. This will show your potential employer that you would be an asset to the workplace.
The average recruiter will decide whether to accept or reject a resume after only 15-20 seconds. You will need to convey a good impression quickly.
After completing your dentist resume, proofread with care to spot any errors. If you are uncertain, ask someone else to take a look for you.
Perfecting your resume will increase your chances of getting invited to an interview. Take a positive and professional approach to achieve success.