How to Write a Resume: Guide and Tips for 2023
Updated November 20, 2023
Resumes: What Are They and What Are They For?
A resume is a document that can be used to apply for a job. It is commonly attached to a cover letter and is designed to show potential employers that you have the skills and abilities required to be the best person for the role.
Unlike other types of application documents that are purely designed to showcase your professional history, a resume highlights the reasons why a company should offer you an interview.
Types of Resume
Depending on the job you are applying for and the type of company you are hoping to work for, you might need to tailor your resume so that it is better suited to the situation. Let's look at the different types of resume and their uses.
Chronological
This is the most common type of resume and probably the one that you would automatically use if you didn't know that other options were available.
As the name suggests, a chronological resume lists all the relevant information in reverse date order. When you list your work experience, you would start with your current position followed by each previous role in turn.
Functional or Skills-Based
This format of resume is designed to place the focus on your skills and talents that make you the ideal candidate for the role.
It is a particularly good choice of resume style if you don't have a large amount of experience in a particular industry or if you don't have formal qualifications.
This resume includes a detailed summary section which highlights your skills and talents. It also has a section devoted to listing the skills most relevant to the role you're applying for.
Combination
A combination resume combines features of both chronological and skills-based resumes to create a document that has the best features of both resume types.
Most commonly, a combination resume will contain the skills and summary sections found in a functional resume alongside chronologically listed data for the education and work experience sections.
How to Structure your Resume in 2023
A resume can be relatively unique and is a good opportunity to highlight your individual creativity.
However, there are a few steps that should always be followed:
Step 1. Name and Contact Information
Whether you are writing a resume, a CV or filling out an application form, this is a vital part of any job application.
Typically, you will need to list your
Name
Social security number
Telephone number
Email address
Some companies will also expect you to include your address.
Step 2. Summary
It is a good idea to include a paragraph or two at the beginning of your resume that briefly describes you.
This can be used to identify the key features you want the employer to know and it may make the difference between being shortlisted or not.
When companies are looking at resumes, they want the most important information to be available to them at a glance; they don't have time to read through lengthy documents.
A good summary can help them decide whether or not it's worth reading the entire document.
Step 3. Education/Qualifications
While you don't necessarily need to list every school you've ever attended or every qualification you have, you should list your most recent achievements and those that are most relevant to the role you are applying for.
For example, if you are applying for a role in a kitchen, it might not be relevant to list language qualifications. It would be a good idea, however, to list any food safety certifications you have achieved.
The same reasoning applies to people who have gained college degrees. List the most relevant certificates for the role you are applying for. There is often no need to include information about your GED or high school qualifications.
Step 4. Employment History
This is the section of your resume where you list your current and previous employers.
As well as listing your official job title and the company you worked for, include information such as when you started, when you left and your key responsibilities.
If you haven't had any paid work experience, you can use this section to list any voluntary experience. You would present this in the same way as paid employment, but make sure to mention that it was voluntary.
Step 5. Key Skills
This is perhaps the most important part of your resume, especially if you don't have a long employment history.
This section of your resume should start with the skills that are most relevant to the role you have applied for.
Step 6. References
Most companies will require at least two references. These shouldn't be friends or relations.
Ideally, you should have worked with the people you choose and know them on a professional level. It's a good idea to speak to whoever you choose before listing them so they are aware that they may be contacted.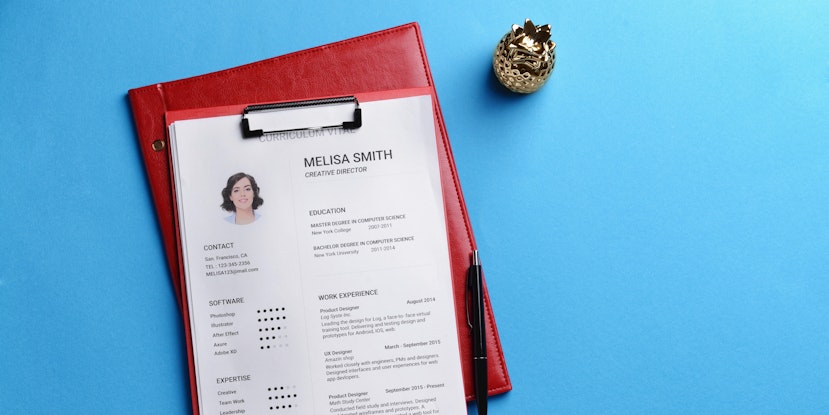 How to Write a Resume: Guide and Tips
Resume Writing Tips (2023)
Once you know what a potential employer is looking for in a resume, it's relatively simple to put one together.
There are, however, a few tips that can make the process even easier.
Check Examples From Your Industry
Most resumes are relatively similar, but looking at examples from your industry can help you to get an idea of the elements that should be highlighted.
It can also help you to identify keywords that are regularly used, as well as give you the opportunity to see the standard formats and popular fonts used.
Choose Your Font, Layout and Paper Carefully
It can be tempting to insert some creative flair into your resume by choosing an exciting font or unusual layout, but be careful not to go overboard.
Your resume still needs to be professional and give a good impression to your potential future employer.
It's a good idea to stick to a font that is easy to read and in a standard size. This will help the recipient to read it quickly and easily.
Proofread More Than Once
This might seem obvious, but spelling and grammatical errors are common mistakes that can be easily avoided. Errors within resumes can negatively impact the first impression that a company will have of you, so it's important to do everything to avoid them.
Make sure you proofread your resume more than once, and read it aloud if you can.
If possible, ask a friend or family member to read through it for you, as they may be able to see issues that you have missed. This will help you to spot any errors and fix them before you send it to your potential employer.
Tailor Your Resume to Each Position
It can be tempting to use the same resume for every role you apply for. This is an easy mistake to make.
Instead of writing a blanket resume that you send to everyone, it is best to tailor each resume to the company and role you are applying for.
This gives you an opportunity to edit your keywords and adjust which skills you are highlighting to stand out from the crowd. There may be things that are important to specify for one position that aren't as important for a different one.
If you don't make the effort to tailor your resume, you run the risk of submitting a document that is too generalised and doesn't effectively showcase your unique skills and talents.
Decide What To Include Based on Skills, Not Job Title
An employer wants to know what it is that you will bring to a job. Before they offer you an interview, they want to be convinced that you have skills that are necessary and beneficial to the role you are applying for.
This means that your resume should focus more on the skills that you can bring to the position.
This approach can be particularly useful if you're looking to change your job role completely.
You may not have held relevant job titles in the past, but by highlighting any relevant skills that you have, you can show you have all the abilities required to carry out the job well.
Use Keywords From the Advert and Candidate Specification
Using words and information provided in the advert shows employers that you have taken the time to properly read what they're looking for in a candidate.
It can also help to highlight the areas in which you particularly excel.
Frequently Asked Questions
No. Although they are very similar, a resume is a concise document designed to showcase the most important information in a short, easy-to-understand format.
A CV is a longer document that offers potential employers a more complete picture of a candidate's employment and educational background.
Most of the time, it won't be relevant to include every piece of experience you've ever gained. There will be things you have learned or jobs you have done that aren't important for the role you are applying for.
If you have a lot of experience, focus on the areas that are most relevant to the role you are applying for.
For example, if you are applying for a role as a veterinary nurse, it probably isn't worth mentioning the experience you gained during your summer working in a restaurant as a dishwasher.
If you don't have a lot of relevant work experience, it can be a good idea to include voluntary roles on your resume.
This is especially true if the voluntary positions are relevant to the job you are applying for.
The exact length of your resume will vary depending on how much work experience you have. For most people, it will be between one and two sides of A4. Try not to exceed two sides.
If you are in the US, UK, Canada, Australia or New Zealand, it isn't normally necessary to include a headshot with a CV or resume unless it is specifically requested.
If you are applying for a role in a country other than those listed, it's possible that you may need to include one.
Final Thoughts
When you first start writing a resume, it might seem daunting and you may wonder where to start. Your resume will be the first impression that a potential employer has of you when they are deciding who to interview and hire, so you will want it to be right.
Knowing what to include and what to leave out will help you to know how best to plan and write your resume.