The WorkKeys Test (2023 Guide)
If you're applying for a position that requires an National Careers Readiness Certificate (NCRC), you must complete the ACT WorkKeys exam first.
In a nutshell, it is a computer-based assessment that helps measure whether a candidate has the foundational skills required for the role they are applying for.
This not only helps employers ensure they are hiring the right talent for their team but also gives you, the candidate, the chance to discover the skills you need to brush up on for the job you want.
Certain roles and companies have the NCRC as a mandatory requirement.
What Is a WorkKeys Test?
ACT (American College Tests) WorkKeys assessments are a collection of tests designed to identify certain competencies and skills needed for various job positions.
This test will likely be taken on-site at your potential place of work or training.
You can be tested on eight important aptitudes that include a range of foundational and soft skills:
Applied Math
Graphic Literacy
Workplace Documents
Applied Technology
Business Writing
Workplace Observation
Fit
Talent
An organization might need you to take one or more of these assessments during the interview stage. A Level 3 or above in the ones bolded above are required for the NCRC.
If you pass the WorkKeys assessment you will receive the NCRC certificate, which is seen as a good accolade for employers and hiring managers when they are seeking talent.
The WorkKeys assessment is split out into three sections:
Assessment tests – These are the eight sections mentioned above, which will be explored more further down.
Skill training – This is a series of e-learning lessons candidates can take to help them increase their skill set in certain areas, provided by WorkKeys.
Job profiling – WorkKeys will try and match up your assessment mark with certain industries that they feel you are suitable for.
What Is the National Career Readiness Certificate?
As mentioned earlier within this article, upon gaining sufficient levels in the WorkKeys assessment, you will be awarded a National Career Readiness Certificate.
The NCRC is issued at four levels (Platinum, Gold, Silver and Bronze) and measures essential skills needed for success.
For employers, choosing from candidates with NCRCs gives them a qualified and skilled pool of talent to choose from.
For employees, the NCRC is a document demonstrating the skills they have gathered, which may not otherwise be documented.
Here are some of the benefits hiring managers and organizations gain from hiring candidates with NCRCs:
Reduced staff turnover – By hiring those with documented specific skill sets, staff turnover will decrease as the employer is likely to be happy with the employee's productivity and skill set, and the employee will know where their strengths are and so be able to apply for the right roles.

Shorter and more productive training periods – If the candidate already has the relevant skills for the job, training will likely go more quickly as it will contain more revision, and it may be able to go into more depth as the foundations will already be in place.

Top-tier hiring – In short, this certificate ensures hiring managers have a strong pool of talent to choose from. This will help employers' cherry-pick candidates based on the job's desirable criteria, confident that all candidates with an NCRC have the essential skills.

Improved morale and increased performance – When employees have the right skill set and feel fulfilled by their role, they tend to be happier. Workplace morale is an important part of maintaining high productivity and a cohesive team.

Faster recruitment process – NCRCs can be a quick way of determining what skills a candidate holds, meaning the HR department may find it faster to discover their perfect hire.
Over 4 million NCRCs have been issued, meaning there is a large group of potential employees to choose from, all of whom have had their skill set officially certified.
What Does the Certificate Show?
Provided a person completes the three core competencies, they will receive a certificate. It is available in both English and Spanish.
The core competencies are:
Applied Math
Workplace Documents
Graphic Literacy
Each of these, plus the other aspects assessed, are explored more below.
On the certificate will be a nine-digit registration number. This can be used to verify the candidate's certificate, provided they have made their certificate public.
The NCRC also shows what skills the person was assessed on and what scores they earned.
What Are the WorkKeys Assessments?
There are eight assessments in total.
Applied Maths
While the amount and level of math you will have to use in your day-to-day work will vary depending on your role, all jobs require some level of math.
This may also be called numerical reasoning in other situations.
So, if your math skills need some work, then you might want to brush up before you take the test.
Each question in the WorkKeys assessment will be modeled on how you would use such equations in the office.
You will be allowed to use a calculator and you will also be provided with a formula sheet.
This assessment will take 55 minutes in English and 70 in Spanish, and you will be given 34 questions to answer.
Example Question
You work at a store, and someone gives you a $10 bill to pay for a cake that costs $4.54.
How much change would you give the customer back?
a) $5.45
b) $5.46
c) $6.42
d) $3.54
Graphic Literacy
This section will assess how well you can evaluate and analyze the information found in graphics, whether it is a website page schematic, video or infographic.
This might be a useful skill for a software developer or graphic designer.
In this section, you will be presented with an image – for instance of a pressure gauge, or of a scientific diagram and related table – and some multiple-choice answers for you to choose from.
You will need to locate the information on the document to answer the question.
All information necessary will be present in the graphic.
You will be given 55 minutes for this assessment if working in English, and 70 if in Spanish. There will be 38 questions.
Workplace Documents
This section assesses how you decipher work documents such as policies, handbooks, regulations, emails and training manuals.
It will examine how you extract the most important pieces of information from each document and how good your comprehension is.
During this section, you will be presented with an extract from a document you may find in the workplace, such as health and safety instructions, to read. Then you will have to answer a multiple-choice question about its contents.
This will examine whether you have taken the information from the document into consideration under time pressure.
There are 35 questions and you will have 55 minutes in English and 70 minutes in Spanish to answer.
Applied Technology
You will only do this assessment if you are applying for a role where you have to work with a range of machinery and equipment.
Here, you will be tested in four areas:
Mechanics
Electricity
Fluid dynamics
Thermodynamics
The aim is for you to use critical thinking and logical reasoning to solve problems, not math.
During the assessment, you will be expected to break down a situation or problem, decide which elements are important and what is the best way to solve the problem.
You will have 34 questions to answer, and be given either 55 minutes for the computer-based version or 45 minutes for the pen-and-paper version.
If you need to prepare for a number of different employment tests and want to outsmart the competition, choose a Premium Membership from JobTestPrep.

You will get access to three PrepPacks of your choice, from a database that covers all the major test providers and employers and tailored profession packs.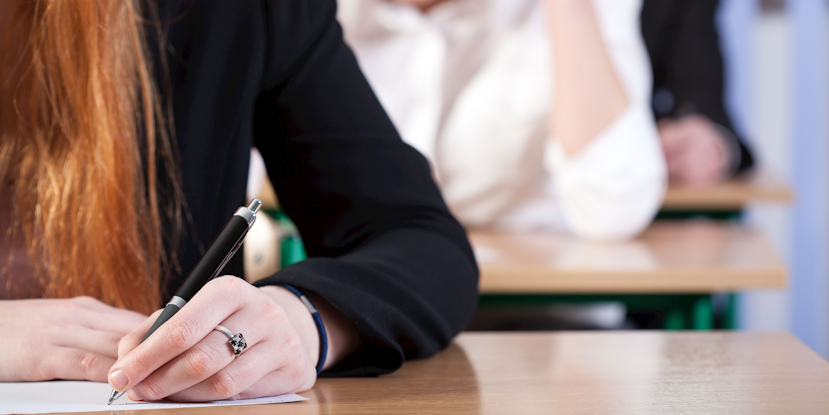 How to Pass WorkKeys Test in 2021
Business Writing
Strong writing skills are key in many scenarios. If written communications are poor, this could reflect badly on the company.
Further, just like your spoken voice at work may be different from that at home, you should develop a more formal and professional workplace writing style where you ensure correct grammar and spelling.
This part of the assessment will examine how you communicate when it comes to writing.
You will be given one prompt and 30 minutes to write a response. It must be in English.
Your score will be based on the strength of your writing, taking into consideration word choice, tone, focus and organization of ideas, grammar, and spelling.
Workplace Observation
Observation is a key foundational skill and one that is ironically often overlooked.
This exam will assess how observant you are in the workplace, and how you see, analyze and work with different operations and processes.
It will also identify if you notice any gaps in workplace processes and procedures.
You will be shown 12 scenarios and have to answer 35 questions in total. You will only be able to see each scenario once, so it is truly a test of your observational skills.
The assessment takes 55 minutes.
Fit
Every workplace has a different culture and values different things.
The Fit assessment in the ACT WorkKeys is less of an exam and more akin to a personality test.
Sometimes it can be hard for employers to find a good fit for their business, and if employees feel they do not fit somewhere they will become unhappy and may leave.
Research has shown that having a positive fit between a person and their work environment is very important.
So, the Fit assessment will explore your values, interests and attitudes. The recruiter will then cross-reference these against the requirements for the company.
ACT measures two sets of items in the Fit assessment – Interest and Work Values.
The Interest section consists of six scales:
Administration and sales
Social Service
Business operations
Science and technology
Arts
Technical
There are 18 Work Values, including:
Autonomy
Creativity
Precision
Public contact
Order
Influencing others
Intellectual stimulation
In total, there are 102 items and you will have 15-20 minutes to rate how you feel about each of them.
There are no right or wrong answers; it is all about finding how well of a fit you and a given workplace environment will be.
Talent
Similar to the Fit assessment, the Talent assessment is not an examination. It is ACT WorkKeys' personality test, designed to assess you in four areas:
Teamwork
Customer service orientation
Managerial potential
Work discipline
The ACT WorkKeys Talent assessment does this by asking you 165 questions over 35 minutes, where you answer on a scale between Strongly Disagree and Strongly Agree.
Your scores are then used to form an idea of you using 18 personality traits:
Striving – Your level of aspiration and desire to achieve your goals
Stability – How well you maintain composure and rationality when stressed
Sociability – How much you enjoy being and working with others
Savvy – This is your level of social competence, considering how well you can read others' motives and anticipate their needs
Order – The level of tidiness you like
Optimism – Whether or not you tend towards a positive outlook
Influence – Strong in leaders, this is how much you tend to speak out and take charge of social situations
Goodwill – Your tendency to forgive and believe others are well-intentioned
Discipline – How dependable you are and how likely you will follow through with tasks without getting bored or distracted
Creativity – Related to your imagination and ability to think laterally
Cooperation – Similar to sociability, this is how likable and cordial you are in interpersonal situations
Carefulness – How much you plan before acting
This will assess whether you are the right fit for the business.
How to Prepare for the Test in 2023
As the saying goes, 'practice makes perfect' and practice tests are one of the most thorough ways you can prepare for a test.
The WorkKeys assessment can be quite challenging and will require a certain amount of preparation before you take it.
You will be able to find practice assessments on the ACT website. It offers example questions for each section.
It is recommended to complete all sections so you get an idea of what you can expect to see.
You can also purchase a full practice test, which will help you become used to the whole experience and reduce test-day nerves.
Practice tests also allow you to discover your own personal strengths and weaknesses.
For instance, if you are not a fan of math and you have scored fairly low on a practice math test, that suggests you should take a training course in math to brush up on your skills before taking the ACT WorkKeys assessment.
Here are five step-by-step tips beyond practice tests to make sure you are ready:
Step 1. Focus Equally on All Areas
It's important not to neglect areas that you might find difficult. Prepare for all sections of the assessment and take courses in the areas you might not excel in normally.
Step 2. Consider Question Format
Despite the time pressure, it's good to take your time and think about the question. Use practice tests and online examples to properly examine the questions' format so you know the most efficient way to get the necessary information to answer.
Step 3. Practice Against the Clock
While you are taking your practice tests, do each section with a stopwatch so you can time how long it takes you. You will notice how you get quicker overall, which is good motivation, and it prepares you for the time pressure of the real exam.
Step 4. Good Sleep and Nutrition
You cannot perform at your best mentally if you do not take care of your body. As with all other tests you might have taken over the years, it is good to stay hydrated, eat healthy food and get plenty of rest, particularly the night before you take the assessment.
Step 5. Practice With a Friend
Practicing alone can get boring after a while, leaving you unmotivated. Bringing in a friend can keep you on track and give you a confidence boost by making you feel supported.
Final Thoughts
The ACT WorkKeys test is a common examination taken by people who want to prove their skills to future employers, perhaps because they have little work experience or other documented skills.
It is a win-win process that helps both employers and employees. Employees gain the self-awareness of their skills to know the right roles to apply for, and employers can ensure they are hiring the right talent for the business.
Do your homework on the test so you are fully prepared, perhaps by purchasing an official practice test.
Make sure you get to the assessment location in plenty of time so you are not rushing and stressed.
Although taking any type of assessment can be quite nerve-wracking, once you have researched and completed a good amount of appropriate practice tests, you will feel more confident in your abilities before sitting the exam.