How to Prepare for the Saville Swift Analysis Aptitude in 2023
Updated November 21, 2023
What Is the Swift Analysis Aptitude Test?
The Swift Analysis Test is a type of psychometric aptitude assessment that is designed to assess an individual's abilities in a variety of ways.
It is produced by Saville Assessments.
This form of testing is usually used as part of a business's recruitment process when they are looking for a candidate who fulfills a very specific set of criteria.
Candidates required to complete an assessment like this will usually do so after submitting their application and before being short-listed for an interview.
Tests like the Swift Analysis Test are commonly used by companies that are looking to fill higher management positions, such as board members, area directors and other senior level posts.
The test will give employers detailed information regarding each candidate's abilities so that they can decide who will be the best fit for the company and the position applied for.
Companies that have been known to use the Swift Skills Analysis Test include:
Nestle
Jaguar and Land Rover
Barclays
Fujitsu
Coca-Cola
KPMG
Swift Analysis tests generally take less time to complete than other aptitude tests but give the same level of insight into a candidate.
Practice Swift Analysis Test with JobTestPrep
What Are the Sections of the Swift Analysis Assessment?
There are three sections that make up the Swift Analysis Assessment:
Verbal analysis
Numerical analysis
Diagrammatic analysis
These sections are each composed of a series of questions, with eight questions in each section.
The assessment is usually completed by candidates online.
It is important to note that the test is timed, with candidates given 18 minutes to complete a total of 24 questions across all three of the sections.
Verbal Analysis (6 minutes)
This section of the assessment looks at how well a candidate is able to understand written information, as well as their ability to successfully make deductions based on what they have read.
Questions include passages that candidates are asked to interpret and different vocabulary they need to understand.
Individuals will be given eight questions to complete within the time limit.
Numerical Analysis (6 minutes)
The numerical analysis section of the Swift Analysis Assessment looks at the strength of a candidate's numeracy.
Individuals will be given eight questions that need to be completed within the time limit and will cover subjects such as statistical data, financial information and graphical interpretation.
Diagrammatic Analysis (6 minutes)
Again, individuals will have six minutes to answer eight questions, which here relate to logical reasoning.
Candidates will be shown a series of diagrams as well as some possible answers.
For each question, they must select which diagram they think will complete the sequence.
Practice Swift Analysis Test with JobTestPrep
Other Optional Assessments
Depending on the needs of the company, applicants may also be asked to complete additional assessments as part of their Swift Analysis Assessment.
This includes spatial testing, mechanical testing and error-checking aptitude.
If you are required to complete these additional assessments, it will be done separately from the main test as the online version of the test does not include the additional sections.
Spatial testing – This test looks at how well candidates are able to visualize objects around them. It is designed to assess how well individuals are able to solve problems that could require visualization to find alternative solutions.
Mechanical testing – This test is primarily used when employing designers and engineers. The test looks at an applicant's ability to understand and solve mechanical problems, as well as their ability to make spatial decisions.
Error-checking aptitude – For this test, candidates will be provided with information in which they need to spot and correct the errors. This may be done with numerical, coding or verbal information. The idea of this test is to assess a candidate's attention to detail, as well as their confidence in correcting an error once they have spotted it.
Occasionally, employers may ask for each section of the assessment to be completed individually.
If this is done, then they will often take longer to complete. This is because giving candidates the tests individually means that the difficulty and number of questions can be increased.
If you need to prepare for a number of different employment tests and want to outsmart the competition, choose a Premium Membership from JobTestPrep.

You will get access to three PrepPacks of your choice, from a database that covers all the major test providers and employers and tailored profession packs.
How Is the Swift Analysis Test Scored?
After completing the assessments, candidates will receive their scores in the form of an aptitude profile.
This profile is split into seven separate sections:
Total Score – This looks at how well you performed over the whole assessment by calculating your total number of correct answers.
Accuracy – Assesses what proportion of answers were correct overall
Speed – Assesses how quickly the test was answered and how many questions were completed, both correct and incorrect.
Caution – This is the difference between the speed and accuracy scores and indicates whether accuracy or speed was prioritized.
Verbal – An individual score for the verbal section of the test. This score takes into consideration how many questions were answered within the time limit as well as how many answers were correct.
Numerical – An individual score for the numerical section of the test. This score takes into consideration how many questions were answered within the time limit as well as how many of these were correct.
Diagrammatic – An individual score for the diagrammatic section of the test. This score takes into consideration how many questions were answered within the time limit as well as how many were correct.
Each of these sections will be displayed as a score out of ten, known as the Sten Score, where a score of 1 shows low potential and a score of 10 shows exceptionally high potential.
A Sten score of 4 would indicate that a candidate has a higher potential than 25% of the comparison group, whereas a Sten score of 9 would indicate that a candidate has a higher potential than 95% of the same comparison group.
Prepare for the Swift (Saville) Analysis Test
Swift Analysis Aptitude-RX (IA) Preparation Tips
As with all aptitude tests, there is no real way to revise or cheat the system. The test looks at your intellect and natural abilities.
There are, however, techniques which you can utilise which will help to ensure that you are performing at your best when you take the Swift Analysis Test.
Step 1. Sitting Past Papers/Practice Exams
Practice really can help when it comes to familiarising yourself with a test. Making sure that you take practice papers will help you when it comes to knowing what to expect during the test and understanding what it is that the questions are asking of you.
There are many places online where you can find free sample questions or assessments.
Checking your answers and correctly identifying any areas you may have struggled with are just as important as taking the practice tests themselves.
Take the time to go over any incorrect answers so that you understand how your answer was incorrect and can avoid making the same mistake next time.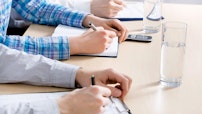 How to Pass the Swift Analysis Test in 2023
Step 2. Do Not Neglect Sections Which You Find Difficult
It would be easy to focus on practising areas which you enjoy or find easiest. But this really is the opposite of what you should be doing.
By ignoring or neglecting areas that you find difficult, you are more likely to struggle with that section on the day.
If there is a section which you find particularly challenging, it is advisable to spend just as much time on it as you would spend on other sections, if not more.
This will help to improve your answers and can also make you feel more confident.
Step 3. Learn the Formats of the Questions
When practising sections or individual questions, it is important to pay attention to how they are formatted and what exactly the question is asking of you.
Familiarising yourself with this ahead of the test can save valuable time while sitting the assessment as you can quickly understand what to do.
Step 4. Practice Against the Clock
As this assessment is done within strict time constraints, it is important to ensure that you are able to finish within the limit which is set.
Practice completing each section of the test within the six minutes that are allowed, then practice completing the entire assessment within 18 minutes.
The faster that you can go during your practice tests while still maintaining accuracy, the better and the more likely it is that you will be able to finish the real assessment during the time limit.
Step 5. Practice Calming Techniques
If you find that you feel particularly anxious or nervous ahead of a test, calming techniques can be very helpful.
Practicing breathing techniques, mindfulness or meditation can help you to get your anxieties under control and may enable you to go into the test feeling calm and focussed.
Simple breathing techniques can also be during the assessment if you find that you are struggling to stay on task.
Further, forming a solid foundation of revision and practice can give you the experience to look back on for confidence as you approach the test. Practice tests for the various sections are linked below.
Step 6. Get Enough Rest Ahead of the Test
The average adult needs approximately seven hours of sleep per night.
It has been well documented by scientists that sleep can affect every aspect of our lives, from our health to our ability to concentrate.
Making sure that you get enough rest, and particularly sleep, ahead of a test can make an enormous difference regarding how well you perform.
Ensuring that you are well rested can improve focus, concentration, response times and memory.
Step 7. Make Sure That You Are Eating Well
Having a healthy, balanced diet is considered good advice for life in general. Even if you already feel that you eat well, there are things you can tweak that may improve your performance during an assessment or test.
It is generally thought that protein-rich foods will help with concentration and mental clarity, while slow-release carbohydrates will keep you full so you are not distracted by hunger pangs and provide long-term energy release.
It is also important to remember to stay hydrated. A recent study into students who drank water before exams found that they performed 5% higher on average compared to those who didn't increase their water intake.
Water consumption is also believed to help reduce feelings of anxiety which may benefit those who are nervous when taking tests.
Practice Swift Analysis Test with JobTestPrep
Swift Analysis Verbal Analysis Improvement Tips
The verbal section of the assessment is designed to look at your ability to understand and infer information from texts.
There are a few things that you can do to practice these skills ahead of the test:
Take verbal reasoning and verbal comprehension practice tests to identify key weaknesses to work on.

Look up any unfamiliar words you come across to improve your vocabulary and understanding.

Practice identifying the key details within a variety of texts such as newspapers, books and manuals.

Look at something you have previously written and try rewriting it to be more concise but still contain all of the important information.
Swift Analysis Numerical Analysis Improvement Tips
When taking the numerical section of the assessment, the focus will be on your mathematical abilities as well as your understanding of numbers.
If your current job does not involve analysing data then this may be a skill that is unfamiliar to you. There are some things which you can do ahead of the test to improve your skills and boost your confidence:
When practising example questions, try to complete them without a calculator before checking the answers. This will help to improve your mental arithmetic skills.

Notice statistical and numerical information in the news and other publishings and focus on understanding how the data is explained and what it means.

If possible, check calculations that have been done by others. If you are unsure as to how they have been done, ask for them to be explained to you.

Practice online numeracy and numerical reasoning tests to provide structure to your revision.
Swift Analysis Diagrammatic Analysis Improvement Tips
There are many things that you can do to improve your understanding of diagrammatic questions:
Practice logic puzzles and questions in newspapers and magazines.

Familiarise yourself with different types of diagrams and flowcharts within the workplace.

Take note of when diagrams are used in books and other publishings as this will help you to understand their purposes and uses.

Practice using diagrams yourself to show a relationship or illustrate a point.

Try these diagrammatic reasoning tests to see how strong your skills are.
Frequently Asked Questions
Your results will be presented as an aptitude profile. This is made up of seven sections. Your total score shows how well you performed overall, however, the profile also takes into account other factors. These include accuracy, speed and caution.
You will also receive individual scores for each section of the swift analysis assessment.
For each section of the profile, you will see a score out of 10 – this is known as a Sten Score. A score of 1 indicates low potential, whereas a score of 10 suggests exceptionally high potential.
To prepare for the swift analysis assessment, spend time completing past papers and practice exams. This will help you to become familiar with the assessment format and what to expect. Spend the same amount of time on all sections, even if you find some questions easier than others. Practice against the clock to improve your time management. Remember to take care of your wellbeing by learning calming techniques, eating well and getting plenty of rest.
In most cases, prospective employers will expect you to complete the swift analysis exam after submitting your job application. If they are happy with your application and your swift analysis exam results, you will be shortlisted and invited to move forward to the next stage of the hiring process. This is likely to include an assessment centre or face to face interview.
Many employers ask prospective employees to take the swift analysis exam, so you might be asked to take the swift analysis exam more than once.
However, you will generally only be allowed to take the exam once per job application. It is unlikely that an employer would allow you to resit the exam if you did not achieve the desired results.
The difficulty of the Swift Analysis Aptitude-RX (IA) test can vary from person to person. It assesses an individual's ability to analyze and interpret data quickly and accurately. Adequate preparation, understanding the test format, and practicing with sample questions can improve performance.
Practice tests for the Saville Swift Analysis Aptitude can be found on various online platforms and websites dedicated to psychometric testing preparation. You may also check with your employer or the assessment organization, as they may provide official practice materials or guidance. Ensure that the practice tests you use closely align with the format and content of the Swift Analysis Aptitude test to enhance your preparation effectively.
Final Thoughts
Taking any kind of psychometric test can feel overwhelming, especially if you have not taken one before.
It is important not to underestimate the value of practice questions and familiarising yourself with the style of questioning you might expect.
Taking simple steps to increase your confidence and understanding can improve your results and help you to achieve your full potential on the day.
If you are someone who feels particularly anxious when it comes to tests, it can also be invaluable to practice calming and relaxation techniques.
These skills can reduce symptoms of anxiety and enable you to focus on giving your best possible performance during the assessment.