A Guide to Getting Hired at Starbucks in 2022
Starbucks is well known as a dominant brand in the coffee industry. From the iconic pumpkin spice lattes to its ever-growing recipes for frappes, cappuccinos, espressos and macchiatos, the firm has truly cornered the US coffee market.
Globally, Starbucks earns $21bn each year. With 34,000 stores across 80 different countries, Starbucks has been described as having an 'aggressive growth strategy'.
In fact, by the end of 2022, Starbucks wants to open an additional 2,000 outlets.
While Starbucks is undeniably a global brand, 62% of the firm's business is in the US, with China becoming its second largest growing market.
With such ambitious growth plans, it's clear that Starbucks will need to continue adjusting and developing its recruitment plans.
While you may think of the Starbucks barista as a clear job opportunity, the firm recruits for a wide range of roles, including:
Manufacturing and distribution
Corporate
Retail
Leadership
What Jobs Are Available at Starbucks?
If you want to get hired at Starbucks, you should think about what type of job you are looking for.
The nature of working for a global retail brand such as Starbucks means that you can find a job for almost every circumstance – from part-time hours to fit around school to a long-lasting career within a Starbucks corporate office.
Typically, Starbucks careers are broken down into four distinct groups, each with its own niche job roles.
Let's take a quick look at the Starbucks career paths:
Retail Stores
Baristas
Shift supervisors
Shift managers
Starbucks assistant manager jobs
Store managers
Starbucks district manager jobs
Corporate Roles
Accounting
Administrative support
Finance
HR
Legal
Starbucks marketing jobs
Creative
Operations
Public affairs and communications
Research and development
Sales and account management
Store development and design
Strategy
Supply chain
Technology
Manufacturing and Distribution
Roasting
Planning
Starbucks warehouse jobs (including management)
Maintenance
Engineering
Logistics
Starbucks Reserve and Princi Production Kitchen
Bakers
Commessas
Production kitchens
Bartenders
As you can see, hundreds of Starbucks employment opportunities are available within the different Starbucks career paths, making the firm an exciting company to work for.
What Is the Starbucks Hiring Process?
You may think that to work for Starbucks, you simply need to walk into your nearest Starbucks outlet and hand in a copy of your resume.
For barista job roles, that may be an effective way to get hired by Starbucks, but for more senior or leadership positions, you should carefully research the Starbucks employment application process.
To get hired by Starbucks, your first research point should be the Starbucks careers website.
This is an online portal designed to make it easy for you to research Starbucks job openings and apply to work for Starbucks online.
Starbucks has jobs for everyone, from those who want to earn a little pocket money to those looking to take the next step on their career path.
The firm even has a comprehensive education department that enables staff to benefit from 100% tuition coverage.
This is available for eligible staff members studying for a first-time bachelor's degree via Arizona State University's online program.
How to Get Hired at Starbucks
Step 1. Finding the Right Starbucks Job for You
If you want to work for Starbucks, you should start by looking on the Starbucks careers website to see what jobs are available in your chosen field. Then, you can filter by location, job field or keyword and the search algorithm will find the jobs you are looking for.
To apply for Starbucks jobs, you need to register a candidate account. This will allow you to save any specific job roles, apply and track the progress of your Starbucks application online.
During your Starbucks online job application, you should consider carefully how your responses to the questions match the brand's mission and values. The firm receives thousands of applications each year, and Starbucks hiring practices will include applicant tracking systems that filter through to the most credible applications. Therefore, by aligning your application with any keywords or terminology, you will have more chance of getting through to the next stage of the hiring process.
Step 2. The Interview Process
Starbucks has kept its recruitment strategies simple. Once it has reviewed your initial application, it will move forward to the interview section of its hiring plans.
Starbucks pledges to respond to applicants quickly. You can expect to receive a prompt email via the candidate portal to confirm the status of your application. If you are invited to a formal interview, you should be well aware of the Starbucks offering – both for customers and potential employees.
Later in this article, we will explain what to expect from a Starbucks job interview.
Step 3. The Hiring Process
Starbucks is keen to hire employees who align with its values and beliefs. In fact, Starbucks is so confident in its philosophy that it likes to refer to its employees as its 'partners' rather than its staff.
We call our employees partners because we are all partners in shared success. We make sure everything we do is through the lens of humanity—from our commitment to the highest-quality coffee in the world to the way we engage with our customers and communities to do business responsibly.
Source: Starbucks
How to Prepare for a Starbucks Job Interview
Starbucks is committed to its corporate social responsibility plans, so part of your pre-interview research should focus on learning as much as possible about the brand ethos and what it represents.
In addition, you want to be able to demonstrate that your skills and experience match the brand values, which are clearly defined on its careers portal.
Visit as Many Nearby Starbucks Outlets as Possible and Sit and Observe the Store
Familiarize yourself with the menu and try to establish what you think the strengths and weaknesses are. You will be asked questions about the product range and the store capabilities, so make sure you are not caught out.
Pay Close Attention to What the Firm Wants to Do and Its Reputation as an Employer
Using sites such as Glassdoor and LinkedIn, you will be able to get a feel from current employees as to whether Starbucks hiring policies match up to its intentions.
Pay Close Attention to the Job Role Itself
Whether you want to be hired in a Starbucks retail job or have a career within a Starbucks corporate team, you need to be clear about what the role entails.
Think about the tasks involved, the team function and the job expectations and try to create answers that show your skills and strengths in the best possible light.
Think Carefully About Your Presentation
As with any job interview, Starbucks job interviews are a chance to give a good first impression. Even if you are walking into a store to hand in your resume as part of a Starbucks barista job application, you should think about your appearance.
Starbucks has a particular dress code that it adheres to. If it expects this from its customer-facing personnel, you should try to replicate its expectations in an interview environment.
It is almost impossible to be overdressed for a job interview, so try to facilitate professional attire.
For some, this could be a shirt, tie and jacket. For others, it can be about having clean clothes that are ironed, with no wrinkles, suitable footwear, as well as appropriate hair and make-up.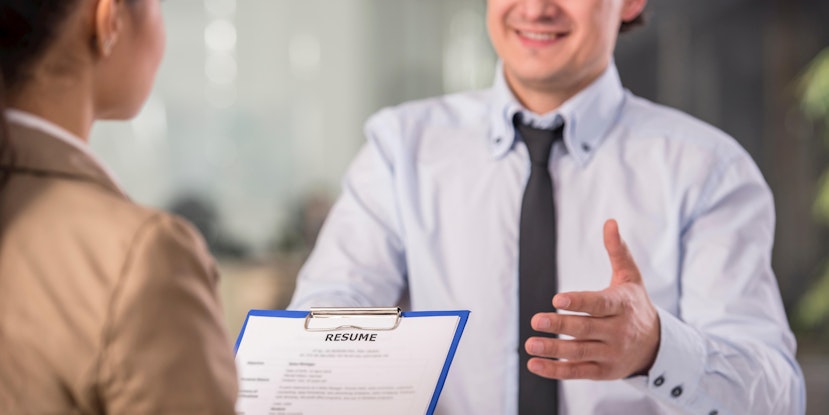 A Guide to Getting Hired at Starbucks
Starbucks Job Interviews Are a Two-Way Process: What Can You Ask Them?
As part of your interview preparation, it's essential that you look at what questions you could ask the Starbucks hiring manager.
Interviews are about two-way communication. It's your opportunity to quiz the Starbucks recruiter on aspects relating to the brand and how it can support your future career ambitions.
For example, you could ask them what Starbucks opportunities are available for career development or how long staff members typically stay in their positions.
If you're not working in a retail outlet, you could also ask the Starbucks hiring manager to tell you about their new remote and hybrid working policies.
The more questions you can think of, the more it shows your keenness and interest in working for Starbucks.
What Type of Interview Question Could You Be Asked in a Starbucks Job Interview?
Your interview questions will differ depending on the type of job that you are applying for.
Starbucks' hiring policies are as much about finding the right people who match its brand ethos as they are about finding the person with the right skills and experience.
If you've done your research into the Starbucks brand and you're aware of what the job role entails, you can likely predict the types of questions that the hiring manager could ask you.
Typical Starbucks interview questions will be based on behavioral interview questions. This means that questions will be focused on how you would act or behave in certain situations.
Questions About Competencies
The Starbucks hiring managers want to know that you understand what competencies the role entails, and you should be prepared to have examples ready to discuss.
For example, if you are submitting a Starbucks barista application, you could be asked questions such as:
What is your favorite drink on the Starbucks menu, and why?
What does customer service mean to you?
How would you respond to an unhappy customer?
If a customer orders a specific item but an ingredient is unavailable, how would you communicate that to the customer?
As you can see from these example Starbucks job interview questions, they are heavily based on you knowing the Starbucks product lines. However, they are also focused on finding out how you would behave if you were successful in your Starbucks employment application.
Questions About Teamwork
If we move into more corporate and leadership roles, the job interview questions will remain behavioral-based, but they will focus on how you would act as part of a wider internal team.
For example, you could anticipate Starbucks interview questions such as:
Can you tell us about a time when you've had to overcome a challenge by working as part of a team?
Have you ever had to solve a problem that wasn't necessarily part of your job description?
We plan to open new retail outlets in a variety of different countries. How can you ensure that each new outlet meets our internal guidelines and values and facilitates local cultural considerations?
As a team leader, can you tell us how you implement equality, diversity and fairness in any aspects of your decision-making?
Like most behavioral interview questions, you should always try to respond using the STAR technique.
This is where you strive to describe a Situation, followed by a specific Task. You then discuss what Actions were needed to complete that task and what the end Results were.
Questions About the Company
Finally, you will inevitably be asked interview questions about the company itself.
This is to show that you know the brand inside and out and that you are aware of its corporate values and mission statement.
It is a likely possibility that you will be asked questions such as:
Why do you want to work at Starbucks?
What do you know about who Starbucks is as a company?
What do you think separates Starbucks from its competitors?
As a company, how do you think we can continue to improve our green credentials?
This is your opportunity to demonstrate your pre-interview research and show that you know and understand the Starbucks brand.
Frequently Asked Questions
This depends on the type of Starbucks job role that you are applying for.
Getting hired as a Starbucks barista will be much easier than getting hired by Starbucks' corporate team. But it's not impossible.
Starbucks focuses its hiring plans on finding the right 'partners' for its brand, and it firmly encourages individuals to simultaneously apply for as many positions as possible to maximize their chances of success.
A Starbucks barista will likely make an average of $14 per hour (plus tips), whereas with Starbucks manager jobs, you will probably earn $17 per hour.
As you move up the corporate ladder, salaries depend on your job role and experience.
For example, a Starbucks application development manager could earn as much as $145,000 annually.
Starbucks hiring managers want you to make a great first impression. Therefore, you should consider wearing a shirt, tie and jacket or a smart skirt and blouse or dress, with suitable footwear and a tidy appearance.
Starbucks has a definitive dress code that you should be aware of.
Starbucks hiring managers will focus heavily on behavior-based interview questions.
They want to know how you would behave in certain scenarios and how your actions could reflect on the brand.
For example, you should expect to be asked questions such as, "How would you respond to an unhappy customer?"
This will depend on the job you apply for – for Starbucks corporate careers, you may need the technical skills to do the specific job. But above anything else, Starbucks looks for individuals who are curious.
In addition, it wants staff with a passion for learning who can work collaboratively with others.
Starbucks focuses heavily on its training. New employees working in retail stores can expect at least 24 hours of training, spread over two to four weeks.
Training for baristas will not just focus on how to make the perfect cup of coffee but will also include sessions on the history of coffee, customer service, and health and safety.
This approach means that all Starbucks franchises offer the same exemplary service customers expect when they visit a Starbucks coffee shop.
Final Thoughts
Although Starbucks is a global brand, it has deliberately kept its hiring processes simple.
This is because the firm wants to make Starbucks job openings accessible to all, whether you apply for a Starbucks barista job or seek a career in the corporate team.
The firm focuses heavily on curiosity and collaborative working, and it sees all employees as true 'partners' of the brand.
The intense training workshops and opportunities to benefit from a 100% paid-for degree (via Arizona State University's online program) exemplify how the firm values ongoing learning and development.
The result is a global workforce that is proud to work for the firm.