A Guide to Being Hired at PepsiCo in 2023
Updated November 20, 2023
PepsiCo is one of the world's biggest brands. Known for its stable of products that include Pepsi, Lay's crisps, Quaker Oats and Tropicana juice, the firm employs more than 260,000 people around the world.
PepsiCo is continually recruiting exceptional talent throughout its business, and the company aims to 'do good for the planet and our communities'.
Our practical guide looks at Pepsi's hiring processes and what you can expect to find as you make your way along the Pepsi application process.
A Brief Introduction to PepsiCo
You're likely aware of the PepsiCo brand. After all, it owns 23 separate brands with retail sales of over $1bn every year.
But you may not realize the scope of job opportunities available at Pepsi.
A multitude of careers are available through Pepsi's hiring processes, from manufacturing and distribution to logistics and sales, via warehousing, marketing, administration, HR and IT.
Beyond the wider sector-specific job roles, more niche areas are continuing to emerge, with PepsiCo job opportunities in areas such as:
Customer service
Design
Engineering
Purchasing
Research and development (among many others)
With so many jobs to choose from, you could become overwhelmed by what to expect from the PepsiCo hiring process.
However, there is a reason that hundreds of thousands of people worldwide want to work for PepsiCo.
So, let's find out how you can prepare for a PepsiCo career.
The Recruitment Process for PepsiCo
If you want to be hired at PepsiCo, your starting point is the PepsiCo careers website.
This is a dedicated careers portal that manages all of PepsiCo's recruitment activities.
Here, you can search for job opportunities in your local area, learn more about what opportunities are available for students and graduates, as well as learn more about the PepsiCo culture and company ethos.
The website features a useful chatbot (called Chester Cheetah) designed to answer any questions you may have about Pepsi's hiring processes.
PepsiCo Job Applications: Stage One
When you are ready to proceed with your application, you must head to the dedicated candidate zone. This is an automated applicant tracking system that will allow the firm to filter through applications quickly and easily.
The ATS will search through your initial PepsiCo job application to determine if you have the right skills and qualifications that PepsiCo is looking for.
Therefore, to improve your chances of being hired by Pepsi, you should ensure that your application features any specific keywords or phrases mentioned within the initial job description and candidate requirements.
When submitting your initial application, you may be required to answer some pre-screening test questions and/or one-way video questions. These will further help the PepsiCo recruiters to filter through the talent pool.
PepsiCo Job Applications: Stage Two
In the second stage of the PepsiCo hiring process, you will have a chance to engage with the PepsiCo recruiters.
First, you may be invited for a phone or video interview, where the recruiters will have an opportunity to interview you formally.
Then, you may be asked for a second round of interviews, which may take place face-to-face, but are more likely to take place virtually.
This is because PepsiCo is working hard to improve its green credentials, and it sees virtual interviews as a better way of offering flexibility to candidates.
Some job roles may require an additional psychometric assessment. PepsiCo uses a specially designed automated program called PepHire. This allows the firm to standardize its recruitment processes across the globe.
The assessments will likely focus on the candidate's foundational, professional and leadership capabilities. Along with your responses to the first two rounds of interviews, PepsiCo will take a data-driven approach to make an informed hiring decision.
PepsiCo Job Applications: Stage Three
If you are successful, the recruiters at PepsiCo will move into the onboarding stage of the recruitment process.
The candidate zone of the PepsiCo careers website will remain a functional portal where you can upload key documentation and view your job offer. The role of the candidate zone is to facilitate a seamless, virtual onboarding process.
Typical Interview Questions for a PepsiCo Application
We now know that successful applicants will have to pass through a minimum of two rounds of job interviews as part of the PepsiCo hiring process.
But what could you expect to be asked during both rounds of questioning?
PepsiCo focuses its interview questions on its five leadership principles, also known as its GREAT5.
Growth – This reflects a person's curiosity and ability to learn from novel situations by constantly pushing outside their comfort zone and helping others to learn and develop.
Relationships – This involves building and maintaining trusting relationships across organizational boundaries by modeling integrity, transparency and authenticity and being respectful and inclusive of others.
Execution – The energy, enthusiasm and inspiration an individual brings to motivate others to action and accomplish ambitious goals. It simplifies the complexity to drive quality results.
Agility – This involves adapting a person's style and approach to an ever-changing business environment, managing pressure and embracing and championing change to drive transformation.
Thinking – This reflects how an employee brings in and uses external insights (business, customer or consumer, industry, global), thinks creatively and takes a long-term and holistic perspective to make informed decisions.
(Source: GREAT5 Leadership Principles, Pepsicojobs.com)
These principles will be the basis of all interview questions, and you will inevitably be asked how your skills and professional experience match these competencies.
Example PepsiCo Job Interview Questions
The types of questions you could be asked that align with these key competencies could be the following:
What are the predominant challenges facing the food industry right now?
Tell us about a professional challenge that you've had to overcome. What was the initial problem, what approach did you take and what were the results?
How would your co-workers describe you, and what would they say are your biggest strengths?
Tell us about a time when you worked as part of a team and needed to meet an urgent deadline.
What strategies do you use when working with people with different working styles than you?
What does good leadership mean to you?
If you need to prepare for a number of different employment tests and want to outsmart the competition, choose a Premium Membership from JobTestPrep.

You will get access to three PrepPacks of your choice, from a database that covers all the major test providers and employers and tailored profession packs.
How to Prepare for a PepsiCo Job Interview for November 2023
You must do your due diligence as you prepare for the PepsiCo job application process. PepsiCo believes that its hiring process is a two-way street.
During an interview, recruiters want to be asked questions by candidates. They want to know that you've researched the company and are curious to learn more about what PepsiCo is like as an employer.
Look at what the company is, what it stands for and its mission statement. For example, PepsiCo continues to work hard on its green credentials, hence the reason for many virtual interviews. So, as an example, what can you ask about how its product packaging ties in with green initiatives and how it is reducing the use of single-use plastics?
You need to work hard in your research to be clear on what the company is and what kind of candidates it is looking for. Perhaps you could create a Venn diagram that will allow you to visually identify how your skills match what it is looking for.
Step 1. Look Carefully at the Job Description
You should pay close attention to the job description and anticipate any questions that you could be asked about your prior experience.
The more you can show your skills and capabilities and how these meet the GREAT5 principles, the greater your chances of success.
Think about the specifics of the job role. What tasks will it involve, and what examples can you discuss that provide evidence of how you've done it before?
The more examples you can give, the better you will come across to the recruiters.
Step 2. Think About the Practicalities of the Virtual Interview
PepsiCo prefers to host virtual interviews because they match the candidate's and recruiter's flexibility.
But just because your interview takes place in the comfort of your own home, this doesn't mean you should forgo the same preparation you would do for a face-to-face interview.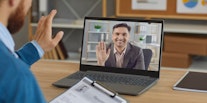 A Guide to Being Hired at PepsiCo
Step 3. Think About Your Appearance
PepsiCo wants to be impressed by its potential recruits. Therefore, you should dress professionally and consider your background if the interview takes place via video call. What do your surroundings say about you?
Have you found a quiet spot that offers good sound and no distractions? Have you checked that you have tested your technology? The last thing you want when making a good impression is to suffer technical issues.
Step 4. Be Careful About Body Language
Similarly, it would help if you thought about how you portray your body language via the camera. For example, can you demonstrate active listening? Are you making suitable eye contact? How visible is your face on the screen?
For instance, you could find that lifting your camera onto something higher could naturally help you to raise your face, reducing the need to stare down into the camera lens and suffer a double chin.
It Pays Off to Keep in Touch Post-Interview
If you've made it as far as the one-to-one interviews, then PepsiCo has clearly seen something promising in you. After all, thousands of candidates will have dropped out before getting to that stage.
What sets PepsiCo apart from other brands in its recruitment strategy is that it sees all elements of the hiring process as an opportunity to network and make new professional relationships. It welcomes and expects candidates to take active steps to keep in touch beyond the initial interviews.
You will be encouraged to communicate with people via social media (perhaps making connections on LinkedIn), and they want you to send a thank-you letter post-interview to continue the professional relationship.
If you are invited to join the PepsiCo talent community, it could be advantageous for your future career prospects. Not only will you have a chance to continue mingling with some of PepsiCo's top talent, but you will be added to the PepsiCo distribution list, where you can continue to be updated with the latest news from the company.
Job seekers often neglect to nurture the relationships they build during the job application process. But with careful thought and consideration, you may be surprised to realize how you can continue to learn from others and develop new skills simply by maintaining relationships with contacts you meet through the PepsiCo hiring process.
What Happens Once You've Received a PepsiCo Job Offer
If you have been successful, it's time for you to benefit from PepsiCo's onboarding processes. Like the rest of PepsiCo's hiring process, the brand prefers to virtually manage as much of the onboarding process as possible.
The firm understands that a strong onboarding begins when you receive your job offer, not when it's your first day. Therefore, to make a good first impression and to streamline the process as much as possible, PepsiCo continues to make good use of its candidate talent zone on its careers site.
In this online portal, you can review your job offer, see details of where to go on your first day, and upload any relevant files or documents. This is managed virtually so that everything is ready for you ahead of your first day.
You may find that PepsiCo has allocated you an 'onboarding buddy' to be your initial point of contact and answer any questions you may have. PepsiCo takes a personal approach to its onboarding processes, and it will introduce you to someone who is working at a similar level in a similar role. The company wants you to feel as comfortable as possible on your first day so that you can focus on what the job entails.
Frequently Asked Questions
PepsiCo understands that it needs to value its employees. Salary may be based on your experience and job role, but the company prides itself on offering a decent wage to all its employees worldwide.
PepsiCo has a wide range of jobs across a wide range of sectors. The firm prides itself on creating a culture of learning and development, and all employees can have the opportunity to have a flourishing career.
This will depend on the type of job that you are applying for. Some roles will require higher education, and others offer opportunities to learn the skills directly on the job.
PepsiCo wants to hire people with curiosity, passion and drive. A comprehensive internship program and graduate recruitment positions are available for those still in full-time education.
PepsiCo encourages continual learning, and it has a tuition reimbursement program that will cover tuition costs for employees wanting to study for a degree.
PepsiCo is known for its employee benefits. These range from free drinks and snacks to comprehensive healthcare insurance, 401K contributions, four weeks of paid parental leave and a tuition reimbursement program that will cover the cost of your degree.
The PepsiCo hiring process is swift. The applicant tracking system seamlessly filters through candidates from the initial application stages, which allows the hiring managers more time to focus on the stronger candidates.
Typically, after you have completed stage one of the PepsiCo job hiring process, you can expect to hear back from a manager within a few days.
As an employer, PepsiCo has achieved great ratings on sites such as Glassdoor, LinkedIn and Indeed. Individual employees welcome the fact that they can be encouraged to continue learning and receive good financial remuneration and excellent staff benefits.
The positive working culture and thriving careers on offer mean that many employees choose to work at PepsiCo for many years.
PepsiCo believes in making good first impressions. Therefore, whether you are participating in a virtual or face-to-face job interview, you should dress professionally for your PepsiCo job interview.
Final Thoughts
PepsiCo is a multi-billion-dollar brand with hundreds of thousands of employees worldwide. Therefore, the firm can be extremely picky about the people it recruits.
PepsiCo focuses on hiring people with curiosity and passion. It knows its success is directly down to the people who work for it, and the firm wants to find people who can make a real impact.
To do this, the firm provides the resources and tools its employees need to work to the best of their ability.
If you are serious about applying for a job to work at PepsiCo, your best chance for success is to pay close attention to what the firm is and where it sees itself in the future. Then, if you can prove that you have the skills it needs now and what you anticipate it could need, you can show that you are a great fit for the PepsiCo brand.