Finance Tests (2023 Guide)
Updated November 20, 2023
If you have your sights set on a job in banking or financial consulting, the chances are employers will invite you to take a financial information aptitude test.
As with any employment aptitude test, the purpose of the finance test is to assess your knowledge within a specific subject, in this case, finance.
In essence, the finance aptitude test is a type of psychometric assessment created to evaluate your finance-related numerical and verbal reasoning skills.
What Is a Finance Test?
The financial information aptitude test isn't a standard psychometric test since it is sector-specific. You will need a sound understanding of business financial matters beforehand.
After all, it is designed to test the strength of your knowledge in analyzing financial data.
The financial aptitude test is typically taken online, and you'll usually be invited to the assessment by an employer or recruitment consultant.
There are several different types of finance aptitude tests. For example, there are separate accounting, financial controller, banking and insurance aptitude tests (to name a few).
You'll only be invited to take the financial information aptitude test relating to the role you have applied for.
What Is the Purpose of the Financial Aptitude Test?
Typically, financial firms tend to attract a large volume of applications each time they advertise a vacancy. Therefore, employers use the financial information aptitude test to screen potential candidates for a job role.
With hundreds of resumes landing in the HR manager's inbox, it's a helpful way of whittling down the number of people invited for an interview. It also makes an unsuccessful hire less likely.
Many financial employers such as large banks create their own finance aptitude test as the first step in the recruitment process. For the likes of Ernst & Young, KPMG, PWC, Citigroup and HSBC Bank, the finance test is almost always a prerequisite.
Some financial information aptitude test providers give employers the freedom to tailor finance test questions and answers. They can combine multiple skills into one test and even add their own questions.
Financial course providers, such as the Corporate Finance Institute (CFI), also use online financial aptitude assessments to pre-screen students planning on starting the FMVA certification program.
What to Expect on a Financial Aptitude Test?
You will be presented with a wide range of finance test questions and answers. Typically, you can expect to answer questions on financial concepts, financial language and definitions, as well as numerical calculations.
In psychometric testing terms, the financial information aptitude test is a financial reasoning assessment.
For most of the exam, you'll be presented with a series of graphs, tables and passages of text. Using the information available to you, you must select the correct response from four possible answers.
You'll usually be given a short amount of text and a financial scenario to consider alongside numerical information. Therefore, you will need to pay careful attention to the copy, typically in the range of 100–300 words. Your job is to scan the passage to extract the information needed to answer the question.
Use of Language
A financial reasoning test, also known as a 'financial service assessment', will include relevant financial terminology.
For example, you can expect a credit analyst assessment to include wording such as 'accruals', 'amortization', 'capital surplus', 'cash flow', and so forth.
You will also be required to answer complex math problems and calculations to show your advanced numerical skills.
If you're looking to take a financial analyst test, for instance, expect to be asked at least one question on each of the following topics:
Ratio analysis
Financial valuation
Cash flow analysis
Capital asset pricing model (CAPM)
Macroeconomic variables
Financial modeling
Currency depreciation
Investment models
Even an entry-level finance test will expect you to have a good working knowledge of percentages, profits, interest rates and ratios.
Scenario-Specific
If you're applying for a role at one of the big financial consulting firms, where your clients will be varied, you will be tested on a range of possible scenarios.
For example, you could be asked to:
Analyze competing retailers' profit margins
Justify the procurement of core business supplies
Identify the errors in a set of books
Diagrammatic Reasoning
Diagrammatic reasoning tests commonly feature within a financial aptitude test. The questions aren't necessarily related to financial problems. Instead, you'll be tested on your ability to spot patterns and sequences based on a series of shapes and diagrams.
This is a particular psychometric test designed to assess your ability to identify trends and anomalies, a critical skill for a finance professional.
You will usually have a minute to answer each question on this part of the test, although the time may be slightly longer for more complex presentations.
Unless you've completed this type of test before, you're unlikely to have come across it in your studies or day-to-day finance role. Therefore, practice makes perfect.
Verbal Reasoning
In short, the verbal reasoning aspect of the financial information aptitude test examines your ability to accurately interpret passages of text.
You may be wondering why this is important for a career in finance. The simple answer is that critical information is often buried – a good financier is as much a problem solver as they are a mathematical expert.
As such, the verbal reasoning test will measure your comprehension, interpretation and judgment (reasoning). The trick, if there is one, is not to jump to conclusions.
Remember, the finance test measures your ability to solve problems based on your accurate understanding of the information in front of you, so read each question carefully.
If you need to prepare for a number of different employment tests and want to outsmart the competition, choose a Premium Membership from JobTestPrep.

You will get access to three PrepPacks of your choice, from a database that covers all the major test providers and employers and tailored profession packs.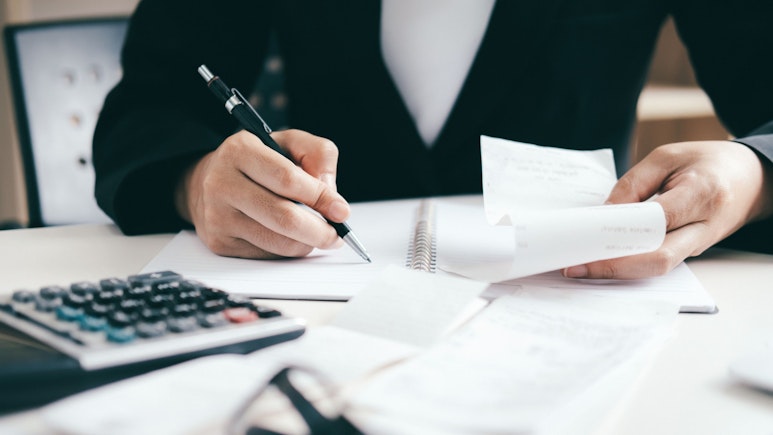 How to Prepare for a Finance Test
How Is a Financial Reasoning Test Different From a Numerical Reasoning Test?
The financial reasoning test, also known as the 'financial analyst test', is similar to a numerical reasoning test. However, there are some differences.
Numerical reasoning tests are not finance-specific.
For instance, most management graduate trainee programs will expect you to take a numerical reasoning test as part of the selection process, even if the role is not finance-related.
They will typically assess your knowledge of:
Addition, subtraction and division
Multiplication and percentages
Fractions and ratios
Inflation and rebasing
Interpretation of graphs and tables
Currency conversion
A financial reasoning test, however, will assess a candidate's ability to interpret tables, graphs and other numerical problems commonly found within the finance environment.
Therefore, the calculations and workings-out are usually more complex and require specific financial knowledge.
Why Is a High Score Important on the Finance Test?
The most important thing to remember is that your score will be weighed against the performance of other test takers. Therefore, you must give it your best shot.
In most cases, those who do not land within the top 20 percentile will not make it through to the next stage. You might only have one opportunity to take the test at a large organization.
How to Prepare for Finance Test in 2023 - Questions and Answers
Step 1. Prepare With the Job in Mind
Until you take the finance aptitude test, you'll never know exactly what questions will be included. It's essential to practice questions relevant to the job role you're applying for.
For example, when it comes to the verbal reasoning part of the test, you're unlikely to be asked to read and interpret a passage about financial controlling if you're applying for a bank clerk role. Try to identify the practice numerical and verbal reasoning tests that closely fit your intended job role.
Don't be afraid to ask the employer what finance test programs they use. Some employers, especially large financial firms, may even offer finance test examples to give applicants a glimpse of what to expect. Asking the right questions to prepare yourself for the test will show initiative, not weakness.
Step 2. Practice Makes Perfect
Well, almost perfect. You'll want to aim for a score of at least 80% to make it through to the next round of the selection process.
There are lots of places you can access free practice finance test material, including here on Psychometric Success, where you can choose from the following:
Although not finance-specific, these tests are a good place to start as they will help you understand the different formats, flow and presentation of questions. They'll also help you quickly get up to speed on the following:
Evaluation and analysis of data
Problem identification and resolution
Finding alternative solutions
Performing calculations
Critical-thinking under pressure
Step 3. Time Yourself
As with most psychometric tests, there's a strong time element with any financial analyst test. To stop yourself from getting flustered on the day, it's a good idea to take as many practice finance test papers as you can against the clock.
It's also helpful to take a practice finance test at the same time of day you plan on taking the real one. That way you'll have a good idea of how you'll perform.
Step 4. Give Each Section Equal Weighting
You will need to score highly on each section of the financial information aptitude test, not just in the areas you're particularly good at. It's worth spending extra time practicing the questions you may be more likely to struggle with.
Step 5. Don't Speed Through the Test
You will not get extra marks for being the quickest. More haste, less speed is the order of the day for the financial aptitude test. After all, this type of financial service assessment is testing your meticulous attention to detail, so read and re-read the question before you select the answer.
Step 6. Keep Hydrated
Completing any test can be thirsty work, but the more hydrated you are, the better you'll be able to concentrate. If you're taking the test at home, have a glass of water to hand, and if you're visiting an assessment center, take a bottle of water with you.
Step 7. Dust off the Finance Books
Dig out any finance textbooks you have detailing financial terminology and concepts. If you've not kept hold of them, you could borrow books from your local library or do a quick search online.
In addition, there are lots of websites that provide a comprehensive A–Z of financial concepts to serve as a reminder.
Step 8. Do Not Overthink Financial Reasoning
If the finance test you've been invited to take is a financial reasoning test, do not make assumptions. Only use the information provided and take time to read the questions correctly.
Conclusion
The financial information aptitude test is often viewed as one of the trickiest assessments you will be invited to take during the candidate selection process.
Our most important advice is to practice. You can never have too much exposure to finance aptitude test materials prior to the actual test. A good place to start practicing numerical reasoning and verbal reasoning test questions is JobTestPrep, which is packed full of sample tests.
You'll know when you're ready. By the time you've conditioned your mind to the questions, you may even find yourself looking forward to the test!