AT&T Careers: Guides and Tips 2023
Updated November 20, 2023
AT&T is a US-based multinational telecommunications holding company. The history of AT&T can be traced back to Alexander Graham Bell, the inventor of the telephone.
The company offers a variety of rewarding career opportunities from a range of recruitment areas. With exciting staff benefits and a clear focus on employee development, competition for vacancies is high.
Prepare for the entire recruitment process, from application to interview, to guarantee success.
What Is AT&T Inc.?
AT&T Inc. is a US multinational telecommunications holding company.
It is the largest telecommunications company in the world.
The history of AT&T can be traced back to the inventor of the telephone, Alexander Graham Bell.
AT&T is now the largest provider of mobile telephone services in the US.
The company also provides advertising, technology and entertainment services.
Registered in Delaware, the headquarters are located at Whitacre Tower in Downtown Dallas, Texas.
With offices over the globe, the company offers a wide variety of career opportunities.
What Jobs are Available at AT&T for November 2023?
There are many different AT&T employment opportunities.
From graduate positions to AT&T technician jobs, there are multiple roles across a range of areas.
Key recruitment areas include:
Call center
Innovation
Retail
Business/Professional Sales
Emerging Technology
Technicians
Internships
Customer Service
Corporate
Government Support
All opportunities offer progression through a rewarding career at AT&T.
The Benefits of Working at AT&T
Competition is high for open vacancies at AT&T.
The company has a clear focus on individual development and employee perks.
It also offers attractive benefits including:
Competitive compensation and benefits
Training and development programs
Retirement savings plan
Education tuition cost assistance
Discounted access to AT&T products and services
Paid time off
Various health insurance options
Submit a strong application and prepare in advance for the interview.
This gives you a headstart over other applicants.
How to Apply for a Job at AT&T for November 2023
Vacancies for AT&T employment opportunities can be found on their website.
On the AT&T careers homepage, search for suitable positions by location, skills or role.
Follow this procedure:
Search for a job role using the online database
Apply for the role by completing the online application
Complete any pre-employment tests
Attend an interview by phone, video or in person
Pre-employment tests are supported by study guides on the AT&T website. This makes preparation straightforward and stress-free.
Successful candidates will be sent a conditional offer.
Employment offers are subject to the completion of necessary background checks.
Different training and certifications are provided to support you in your new role.
Remember to check your email regularly for updates on your application status.
Interview Questions for Open Positions at AT&T
There are a number of common interview questions asked at AT&T.
Take an AT&T Assessment Prep with JobTestPrep
Some of the typical questions include:
"Why Should We Hire You?"
This question is used to show why you are the right fit for the company.
It is important to answer honestly and confidently.
Highlight the skills and abilities that make you the best person for the job.
Consider what they are looking for in an employee, then link your personal qualities to the needs of the company.
This helps you demonstrate why you are the best person for the job.
"Tell Me About Yourself"
This is your opportunity to build a connection with your interviewer.
Your answer to this question sets the tone for the rest of the interview.
Link your answer to the personal qualities listed in the job description.
This way, you can support your fit for the job as well as highlight your personality.
If you need to prepare for a number of different employment tests and want to outsmart the competition, choose a Premium Membership from JobTestPrep.

You will get access to three PrepPacks of your choice, from a database that covers all the major test providers and employers and tailored profession packs.
"Describe Your Ideal Work Environment"
The interviewer wants to know if you would thrive in the AT&T work environment.
Refer to the AT&T workplace culture. This shows you have done your research.
Reference your flexibility and describe what type of environments you work best in.
This shows the hiring manager you understand company needs and how you can support them.
"Where Do You See Yourself in Five Years?"
To answer this question, research the career progression routes available at AT&T.
Select a position you would be interested in pursuing in five years.
This demonstrates your commitment to the company.
It also shows you are ambitious to achieve and understand where a role with AT&T can take you.
"Do You Have Any Questions for Us?"
Don't forget to prepare some questions to ask your interviewer.
This shows you have researched the position and are keen to learn more.
You could ask a question linked to something mentioned during the interview.
Some Example Questions to Ask Include:
What is the most important aspect of this position?
Why do you think AT&T is so successful?
How would you measure my progress and set goals?
What do you most enjoy about life at AT&T?
What additional things can I do to help me succeed in this career?
How to Prepare for an Interview At AT&T for November 2023
AT&T company offers a generous compensation package and a great working environment. This makes competition for vacancies high.
To ensure the best chance of success, preparation is key. Successful preparation helps you outperform other candidates.
To perform at your best on interview day, here are some essential steps that you can follow:
Step 1. Read Up On Company Culture at AT&T
Company culture refers to the shared practices, attitudes and goals of the company. A strong culture boosts employee productivity and efficiency.
Find out about the shared values and company policies. This information gives you an insight into the working environment.
The interviewer is looking for evidence that your values align with the organization.
Following the social media of AT&T also helps you learn more about the culture.
Step 2. Understand the Role
Prior research into the role you are applying for is essential.
Highlight your experience by linking it with the desired skills and abilities. Describe work scenarios that demonstrate your use of these skills.
Using solid examples shows the hiring manager you would be a good fit for the role.
For example, for an AT&T customer service role, talk about your active listening skills.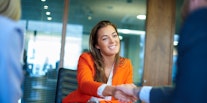 AT&T Careers: Guides and Tips
Step 3. Dress Professionally
Regardless of the position applied for, smart clothing is a must. Wear smart clothing such as a freshly pressed shirt or blouse. All clothing items should be neatly laundered.
The time to make a good impression on your interviewer is around three seconds. What you wear contributes to this impression.
Dressing well shows you are prepared, professional and care about your performance.
Step 4. Practice Makes Perfect
Practice beforehand with a mock interview.
Ask a willing person to play the role of the hiring manager.
Mock interviews help you prepare thought-out responses and reduce stress in the real thing. They boost your confidence and allow you to role-play various scenarios.
Mock interviews also give you a chance to perfect body language, smiling and eye contact.
Ask for constructive feedback to help you improve your performance.
Prior practice helps your real interview flow smoothly and naturally.
Step 5. Prepare Some Personal Stories
Be prepared with some personal situations that highlight your skills.
Refer to situations where you overcame a challenge, learned a difficult skill or showed teamwork.
These give the hiring manager more information about your attitude and abilities. They also demonstrate your unique fit for the role.
Step 6. Check Directions and Parking
For in-person interviews, you must check directions beforehand.
Take a practice run to give you an idea of the actual travel time.
Check parking details and reserve a space if necessary.
If using public transport, be prepared for delays to your service.
Plan to arrive at least 15 minutes before the start of your interview. This shows potential employers you are punctual with good time-keeping.
AT&T Careers - Tips for Online Video Interviews
Video interviews are becoming more common as part of the recruitment procedure.
All potential candidates for AT&T positions must be prepared to accept invitations for video interviews.
They are used for a variety of roles, and following a few key tips can improve your chance of success.
Check Equipment Beforehand
For telephone or online interviews, check all equipment is working properly. Test your Internet connection and ensure that your laptop is updated. This avoids delays and disruption on the day of your interview.
Have your resume to hand, as well as any flash cards you need to refer to. Make sure you can access everything easily.
Make Yourself Stand Out
Remember that first impressions still count in the virtual world.
You need to make a connection with your interviewer as you would in person. This means sitting upright and looking directly into the camera rather than the screen.
Sit in front of a plain background and wear contrasting clothes.
Avoid fidgeting during the interview. This shows your interviewer you are focused.
Keep Eye Contact
Retain eye contact and avoid looking away from the screen for long periods.
Raise your laptop so you look at the camera at eye level.
Don't place an external camera on the side of your screen. This makes it difficult to keep eye contact with the interviewer.
Don't forget to smile, so you appear friendly and interested. It is important to keep this situation as natural as possible.
Be Ready Early
Don't wait until the last minute to log on for your interview.
Make sure you are ready at least 10 minutes early. This gives you a chance to calm your nerves before the interview starts. It also allows you to fix any technical or connection issues.
Being ready to join the interview shows you are motivated and professional.
Frequently Asked Questions
The whole process, from application to interview, takes around two to four weeks. Check regularly for updates to your application.
Opportunities for remote working with AT&T are increasingly common. Search for them on the dedicated AT&T careers page on their website.
Employee benefits at AT&T include training and development programs, paid time off and health insurance.
AT&T has a positive and rewarding work culture. Staff are offered a range of benefits and generous compensation.
There are entry-level vacancies for roles at AT&T. Other opportunities with no experience include internships.
Final Thoughts
AT&T is a fantastic global organization where employees are valued.
There are a wealth of opportunities for the right candidates.
To secure a career at AT&T, advance preparation is key.
Thorough research and practice help you gain a position in this thriving organization.
Actioning the tips provided in this article will give you the best chance of success.