Best Resume Writing Services in the US (2023 Review)
Updated September 2, 2023
Pros
The free professional resume review gives you an indication of how much support you need.
Top Resume will redo your resume at no extra cost if you don't get twice as many interviews as you were.
There are three packages to choose from, giving more options to those who need extra help with cover letters and maximizing their LinkedIn accounts.
Reviews claim that writers have exceeded the number of revisions stated in the pricing, adding to their excellent customer service.
Detailed and specific advice is given for the free resume review.
Cons
There is no refund policy, and all sales are final.
The pricing options are expensive for those jobseekers currently without work.
Best for: Overall service and price
Ideal for: All jobseekers and industries
Pricing:
Expert resume review – Free
Professional Growth – $149
Career Evolution – $219
Executive Priority – $349
Features:
Founded in 2014, Top Resume now has over 1,500 professional resume writers across the US.
The Professional Growth package includes a professionally written, keyword-optimized and formatted resume.
The Career Evolution package includes a resume, cover letter, and 60-interview guarantee.
Executive Priority has an additional LinkedIn makeover.
Resumeble provides professional resume writers with multi-industry experience.
With a one-on-one approach, they promise an interview guarantee within 60 days of completion of your resume.
This offers affordable services with direct communication, fast turnarounds and ATS-compliant documents.
The available services are
CV Writing for $149.99
Resume Writing for $129
Cover Letter Writing for $99
LinkedIn Profile Writing for $99
And more
Depending on the package you choose, the turnaround is between five and seven business days.
With over 16,000+ satisfied customer, Resumeble secured 99% of interviews and has a 4.8 Trustpilot customer rating.
My Perfect Resume is a template-based resume writing service that was launched in 2013. Since then, more than 15 million people have found new roles using its resumes and cover letters, and more than 43 million resumes have been created on the site.
The process of making a resume using My Perfect Resume starts with choosing the right template based on your level of experience – there are templates designed for high school leavers and for professionals, and even for those looking for federal roles.
Using a template like this will ensure that not only is all the information you are sharing easy to read for the recruitment team, but it is also compatible with Applicant Tracking Software (ATS).
ATS systems scan resumes for specific information, phrases or words that match to the job description and desired skills, and these templates are designed to be readable by this software.
Using the chosen template, you can edit each section as directed, including all the important qualifications, experience and other skills as directed by the personalised writing help service.
The completed resume can be downloaded, printed and emailed as often as needed.
The resume you create can be downloaded in plain text format for free, but there are paid plan options that offer more tools like being able to download in different formats.
My Perfect Resume also has a facility to create cover letters that match the resume design and structure.
For those who are looking for extra help and tips, there is a career-focused blog on the My Perfect Resume website, where everything from upskilling to networking is covered.
CareersBooster provides what it calls a 'job acquisition service'. It has a dedicated team of expert writers on hand to create resumes that avoid common mistakes and create a document that is penetrating and attention-grabbing.
The writers are industry experts and with 24/7 customer service and a help desk that means you can contact them whenever you need to, you can get access to their knowledge and keep up with what is happening.
Alongside resume writing and editing, the company also offers the following services:
LinkedIn profile creation
Cover letter writing
IT resume writing
Thank you and follow up letters
CareersBooster can also distribute resumes to employment agencies and help you identify the key selection criteria for the role, as well as highlighting your key knowledge, skills and abilities.
CareersBooster guarantees that you will get an interview within 30 days or it offers a free revision.
Pros
The automated service and flexible subscriptions mean you can alter and change your resume to suit every role.
While building your resume, you are developing writing and creativity skills.
Your resume can be built according to your timeline.
The price points are more accessible than other companies.
Cons
It can be time-consuming as you have to do everything yourself.
Your resume may not be as well written or formatted compared to what a professional resume writer can do.
Best for: Automated resumes
Ideal for: Job seekers that would prefer to complete their own resume
Pricing:
Free package
Monthly – $49.95
Three-month subscription – $89.95
Features:
Job Scan comes with a wide range of options and software for you to create the best resume you can.
The free package includes:
Two match rate comparisons per month
Two keyword comparisons per month
Two resume scans
Resume manager
Job Scan Learning Center
The monthly packages include unlimited searches and scans, as well as a host of other features, such as:
LinkedIn optimization
Cover letter optimization
ATS templates
Job matches
Predicted skills
Pros
Every resume gets reviewed by two different professionals.
There is a price point and dedicated professionals for all employment levels from graduate to executive.
There is the option of extra coaching for those needing additional support.
All packages include a one-on-one strategy session, three to five business days turnaround, and unlimited revisions for a week.
Cons
It can be very expensive, especially for those in low-paid roles or unemployment.
Best for: Executive service
Ideal for: All employment levels with special services for federal resumes and IT/Engineering
Pricing:
Find My Profession offers three packages; however, the pricing varies depending on the job level.
For a professional with three years or more experience, your prices are:
Professional Resume – $695
Professional Package – $795
VIP Gold – $1,095
Career Coaching – $349 for a two-hour session
Career Finder – $2,500 per month
Features:
The Professional Resume package includes a resume only.
Professional includes a resume and cover letter.
The VIP package includes a resume, cover letter and LinkedIn profile makeover.
There is also a dedicated service for anyone needing help finding a career and suitable job roles (Career Finder).
The career coaching service is Find My Profession's primary service. Each session involves job searches, networking tips and interview advice.
Pros
Affordable packages compared to other resume writing services.
A variation of packages and services depending on what the job seeker needs.
You work one-on-one with your resume writer/coach.
Refunds are available if any service is not delivered or the final resume contains any errors.
Cons
Services are targeted at Millennials and younger – older job seekers may not like the writing or Coach service.
Additional packages can become expensive.
Best for: ATS optimization and competitive pricing
Ideal for: Younger or the next generation of job seekers
Price:
Mentor – $119
Coach – $225
Master Coach – $479
Features:
Founded in 2011 in New York, The Muse offers competitive pricing and individualized attention.
The Mentor package includes an updated resume, one round of edits, and a 30-minute Skype or phone call.
Coach includes a 45-minute call, an updated resume and two rounds of edits.
The Master Coach package includes a resume, a 60-minute call and unlimited edits for two weeks.
The Muse also offers:
Ultimate job search packages – Mentor ($439), Coach ($869) and Master Coach ($1,699)
Stuck in a Career Rut packages – Mentor ($189), Coach ($399) and Master Coach ($899)
New Manager Programs – Coach ($899) and Master Coach ($1,699)
These packages include job search strategies, LinkedIn profile makeovers, interview tips, career assessments and leadership sessions.
Pros
Resume delivered within two business days.
Delivered in Word format so you can make your own edits later.
A variety of add-ons are available for those who want more support or professional documents.
Cons
Very expensive compared to other professional resume writing services.
You need to buy additional documents such as a cover letter. Other companies offer that in a package, for a much lower price.
Best for: Recruiter insider knowledge
Ideal for: Any level, industry or job function
Pricing:
Entry-level resume – $409
Professional resume – $519
Executive resume – $629
Cover letter – $189
Professional bio – $189
LinkedIn profile – $189
Interview preparation – $189 per session
Career coaching – $179 to $695 depending on how many sessions you buy
Features:
Resume Spice was created by recruiters giving you the confidence that the documents they produce go beyond the expectations of HR and current recruiters.
Each package includes:
Keyword optimization
Phone consultation
Proven resume format
Personalized draft
Multiple rounds of edits
Resume in Word and PDF format
Pros
They provide detailed personalized feedback to all their clients.
They have a free resume review service.
Cons
The first price point is not accessible for those in-between jobs.
There are no refunds and all sales are final.
Best for: ATS optimized
Ideal for: Executives
Pricing:
Launch – $139
Fast Track – $189
Premium – $299
Features:
ZipJob was founded in 2017 and has helped customers secure jobs at Google, Apple and Chase.
All packages include direct writer messaging and an ATS-optimized professional resume.
The Fast Track package has an additional cover letter and a 60-day guarantee.
The Premium includes a LinkedIn makeover and express delivery.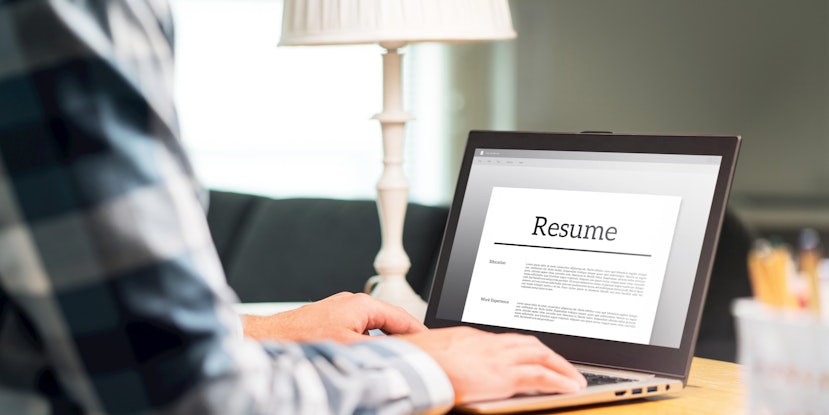 Best Resume Writing Services in the US
Pros
A cover letter is included in the lowest package.
They have excellent Trustpilot reviews, with 93% being excellent.
They are very professional.
The professional resume writers take the time to answer all your questions.
Cons
Some reviews have stated that it took longer than expected to receive their documents.
The Starter package is more costly compared to other entry-level packages.
Best for: Overall service
Ideal for: All career levels, with a special information guide for graduates
Pricing:
Starter – $399
Accelerated – $509
Premium – $649
Grandma's Grad Guide – $25
Features:
Founded in 2014 by two brothers, Let's Eat, Grandma's mission is to ease the stress of finding a new job by offering career advice and resume writing services.
The Starter package includes a cover letter, which many other resume writing services do not do.
The Accelerated package includes a resume, cover letter and LinkedIn profile consultation.
The Premium package comes with a LinkedIn profile makeover, a second resume design and a digital guide to cold emails and thank-you letters.
Pros
There is a variation of packages to suit your level and industry.
Your resume is guaranteed to be written by a qualified writer that knows precisely how a resume should look and read.
You can add on additional services if you need them.
Resume Writers also offers coaching in resume writing and editing.
Cons
Many competitors include LinkedIn consultations and cover letters as part of the packages, possibly saving you money.
It can get costly if you decide you want a cover letter or LinkedIn profile makeover.
Best for: Variation of packages offered
Ideal for: Military-to-civilian and IT employees
Pricing:
Student – $169.95
Professional – $199.95
Executive – $299.95
Career Change – $249.95
Military-to-Civilian – $169.95
Tech/IT – $229.95
Standard Resume – $299.95
Features:
Resume Writers was founded in 1999 and is one of the largest professional resume writer networks in the US.
All the writers are accredited with the Professional Association of Resume Writers or Career Directors International, meaning that your resume is in good hands.
As well as the packages for different resumes, there is also the add-on options of:
A cover letter
LinkedIn profile makeover
Follow-up emails
Pros
Affordable prices, especially if you are currently unemployed.
There are plenty of customization options for you to create your resume.
Cons
The resumes are designed for human recruiters, not ATS.
Your resume may not be as well written or properly formatted compared to what a professional resume writer may have done.
Best for: Quick and easy automated resumes
Ideal for: Job seekers on a budget
Pricing:
Pro Semi-Annual – $70.02
Pro Quarterly – $48.99
Monthly – $21.99
Features:
Enhance CV comes with tools that offer assisted resume editing, advice, and content editing.
Each subscription includes:
Up to 10 resumes and cover letters
Unlimited personal and professional data entries
Over 1,000 customization options
Instant tips and feedback
Wide range of templates
Pros
There are lots of successful resume examples for you to take inspiration from.
The creation process is quick and easy.
The website has help documents on writing a resume and cover letter.
Cons
Resume Companion does not mention if the resumes are ATS compatible.
There are no professional resume writers to review or build your resume.
The website doesn't have search tools to assess how strong or suitable your resume is.
Best for: Templates and automated resume building
Ideal for: Those who want to use a professional writer
Pricing:
$1.95 for a two-week premium trial
$39.95 monthly renewal after subscription
Features:
Founded in 2009, Resume Companion offers a wide range of templates for you to build your resume.
You simply find a template you like and fill in the blank space with your own experience.
What Is a Resume Writing Service?
A resume writing service offers several services designed to help you create the best resume possible.
Resume writing professionals can help you create a resume tailor-made for the role you are applying for, as well as offering templates or act as a resume generator.
Additional services may also include:
Cover letter writing
LinkedIn makeover
Job searches
Interview prep
When Would You Use a Resume Writing Service?
Resume writing services can help:
Anyone of any age making a career change
If you haven't applied for a job in a long time and are uncertain of the new techniques
You have a long employment history and don't know how to condense it
You are returning to work after a career break
Your employment history is unrelated
You are transitioning out of a niche, such as military or government, into a civilian role
You don't have the time to create one yourself
You are not a strong writer
You've had little success with job interviews so far
What Are the Benefits of Using a Resume Writing Service?
Writing a resume can be time-consuming and stressful, particularly when you are unsure what skills or experience to highlight or how best to display them.
A resume writing service can:
Advise you on what skills and experience to show
The best ways to show your skills
What resume template to use
A resume writing service can also show you how to write your resume to pass the Applicant Tracking System (ATS). This system or algorithm was developed to help recruiters filter out the resumes without the essential job skills or experience.
Resumes that don't meet the ATS parameters will not be looked at by human eyes; therefore, your resume must follow the correct format for an interview to follow.
What Should Be Considered When Choosing a Resume Writing Service in 2023?
Before choosing a resume writing service, it is essential to research the company.
As resume writing is a desirable market, many companies are there to make money without actually being skilled.
Before making your final choice, research:
The Price
It may be tempting to use the cheapest option; however, cheap generally means unskilled.
Reputable services with the best resume writers will charge between $100 to $400.
Turnaround Time
In addition to being pricey, a good service will also not be able to turn your resume around within 24-hours; therefore, avoid any company that offers that service.
The typical turnaround time is one to two weeks, depending on how technical your resume needs to be.
A less technical resume may only need two or three days.
Reputation
The reviews listed on the service provider website are usually the most favorable.
While negative comments are not deleted, they are unprompted and pushed to the bottom.
Instead, read third-party reviews to see what others have said about the company or ask for referrals from career counselors or friends.
Accreditation and Experience
The best resume writers should be accredited with one of the following:
The Professional Association of Resume Writers and Career Coaches
National Resume Writers' Association
However, this is not a necessity.
If the writer does not have either of these accreditations, check their work history for HR or recruitment roles.
Anyone who has worked in those roles will know how to build a resume.
Equally, writers with at least five years of resume writing experience should produce excellent quality resumes.
Who the Writer Is
Ensure you are speaking with the person who will be writing your resume.
That way, you can get a feel for each other's personalities and styles.
It also ensures that they receive and understand everything you say, and nothing gets lost or mistranslated through various other people.
Industry-Specific Knowledge and Experience
If you are applying for a competitive or experienced industry, such as medicine or STEM, you want a resume writer who has written successful resumes for roles within these industries.
Knowing what keywords and skills to use is pivotal to your success.
Someone without industry experience may miss vital information.
The Fine Print
The best resume writing services will be transparent with their services; however, you should always read the FAQs, T&Cs and the fine print for any information they don't want to promote.
Some resume writing services may claim to "guarantee an interview" but in the small print state that they will rewrite your resume once should you not get an interview.
The Promises
Always be cautious of companies promising things they have no control over.
Any resume writing service claiming they can guarantee a job or interview shouldn't be taken too seriously.
Many factors contribute to getting a job that no one can guarantee a resume will secure your job role.
Assessment of Current Resume
Some resume writing services may offer an initial assessment of your current resume, either for free or as part of the package.
If the feedback is generic or unspecific, it is a red flag that they haven't read your resume thoroughly or are not a reputable company.
Frequently Asked Questions
If you struggle with formatting and writing your cv or resume to present to a professional audience, it is worth paying for a resume service. Frame it as an investment in your career prospects. The better polished and presentable your resume is, the more doors it will open in the job market. A professionally written resume also stands out during an interview.
The amount you pay for a resume service is dependent upon the experience and the skill of the provider. The price will also vary with how much help you need on your resume.
Usually, clients can expect to spend between 100to400. However, if you need different resumes for different presentations or job applications, then you can expect to pay more.
Discuss the prices with the resume writer and outline exactly what you need on your resume. Agreeing to a price in advance will help you build a relationship with a resume writer. This will serve you well in the future.
There are lots of different resume services available that specialize in specific career areas and job applications.
In the US, Top Resume and Job Scan have good prices and have great reviews.
If you are looking for someone independently to write your resume, talk to career professionals and identify what they look for in their employees. They will be able to highlight what stands out. This will help identify who to choose for writing your resume.
Final Thoughts
Finding a job is highly competitive, with candidates doing everything they can to stand out, and there are many reasons why you may want to invest in a professional resume writer.
But deciding which is the best resume writing service can be difficult. The primary deciding factors are your needs and your budget.
Services such as Top Resume, Resume Writers and Let's Eat, Grandma has an excellent reputation for delivering professional resumes; however, their prices can become costly.
They also offer additional services such as cover letters, LinkedIn profile makeovers, and career coaching.
Automated services such as Enhance CV and Job Scan are more affordable but are not written by professionals.
They also don't have the additional documents and support that you may need in your job search.
Before making your decision, decide what tools and features you need access to and which companies match them the most.