In-Tray Exercise eBook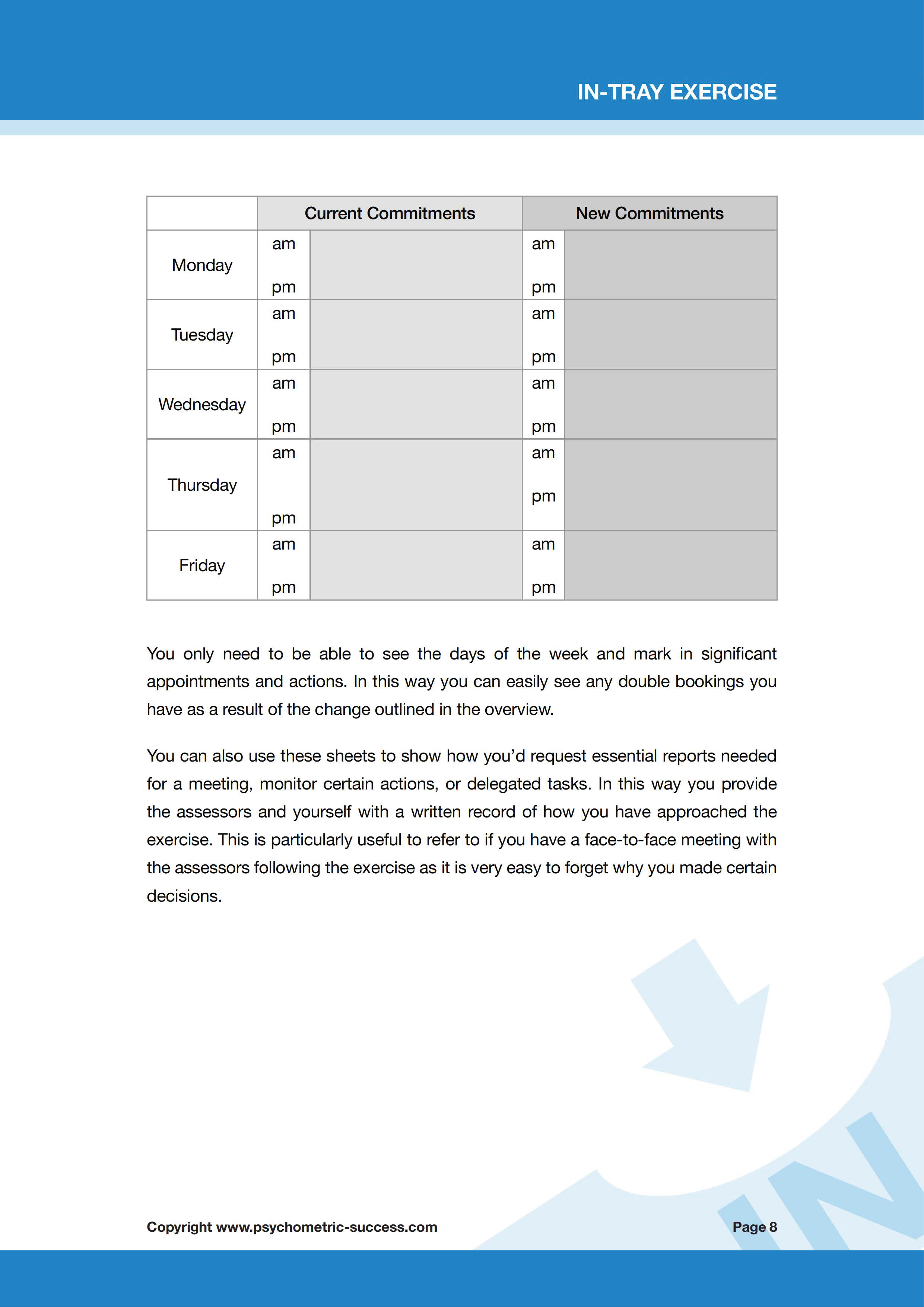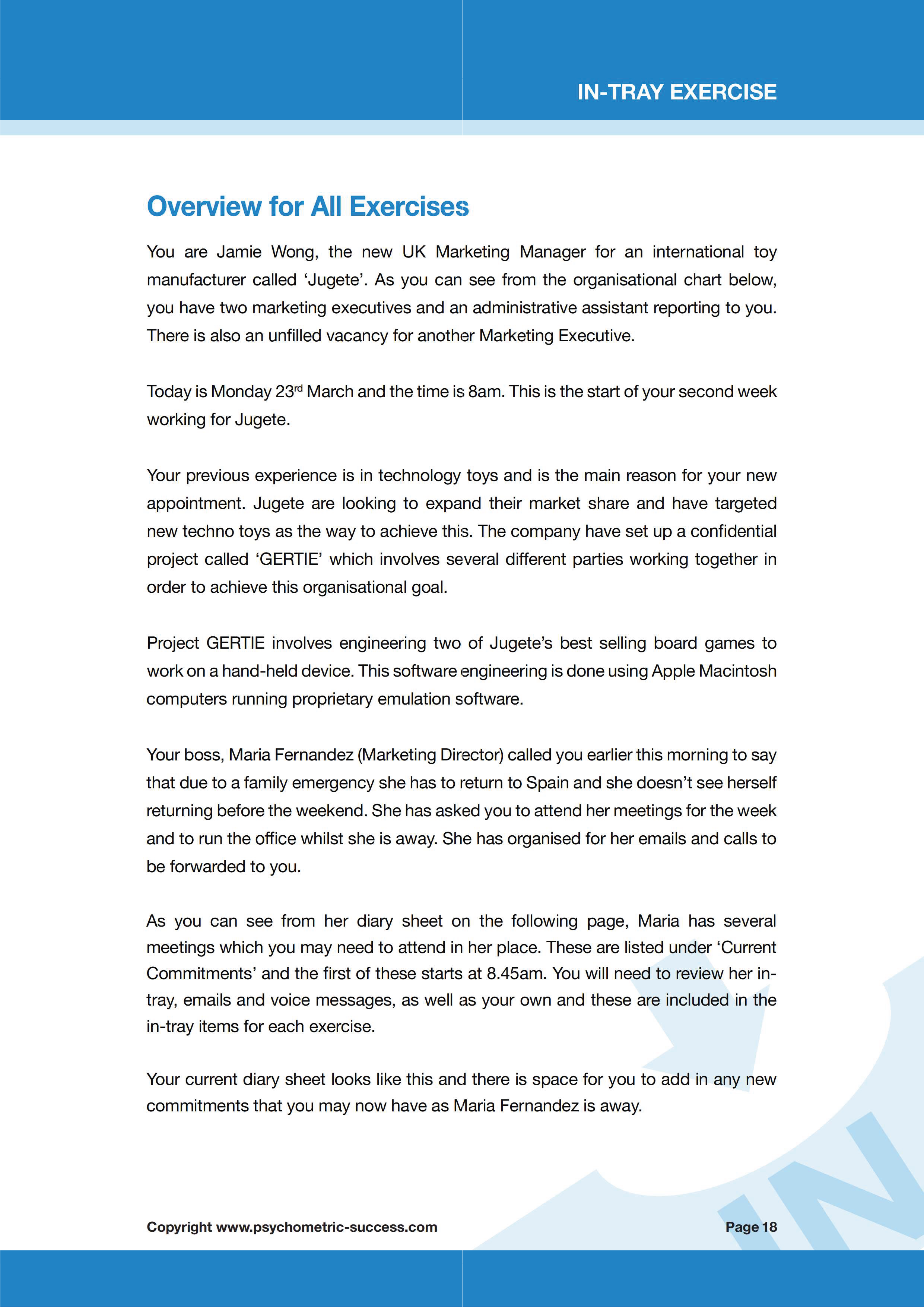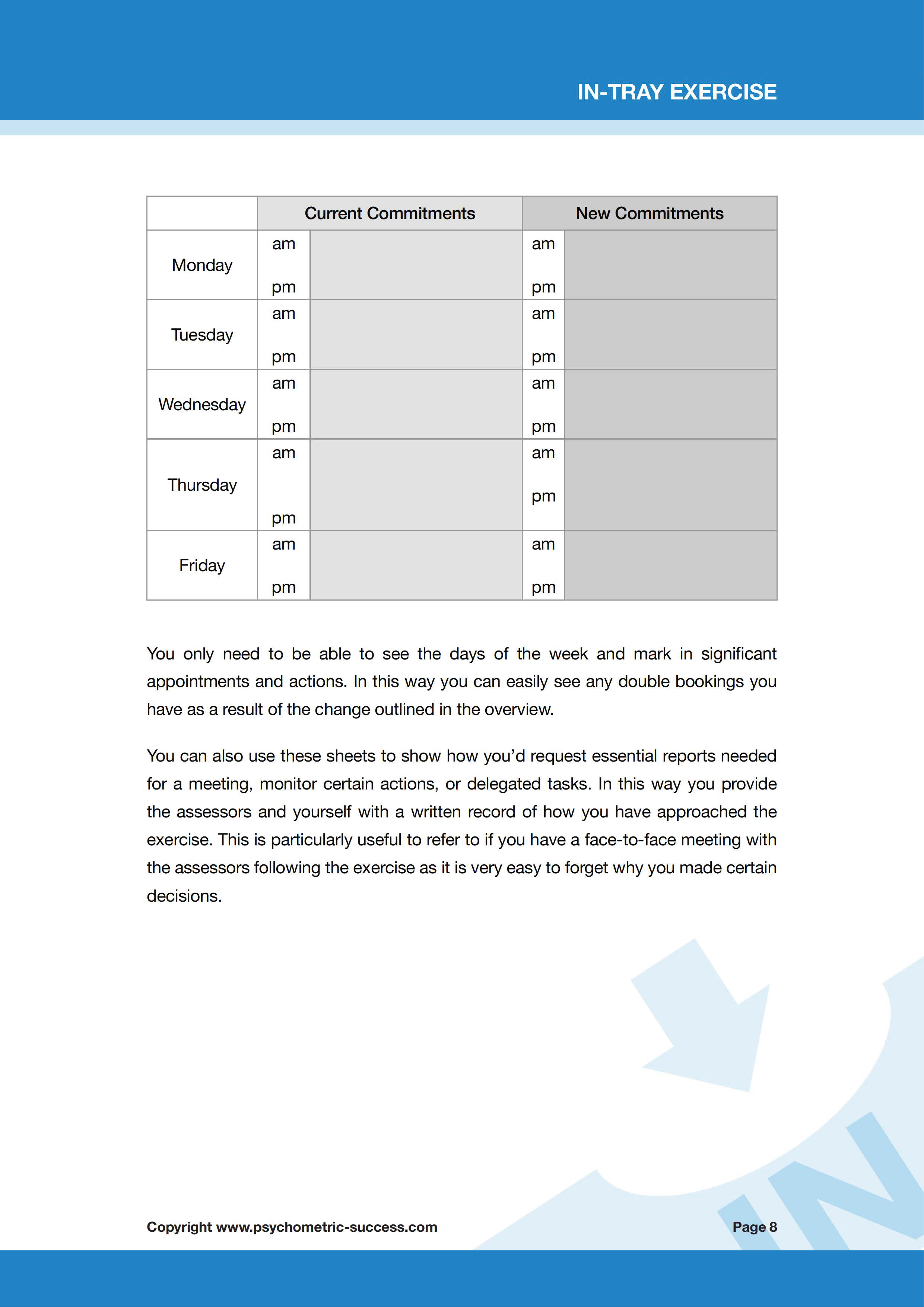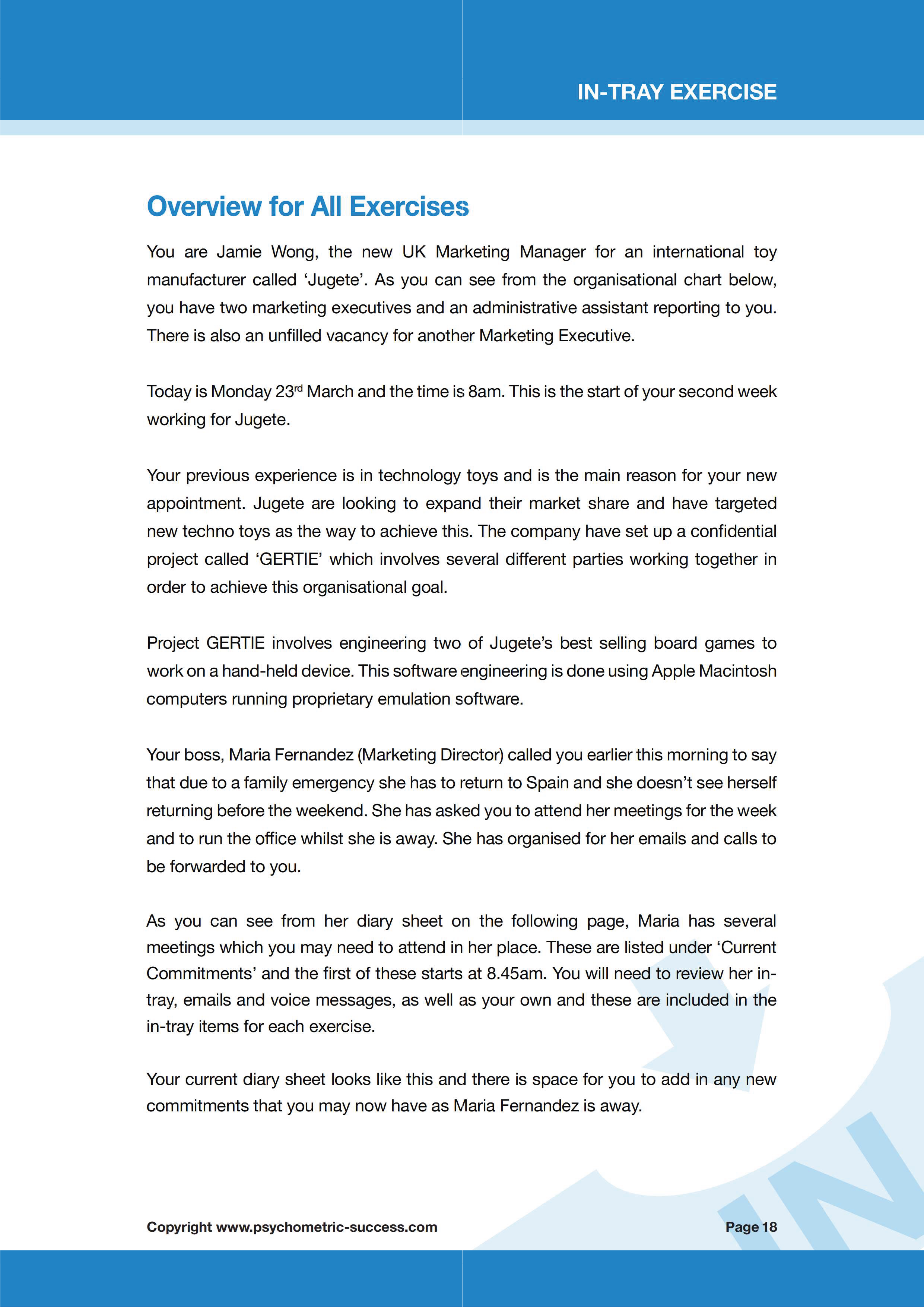 In-Tray Exercise eBook
One of the most feared exercises in the 'In-tray' or 'In-basket! But no more, contained within 133 pages is a unique guide and examples of practice exercises. Our In-tray eBook enables you to understand exactly what you need to do to achieve a high score.
The 3 practice exercises expose you to different levels of complexity. Starting with a typical introductory level progressing to a management style and then one aimed at someone seeking a strategic role. You have over 55 questions based on 65 in-tray items you must read and prioritize the action you would take for each one, in an average of only 50 minutes.
Throughout the eBook you are given tools and advice that will help you give an outstanding performance illustrating your efficiency and attention to detail. For example:
Understanding the 'Role' you have been assigned in the exercise.

Maximizing the exercise 'Overview' information.

Prioritizing the in-tray 'items'.

Analysis of information.

Correctly evaluating situations for the organization in your decision-making.

Explanations and reasoning behind the 'best' answer.
Once you have completed these in-tray exercises you will recognize which 'behaviors' you most need to demonstrate to achieve success. This shows your assessors that you have the right competencies for the role and organization.
Those who have never taken or studied an assessment centre will probably not be familiar with the term 'In-Tray Exercise', even though it is one of the most important (and often most difficult) parts of the entire assessment. In this type of test, you are basically given a list of tasks, told to prioritize them within a certain amount of time, and then defend your prioritization to your assessor. The purpose of the test is basically two-fold. On one hand, your ability to prioritize important tasks appropriately will be tested during this exercise. And secondly, your actions will be watched and assessed so that they will be able to see how you handle the pressure.
The first thing that most people will notice about this exercise is how much pressure it can put on you. You are often given a LOT to do, and only a small amount of time to do it in. To make this even more difficult, you need to make a variety of difficult decisions during the entire process that can REALLY throw you off if you are not ready for them… which is why it is such a good idea to study and practice for this part of the assessment before actually taking part in it.
Will This Ebook Help Me With My In-Tray Exercise?
The answer to this question is a definite yes! This ebook was actually designed with the In-Try Exercise specifically in mind. It is loaded with relevant information and valuable secrets that will allow you to not only come out ahead of the competition, but also to deliver a performance that will wow ANY assessor who might administer the test.
In this ebook, you will learn…
How to approach the In-Tray Exercise and succeed in taking it

How to justify your actions after the exercise is over

A selection of tips and hints that will help you to maximize your performance during the assessment

How to go about solving this part of the assessment by utilizing several practice sessions that are provided in the ebook
The In-Tray Exercise is definitely a part of the assessment that you would do well to practice beforehand. While the bulk of the test may lie in the ability to make quick, sound decisions, there is much more to it than that. Depending upon what job you are trying to get, these exercises can be VERY difficult to get through. Sometimes, you will end up facing problems that have almost NOTHING to do with the job that you are applying for! The process is simple enough, but until you have gotten some practice, odds are VERY good that you will end up choking or freezing on test day. This could cause you to lose points on wrong answers, and you would be AMAZED at how easy it is to fail this test when you choose just a FEW of the wrong answers!
If you want to be READY for this test, practice it until you are comfortable with the process, and walk into the assessment with the confidence of knowing that you will be able to handle it, from beginning to end, than this ebook is DEFINITELY for you! In the pages of this ebook, you will find absolutely everything that you will need to prepare COMPLETELY for the In-Tray Exercise. Why leave your future to chance when you could guarantee a successful outcome by being READY?
Don't trust luck to get you through this very difficult assignment! This ebook contains all of the information that you will need to take your performance to the next level… so utilize it today, and make SURE that you get that job or promotion that you have worked so hard for!