The New York State Firefighter Exam (2023 Guide)
What Is the NYS Firefighter Exam?
If you are considering a career as a firefighter in the state of New York, passing the NYS Firefighter Exam is an essential part of the qualification process.
The FDNY responds to all fires and other emergencies requiring their expertise.
This includes:
Extinguishing fires
Technical rescues
Handling biological and chemical risks
Rescuing distressed citizens
Promoting the importance of fire safety
Enforcing relevant safety standards
Firefighters are expected to be fit physically and psychologically.
They must think on their feet and make decisions quickly.
They often work with minimal information and in highly pressurized situations.
The actions they take have a significant impact and can even be the difference between life and death.
Decision-making is not a skill that can be taught.
In the Firefighter Exam, psychometric testing is used to assess a candidate's aptitude for decision making.
The situational judgment section is incredibly insightful, as a candidate's responses indicate what action they would be most likely to take in a work-based scenario.
The application period for the NYS Firefighter exam opens every four to five years.
The most recent exam was administered in 2017.
The NYS Firefighter test is split into two parts; a written test and a physical ability assessment.
You will need to use a computer for the written part, which must be completed within a maximum timeframe of four hours.
The exam questions are designed to assess the following areas:
Logical, numerical and verbal reasoning
Mathematics
Vocabulary
Memory
Personality
Situational judgment
Most of the test questions are multiple-choice.
Many people describe the test as lengthy and difficult to pass; therefore, it is essential to prepare before sitting the exam.
You will only be eligible to take the physical and medical tests once you have passed the written test.
What are the Sections of an NYS Firefighter Exam?
The sections of the test vary slightly depending on where you are based.
For all municipalities excluding Mount Vernon, New Rochelle and White Plains:
Ability to Learn and Apply Information
This section assesses how fast you can learn new information and use it in an appropriate context.
At the start of the test, you will be given time to study a training manual (referred to as the training lesson) on a topic for which you have no prior knowledge.
Afterward, you will be required to answer a series of questions based on the content of the Training Lesson.
You can take notes during the training lesson, and you can also refer back to the manual while answering the questions.
Basic Arithmetic
This part of the exam will test your ability to add, subtract, multiply and divide.
You will be tasked with working out a missing value in a table of numbers.
You can use a solar-powered or hand-held battery calculator; however, you must not use the calculator application on your cell phone.
Reading Comprehension
In this section, you will need to show that you can understand written information.
You will be required to read a series of text passages, then answer questions on each passage.
You will need to demonstrate that you have read and understood the information within each text passage to pass.
Situational Judgment
This part of the test will assess your ability to choose relevant and practical actions in response to workplace challenges.
You will be given several different scenarios with a set of possible responses.
You will need to rate how effective each response is.
*For the municipalities of Mount Vernon, New Rochelle and White Plains:
Mechanical Reasoning
Questions in this section will be supplemented with a drawing or written description of mechanical devices, including gears, levers, hand tools and gauges.
You will need to show that you understand how these mechanical devices work and the underlying principles.
The devices referred to are not limited to those used by the fire service.
Understanding and Interpreting Written Information About Fire
In this part of the test, you will need to demonstrate a good comprehension of written material.
For each question, you will be shown a brief written passage with a set of alternative statements.
You will be expected to choose the most relevant statement based on whether it:
Is an accurate summary of part of the text passage
Provides an adequate summary of the text passage
Offers an inference that can be reasonably concluded from the text passage
The text passages are taken from a range of sources about firefighting; however, there is no need for you to have any specialist knowledge of the subject matter.
If you need to prepare for a number of different employment tests and want to outsmart the competition, choose a Premium Membership from JobTestPrep.

You will get access to three PrepPacks of your choice, from a database that covers all the major test providers and employers and tailored profession packs.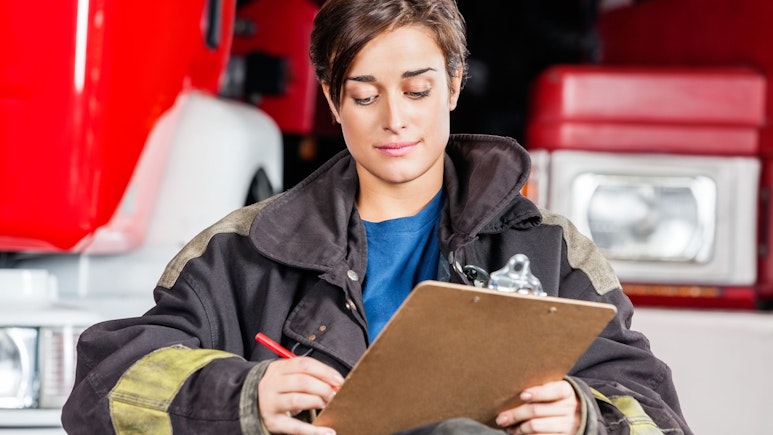 The New York State Firefighter Exam
General Science
You will need to have an understanding of the basic principles of chemistry and physics.
You will be expected to know the definition of relevant terms, properties and processes, or apply your knowledge to a possible scenario you might face in the role of a firefighter.
You can expect to answer questions on topics such as the basic principles of electricity, heat transfer and combustion.
Reasoning Clearly and Selecting an Approprate Course of Action in Fire Fighting Situations
This part of the test outlines situations that you are likely to encounter as a firefighter.
You will be asked to evaluate the situation and choose the most appropriate course of action or identify the best reason to support a particular course of action.
You do not need to have any specialist knowledge of firefighting to answer the questions.
You might be asked to answer questions about communication or interpersonal skills when working with your peers, superior fire officers or the general public.
Following successful completion of the written test, you will be interviewed by FDNY officers.
Your name will then be placed on a civil services list, and you will need to await your invitation to take the Candidate Physical Ability Test (CPAT).
What Is the Candidate Physical Ability Test (CPAT)?
The CPAT is taken indoors or outdoors, depending on weather conditions on the day of the test. The CPAT is split into eight events:
Stair climb
Hose dragging
Carrying equipment
Ladder raise/extension
Forcible entry
Search
Rescue
Ceiling breach/pulling ceilings
To help with your preparation, the FDNY will offer you the chance to take two CPAT orientations eight weeks before the scheduled exam.
During orientation, you will be guided by experienced trainers and provided with the appropriate equipment.
One month before the CPAT exam, you will have the chance to undergo two mock exams.
The CPAT must be completed within a maximum of 10 minutes and 20 seconds.
There is a 20-second break between each event, and the events will take place in a sequence.
You will be expected to wear a minimum weight of 50 pounds during the test.
This is to help you feel what it will be like to wear a firefighting uniform and equipment.
You will need to attend the test wearing long pants and hard-wearing footwear.
You will be issued with a hard hat and gloves to wear for your safety during the test.
The CPAT is a pass/fail test.
Following the CPAT, you will be required to undergo medical and psychological examinations.
How to Prepare for the New York State Firefighter Exam in 2023
Dedicating time and effort to studying for the exam will help you achieve the test result.
Practice reading questions and the answer choices thoroughly before choosing your answer.
Skimming through too quickly could mean you miss something; therefore, it is essential to read all of the information correctly, rather than relying on a quick scan.
Remember that you can skip a question and come back to it later if you are unsure.
A good strategy is to answer the questions you are sure of and then return to the less confident ones.
Step 1. Spend Time Becoming Familiar With Basic Computer Usage
This may include learning how to use a mouse and keyboard or finding out how to move through the test questions. Improving your basic computer skills will help you work through the test more quickly on the exam day.
Step 2. Make Time for Studying by Blocking Out Sessions in Your Schedule
You should dedicate this time purely to studying for the test. Limit distractions by switching off your phone and asking the people you live with to disturb you. Managing your calendar in this way should help you to allocate time for studying without neglecting your other commitments.
Step 3. Read the Study Guides Available Online
There are many online resources, including the New York State General Guide to Written Tests.
Step 4. Take Mock or Practice Firefighter Exams to Familiarise Yourself With the Test Format
This will help you identify which areas you are confident in and which sections you find challenging.
It is essential to practice all areas of the test, not just those you find difficult or easy; however, you may wish to dedicate additional study time to the areas that you find the most challenging.
Step 5. Consider Enlisting the Help of a Tutor
This can be expensive, but it is usually worth spending the money.
A specialist tutor will be able to explain the format of the test. They will also work with you to identify your strengths and any areas that you need support with.
If you can't afford a personal tutor, online tutoring services are a good alternative. They are usually available at a fraction of the price of a personal tutor.
Step 6. Remember to Bring Your Admission Notice to the Examination
You will also need to bring two No.2 pencils, photo identification that shows your signature and lunch or a snack that can be eaten quietly in the examination room.
Step 7. You Must Not Bring Any Communication Devices Onto the Test Site
This includes cell phones, headphones and beepers. Note that using any of these devices on the test site (including in the parking lot, restroom or hallway) could lead to your disqualification; therefore, it is best to leave them at home.
Before taking the written exam, double-check that you can meet any weight lifting or speed targets set out by the fire department you wish to work for.
Final Thoughts
If you are committed to pursuing a career as a firefighter in the state of New York, you will need to pass the NYS Firefighter Exam.
The test is challenging, but if you dedicate enough time to prepare, you should approach it with confidence.
The test has to be taken using a computer; therefore, it is important to improve your skills if you do not use IT equipment regularly.
To succeed as a firefighter, you will need to keep a calm head in a crisis.
If you think you would be able to stay level-headed in a major fire situation, you probably already have the right skills to remain calm and collected for the NYS Firefighter Exam.
When attending a fire, being able to think laterally and stay calm will be as important as providing physical assistance.