How to Pass the OLSAT Test Level A in 2022
What Is the OLSAT Level A?
OLSAT stands for the Otis-Lennon School Ability Test. It is a national standardized test administered to children in kindergarten and Pre-K to assess their verbal and non-verbal skills, as well as their ability to follow directions.
Children are asked to answer a series of multiple-choice questions. The test then measures these scores against other children within the same age group. The scores are used to identify children who would benefit from gifted and talented programs.
For most children, the OLSAT Level A is the first test they will take during their educational career.
What to Expect on the OLSAT Level A Test
The number of questions varies depending on the child's age, and the test needs to be completed in 77 minutes.
Children in Pre-K are asked a total of 40 questions. This comprises 24 non-verbal questions and 16 verbal ones. Children in kindergarten are asked a total of 60 questions, 30 of each type.
The test is administered in two sections: verbal and non-verbal. These questions are used to assess certain core skills.
Verbal Battery
Verbal Comprehension
The verbal comprehension section assesses well a child understands words in a variety of different contexts. They will need to know the meanings of words and differences between similar words.
Following Directions
As the name suggests, this style of questioning is designed to assess how well a child can follow directions. Children are given verbal directions by their teacher and will need to match an image to a word.
As well as looking at their ability to follow directions, the assessment also considers how well a child can understand directional terms such as 'below', 'next to' and 'underneath'.
Verbal Reasoning
This section looks at how well a child can understand the relationships between words. It is this ability that helps to build comprehension skills.
Children will be asked two types of questions that assess their verbal reasoning skills.
Aural Reasoning
Children are assessed on their ability to look at the smaller details in an image to understand how they relate to bigger questions. Questions will be read aloud and children will look at images to find the correct answers.
Arithmetic Reasoning
Similar to the aural reasoning section, children will need to understand how to find answers within the information they are given. In this section, those questions will be number- and shape-based.
Non-Verbal Battery
Pictorial Reasoning
The pictorial reasoning section of the assessment assesses how well a child can use pictures to answer questions. To accurately answer, children infer information from images and understand relationships, similarities and differences.
Children are asked three types of questions to assess their pictorial reasoning skills.
Picture Classification
Students are asked to identify which image doesn't fit with a pattern from a selection of five possible images. Children need to look at the pictures, understand what the pattern is and choose the correct answer.
Picture Analogies
The images in this section have some kind of relationship, which children need to identify. Each question is shown as an image with five possible options. The children must look at all the images in the possible answers and choose the one that is most similar to the one in the question.
Picture Series
For this style of question, a child needs to understand patterns and how they can fit together. Students are shown a series of images that progress through a pattern. They need to choose the correct image from five possible options to decide which image should follow the pattern.
Figural Reasoning
This section is similar to others as it assesses how well a child can look at images and form conclusions about them.
Unlike other sections, figural reasoning assesses a child's ability to look at and understand shapes. This can be in relation to how the shapes relate to one another, comparing different shapes to see similarities and differences or understanding how pattern progression works.
Children will be asked four types of questions designed to accurately assess their figural reasoning skills.
Figural Classification
Children are shown groups of images. The objective is to find which image from each grouping doesn't match the others.
Figural Analogies
Children are shown a question followed by five possible options. They should choose which option is most like the shape in the question. This is to assess how well a child understands similarities and relationships.
Pattern Matrix
Children are shown nine boxes in a grid formation. Most of the squares will be filled, but there will be one blank space. Children need to try and understand the relationships between the filled-in shapes and choose one to complete the pattern.
Figural Series
Each question in this section consists of four images that follow a pattern or theme. Children need to choose the correct shape to continue the pattern.
How Is the OLSAT Scored?
Children are scored based on the number of correct answers they gave throughout the assessment. These scores are then ranked against other children within the same age range.
This ranking system is converted into a percentile rank which classifies how well a child has performed on a scale of 1% to 100%. This is similar to other ranks used in educational assessments, so it is a system many parents will be familiar with.
As well as being given an overall ranking which looks at the test as a whole, children are also given subscores for the verbal and non-verbal sections. From the subsection scores, parents can see where their child's strengths may lie as well as any areas which are in need of improvement. This gives them a clear understanding of how well their child has performed in different areas.
OLSAT Level A Sample Questions
Example Question
1. Which owl is sitting on a branch?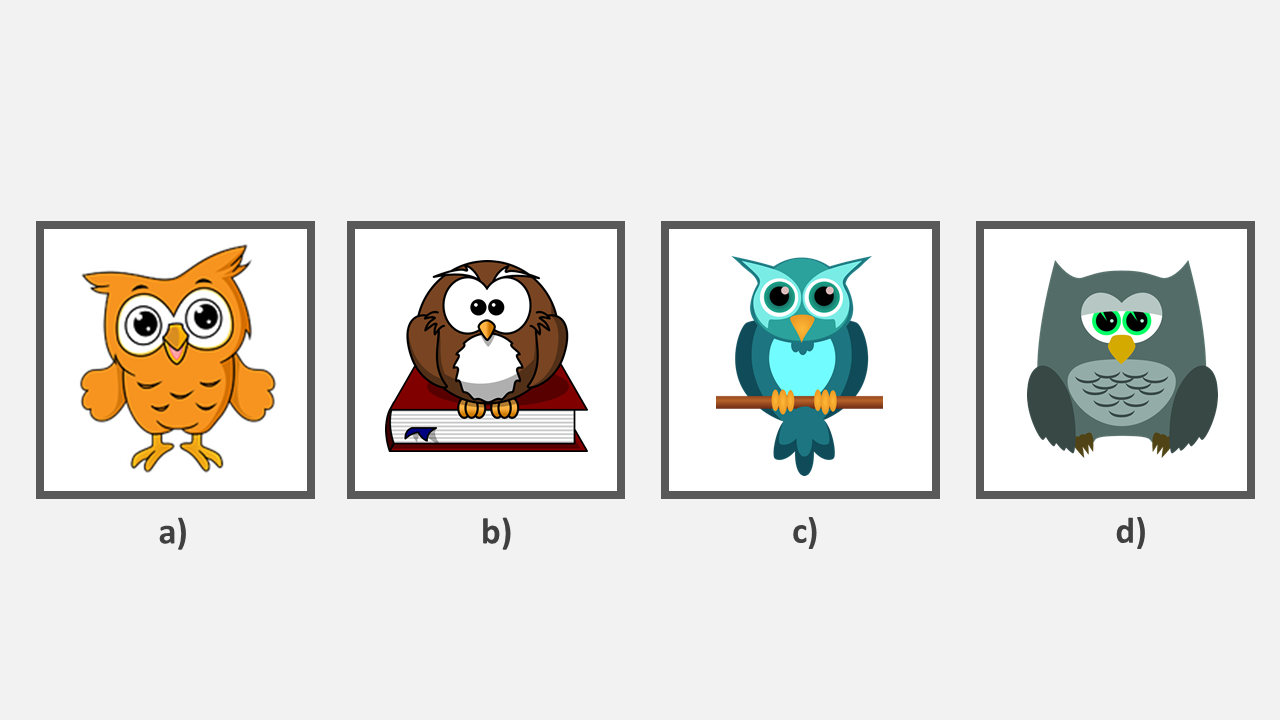 Example Question
2. Select the correct image to fill in the last square.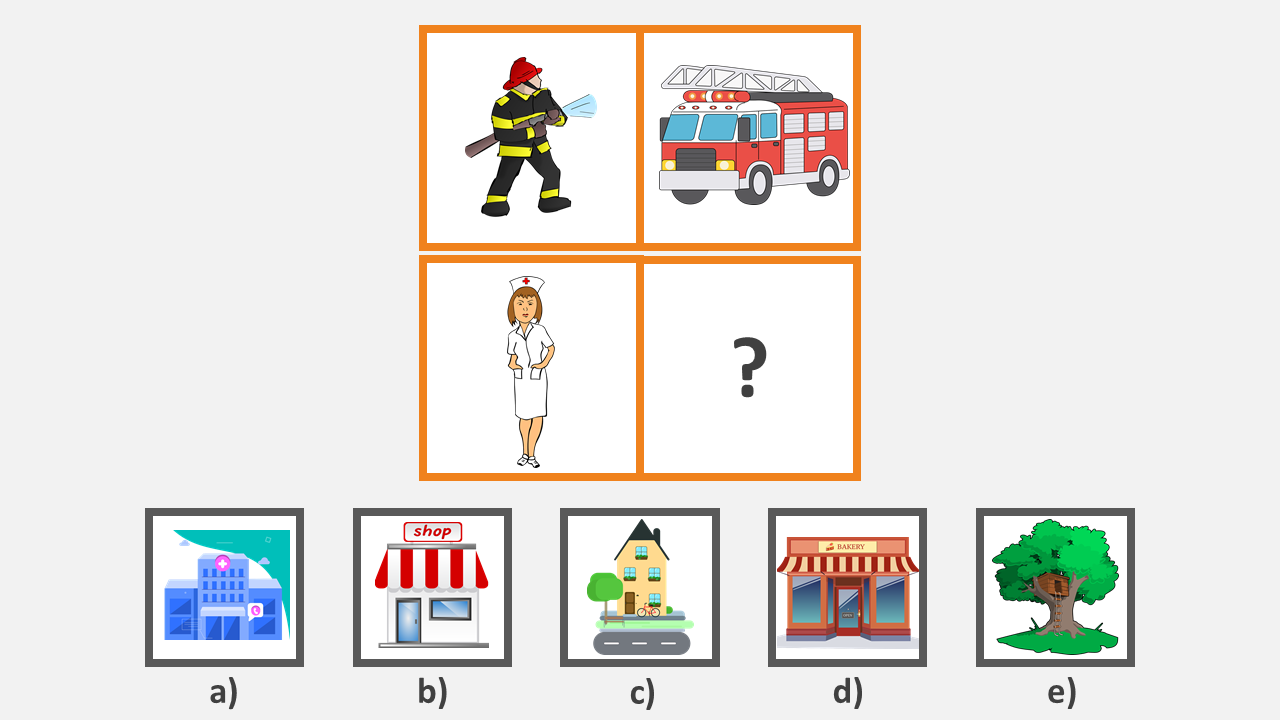 Example Question
3. Which picture is different from the others?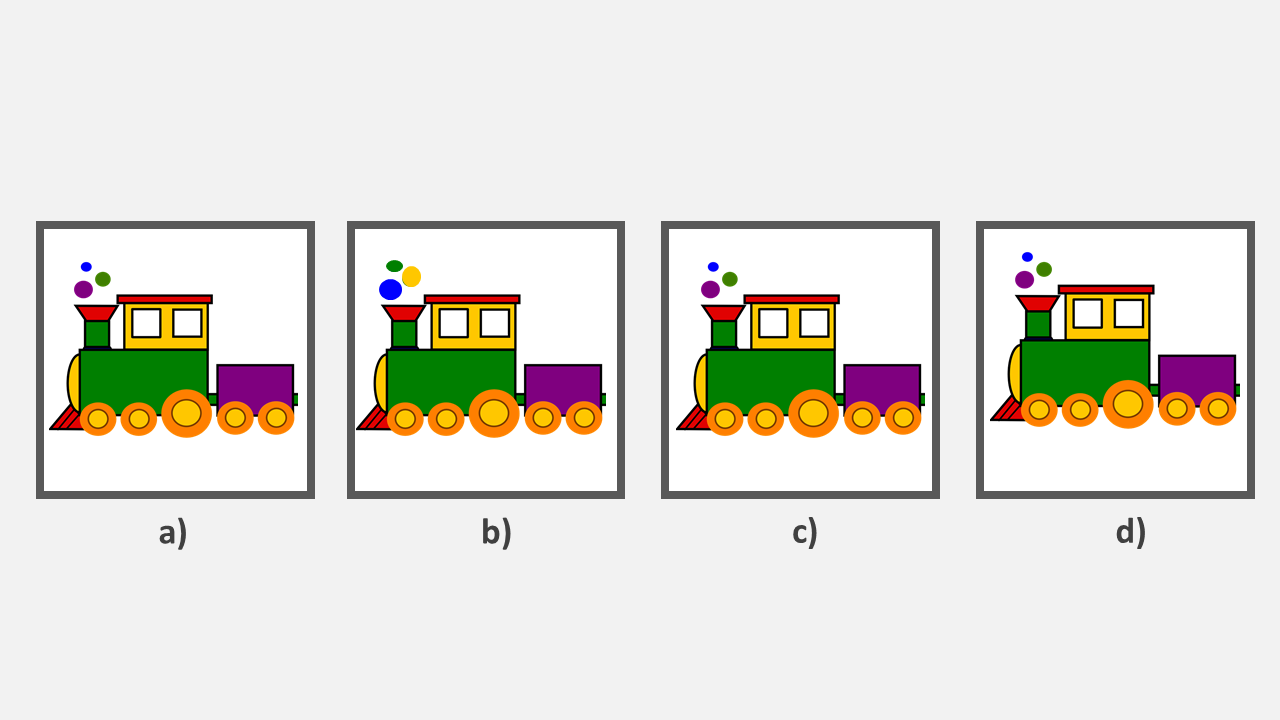 Example Question
4. Choose the picture which fits the pattern.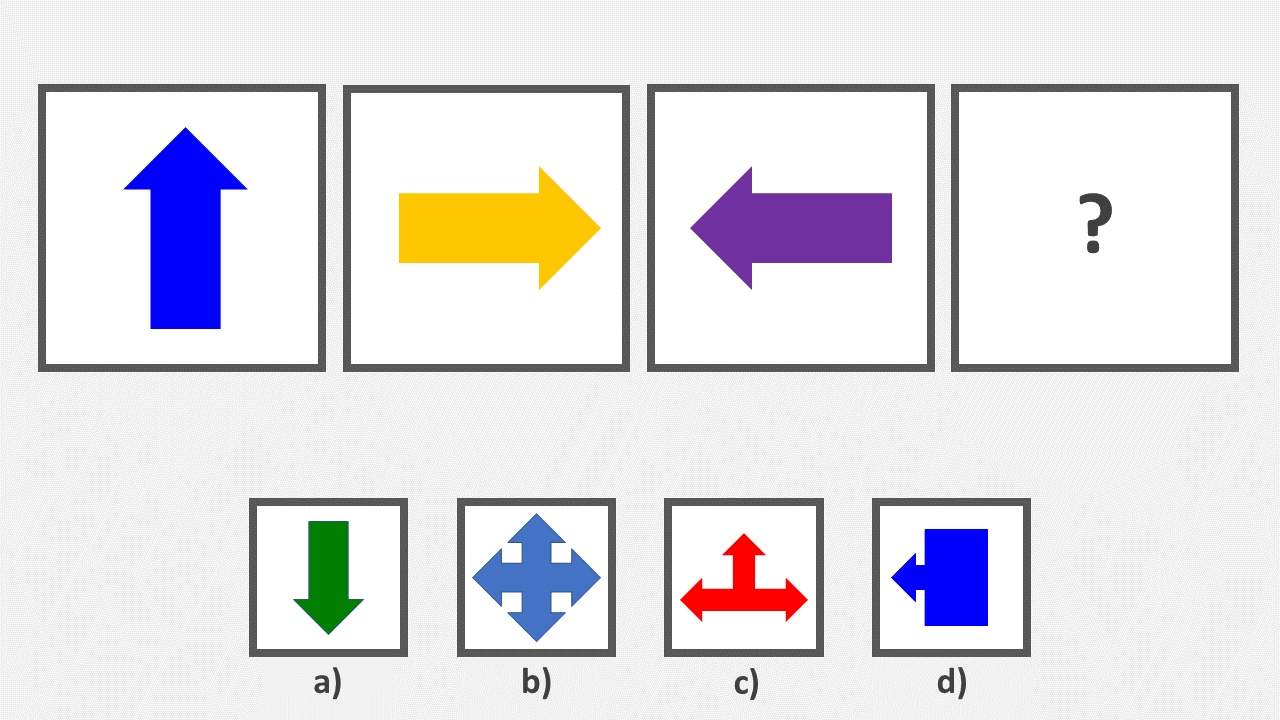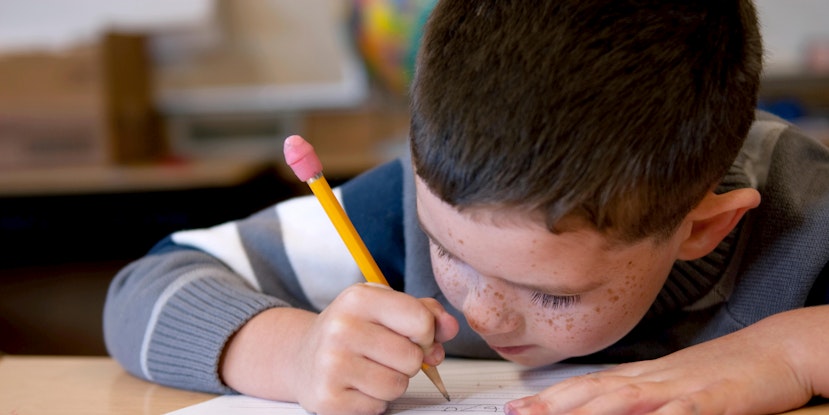 How to Pass the OLSAT Test Level A
How to Prepare for the OLSAT Level A
With very young children, it can be difficult to prepare them for a test. They are likely to have limited understanding of exactly what is happening.
That doesn't mean it's impossible to prepare a young child ahead of the assessment. There are some things you can do to help build your child's confidence and enable them to perform to the best of their abilities.
Step 1. Take Practice Papers
Practice papers are always a good idea. With very young children, it might be difficult to do a large number of practice papers, but they can be a good way of identifying a child's individual strengths and weaknesses.
The information that you can gain from completed practice papers can be used to tailor a revision or practice plan ahead of the official assessments at school.
Step 2. Get Advice From Teaching Staff
Parents often say at parent-teacher conference events that it sounds like their child's teacher is talking about another child rather than their own. This is a common observation, as children often show different skills at school compared to home.
Ahead of a test, it's a good idea to speak to your child's teacher about the things that they think should be worked on. Their opinion and insight can be valuable when trying to decide which areas to focus on with your practice at home.
Step 3. Positivity
Tests can create feelings of anxiety in children, especially if there are areas which they find more challenging. It is important, as a parent, to stay positive.
When you are talking with your child about the tests, talk about the things they are good at. Make sure they know you are proud of them no matter what they do.
You can also encourage them to practice slightly weaker areas by explaining that games and practice will help to make them better at the things they struggle with.
Step 4. Focus on Weaker Areas
If your child is particularly strong in one area and not another, focus your practice on the weaker area. This will enable them to become more familiar with this particular style of questioning and gain confidence. Learning a verbal or non-verbal skill is a bit like using a muscle. The more your child practices, the better they will get.
Step 5. Use Games to Make Practice Fun
Young children are unlikely to sit for long periods of time taking practice papers. However, parents and carers can use games to practice the skills needed during the assessments.
Simple card games, turn-taking games and matching games are a great way of making practice fun. When children are enjoying themselves, they are more likely to want to practice more.
Step 6. Get Enough Sleep
Studies have repeatedly shown that getting enough sleep has an impact on our concentration abilities. Being tired ahead of a test can slow down reaction times and mean that children are less able to answer questions to the best of their ability.
If your child struggles to sleep, consider making some changes to your evening routine, with quiet time, soothing music or a relaxing bath.
Step 7. Eat a Balanced Diet
You should never underestimate the benefits of a balanced diet when it comes to performing well in tests. A diet high in protein, vitamins and minerals has been proven to help children maintain energy levels for longer periods of time.
If your child is particularly fussy with food, consider introducing a supplement to their daily routine.
The OLSAT is used by educators to assess a child's verbal and non-verbal skills. The scores from this assessment can be used to decide whether a child would benefit from joining a gifted and talented program.
The OLSAT is administered by the children's teachers or other educators. For most children, they will be handed the assessment and a teacher will oversee and time the assessment while children answer the questions.
For very young children, such as those taking the OLSAT Level A, the teacher will also read the questions to them.
Children are asked a number of different questions. Some are picture-based, others word-based. All the questions are multiple choice.
Because of their age, children won't be expected to read questions for themselves. Instead, teachers will read the questions for the children before letting them answer.
In theory, your child could guess at answers, but this is never a good idea. Guessing when you aren't sure of what the answer could be would potentially compromise the scores.
The objective is to understand a child's abilities and guessing would not be representative of this. The assessment results are calculated by counting the number of correct answers, so it is always better to have a go and try to work out what the correct answers are.
Final Thoughts
As a parent, it's always challenging to watch our children go through assessments. We want them to do well and worry when they feel anxious or less convinced of their abilities.
There are a number of different tests that our children will take throughout their educational journey. Make sure that you know as much about the test as possible before your child takes it. Knowing the style of questions they will face, time limits and question formats will help you to know the best ways of approaching the assessment with your child.
Spending time practicing through games can help to boost your child's confidence and enable them to perform to the best of their abilities on the day. All of this can help your child to secure a place in a gifted and talented program or potentially highlight any areas where your child could need further support.